Binance's co-founder and CEO, Changpeng Zhao ("CZ"), has been ranked as the most popular personality in the crypto industry, according to a latest analysis by CoinLedger.
The crypto tax software company combined social media followings of famous crypto figures from Instagram and X, formerly Twitter, and ranked the popularity of these crypto celebs. In the end, Binance overlord CZ ranked first with a staggering 9 million followers combined.
The 'Prince of Crypto', Ethereum founder Vitalik Buterin, came in second with 7.7 million followers across Instagram and X. Ranked third is our beloved dead blue bird app's – sorry, Twitter's – co-founder Jack Dorsey, who also owns blockchain payment firm Block and known in crypto circles as a Bitcoin maximalist.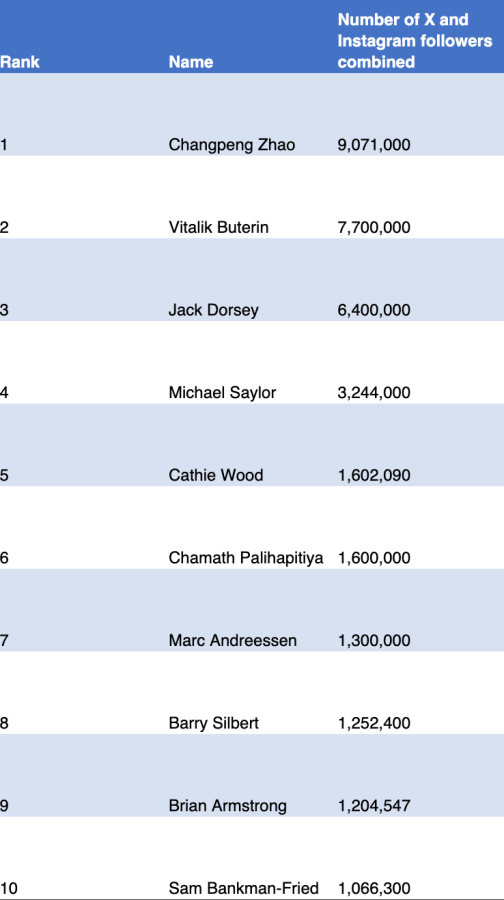 Celebs in Web3
The crypto community doesn't seem to mind following convicted criminals for updates, either. Sam Bankman-Fried, most recently found guilty of fraud and money-laundering in the FTX case, came in at number ten with just over 1 million total combined followers.
Meanwhile, literal 'crypto brothers' Cameron and Tyler Winklevoss, both co-founders of crypto exchange Gemini that's currently being sued by US authorities for alleged fraud, came in at top 15 on the list.
What about Elon Musk? The CEO of six companies is not included in the analysis, but given his past remarks about Dogecoin, and that Tesla holds a significant amount of Bitcoin, Musk probably should have been considered for the study. Given his 163 million X followers alone, he'd easily dethrone CZ for first place.
In total, the top ten most popular crypto personalities have a combined following of 34.4 million.
Crypto bros still hang on Twitter
"This data offers a fascinating insight into the people within the crypto sphere who hold the most influence, and many of the names that feature in this study helped to popularise the cryptocurrency industry. Without their influence, hundreds of millions of people who now invest in cryptocurrencies wouldn't have been afforded the opportunity to do so," David Kemmerer, co-founder and CEO of CoinLedger, told The Chainsaw.
However, although the rich and famous in crypto have followers in the millions, it should be noted that not all followers might be genuine accounts. Having a massive following does not necessarily translate to having an active, highly engaged audience either.
A separate analysis by dAppGamble in July 2023 revealed that the most popular crypto accounts promoting crypto projects, including Shiba Inu coin, Avalanche, and Filecoin, have around 10 percent of fake followers. Crypto influencers and content creators were also revealed to have fake followers of around 6 percent to 10 percent.
So, in crypto, numbers can lie sometimes, especially on social media – which could have consequences for one's wallet. As always, before taking up a popular crypto figure's financial advice on social media, do your own research!