The 28-year-old cofounder of Ethereum and "prince of crypto" Vitalik Buterin has dumped nearly US$700,000 worth of 'shitcoins', accidentally causing corners of the market to sink — but some traders are taking advantage of his moves.
According to data from Etherscan, a crypto wallet tracking service that allows users to view blockchain transactions, Buterin's wallet dumped a combined 500 trillion SHIKOKU (SHIK) tokens for US$599,733, 9.9 billion Cult DAO (CULT) for US$91,623, and 50 billion Mops token (MOPS) for US$1,971.
Because these tokens have extremely low market capitalisations (total value), Buterin's selling activity had a drastic downward effect on their prices. According to data from CoinMarketCap, SHIK plummeted 85%, MOPS fell 75% and CULT dropped 35%.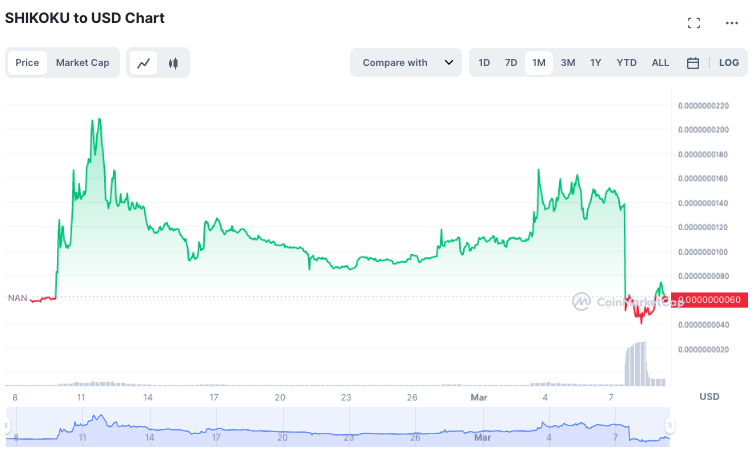 SHIK dump
At the time of writing, the total number of SHIK tokens in circulation stands at one quadrillion. This means that the 500 trillion formerly held by Buterin accounted for exactly half of the circulating supply.
Still, some traders have been making a killing on the back of the wild volatility created by Buterin. According to data surfaced by blockchain analytics service Lookonchain, two traders managed to capitalise on the turmoil and each make more than US$140,000 on the price pump that followed the Buterin-induced sell off.
Notably, Vitalik was airdropped all the aforementioned tokens — a term for sending cryptocurrency to someone for free — which is a popular tactic among the founders of projects who are looking to generate hype around their tokens.
Vitalik Buterin has dumped shitcoins before
On May 17, 2021, Buterin 'burned' a whopping US$6.7 billion worth of the Shiba Inu (SHIB) token after its founding team airdropped the Ethereum cofounder roughly 50% of the total circulating supply of the token. The move was widely considered to be a marketing stunt designed to make it look like Buterin was actually a major investor in SHIB.
When someone 'burns' tokens, it means that they have sent crypto to an unretrievable wallet address, permanently moving those tokens out of circulation. With SHIB, Buterin sent a staggering 410 trillion tokens to a dead blockchain address.
Perhaps unintentionally, Buterin's sudden removal of 50% the token's supply may have been one of the leading factors behind SHIB's incredible 1,000% price gain that occurred in October later the same year.