Twitter is where the cryptocurrency community convenes, and where the most influential figures broadcast the most controversial thoughts that affect the price of tokens. However, new analysis by betting platform dAppGambl reveals that up to 10% of followers from the most well-known crypto accounts – including Bitcoin, Ethereum, and Shiba Inu Coin – are fake.
Crypto token accounts
Using Twitter follower tracker Follower Audit, dAppGamble gathered a list of the most popular crypto accounts on Twitter, and calculated the percentage of fake followers of said accounts.
Shiba Inu Coin (SHIB), one of several dog-related memecoins known for their army of loyal followers, has the most fake followers of them all with 790,000 Twitter followers and 10.26% of which are fake. Maybe the almighty 'Shib Army' is much smaller than we thought!
In second place is blockchain project Avalanche (AVAX) with 8.14% of its 946,000 follower count allegedly being fake. Polygon (MATIC), a blockchain solution that counts Starbucks and Reddit as partners, rounds out the top three. Of its 976,000 followers, 7.58% are supposedly fake accounts.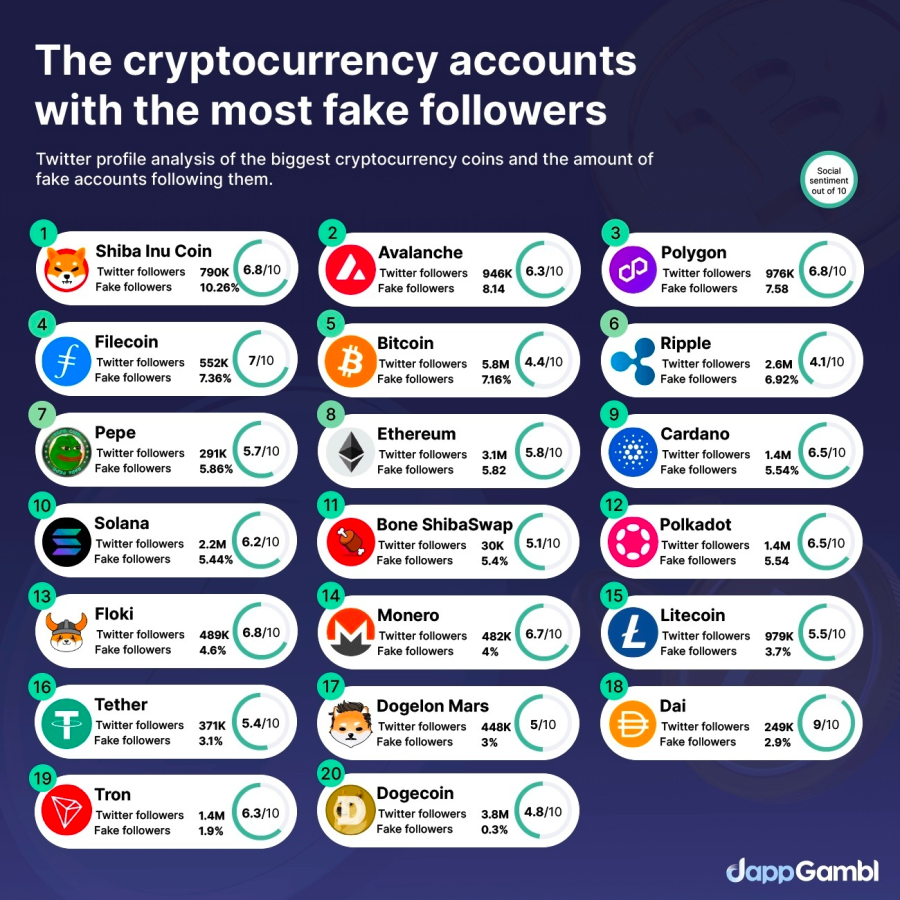 dAppGamble gave a number of reasons why these popular crypto tokens have attracted so many fake accounts. For SHIB, "the high number of followers could be due to the popularity and the newness of the coin, with bots trying to artificially increase the number of followers to make it seem even more popular than it is."
For Avalanche, the token is regularly promoted by crypto influencers, giving it a lot of publicity. This "may have led to some people creating fake accounts to follow it."
Crypto influencer accounts
Some influencers are louder and have more Twitter engagement than others. This gives the impression that they have more authority over a specific topic in crypto, and therefore we are more likely to agree with their takes.
Well, that should not be the case, according to dAppGambl's research. Samson Mow, a popular Bitcoin influencer and CEO of two crypto firms, has the most percentage of fake followers. Mow has over 263,000 followers, but one tenth of them are supposedly fake.
After Samson Mow is Twitter co-founder and former CEO Jack Dorsey who is also a Bitcoin maximalist. Dorsey has 6.5 million followers, but 8.62% of them are fake accounts, per the report. Crypto investor Raoul Pal sports 996,000 followers on Twitter, but the report claims 6.58% are fake accounts. Nayib Bukkele, President of El Salvador and perhaps the most popular 'Bitcoin bro', comes in at fourth place with 5.2 million followers, 6.44% of which are said to be fake.
Interestingly, of the top ten crypto influencers with the most fake followers, seven of them are either Bitcoin believers or Bitcoin maximalists.
What about Twitter overlord-slash-Dogecoin fanboy Elon Musk? dAppGambl says that Musk didn't make it to the top 10, but 6.7 million – or around 4.7% – of the billionaire's 141.6 million followers are fake.
Fake followers on crypto Twitter: Why does this matter?
Having a large portion of fake followers is not exclusive to the crypto community on Twitter. For example, Kim Kardashian has an insane 72 million fake followers on Instagram, so why does it matter?
When it comes to crypto, money is on the line for many. Having fake followers and inflating engagement numbers could affect one's "perceived influence and reach," explains dAppGamble. This could "undermine their credibility, mislead investment decisions, and can also diminish the value of genuine influencers, ultimately hindering the quality and credibility of the crypto influencer space."
So, the old crypto adage still rings true: trust no one and do. Your. Own. Research (DYOR).