In traditional finance, you typically place assets like your home or car as collateral. If you were to default on your loan, the bank could seize your assets.
But it's 2023, and borrowing and lending can be done differently now thanks to technology. In the world of decentralised finance ("DeFi"), a trend is emerging whereby crypto bros are getting creative with what they use as collateral, because one man's trash is another man's treasure.
Last month, we saw someone use their collection of vintage Supreme t-shirts worth US$2 million (AU$3.1 million) as collateral for a US$1.7 million (AU$2.64 million) loan. Here is where blockchain technology comes in: to certify the authenticity of the crypto bro's Supreme t-shirts, an NFT representing the shirts was issued.
In the unfortunate event that the crypto bro disappears off the face of the Earth and doesn't pay back the loan, the lender can use the NFT to take ownership of the physical Supreme t-shirts.
Here are four more interesting items that people in the DeFi space are using as collateral.
1. Rolex and Patek Philippe watches
Luxury watches are a favourite on DeFi platforms. Timepieces by brands such as Rolex, Patek Philippe and Piguet are timeless and sturdy in design. The exclusivity and status that comes with owning such luxury makes them a preferred physical item for borrowing and lending in DeFi.
A most recent example are two Rolex watches that are being used as collateral by the same borrower for a US$20,000 (AU$31,000) loan.
The first watch is from Rolex's Oyster Perpetual Date: Explorer II series valued at AU$14,300, according to the brand's website. The second watch is from Rolex's Oyster Perpetual: Submariner series that's designed to be waterproof to a depth of 1,000 feet. It's the watch worn by Titanic director James Cameron when he saw the wreckage of the Titanic for the first time.
The Submariner watch is priced at AU$13,550.

2. Damien Hirst paintings
British artist Damien Hirst had a brief stint in the NFT space in 2022 when it was still hot. He sold several NFTs from a collection called The Currency: each NFT corresponded to a physical artwork.
Buyers of his NFTs were given the choice to keep the NFT or swap it for the physical artwork. However, it looks like one buyer made the decision to keep the NFT of Damien Hirst's painting, because it's now being used as collateral for a 1.1 ETH, or US$1,800 (AU$2,800) loan.
This seems like quite a risky collateral, because the price of said Damien Hirst NFT fluctuates. On August 28, the NFT was worth 2 ETH, or US$3,260 (AU$5,060). But at the time of writing, the NFT is worth 1.85 ETH, or US$3,020 (AU$4,690).

3. Pokémon Cards
Don't throw away your first-generation Pokémon cards – they're valuable in this economy.
In August this year, a crypto bro-slash-Pokémon enthusiast took out a US$53 (AU$82) loan, and they used their Venusaur #15 Pokémon card as collateral. Released in 1999, the card is a rare, Grade 9 hologram edition.
A small aside: in the world of Pokémon cards, dedicated collectors would have their cards evaluated by experts to determine their value. The practice is called grading, and a Pokémon card would be graded according to its rarity, condition and so on.
There's a whole market for Pokémon card collecting. In this case, the Venusaur #15 Pokémon card (1999) was certified to be a Grade 9 card – meaning that it's in fairly great condition. According to a price charting website for trading cards, this particular Pokémon card at Grade 9 is worth US$241 (AU$374).
The Pokémon card's owner minted an NFT to represent ownership and authenticity of said card. Next, they used it as collateral for the aforementioned US$53 (AU$82) loan. Using a Pokémon card worth hundreds of dollars to borrow US$53 (AU$82) seems ludicrous – but hey, maybe the borrower has nothing else left to pawn.
For physical assets like this Pokémon card, they would typically be sent to an escrow company for valuation and presumably, safekeeping.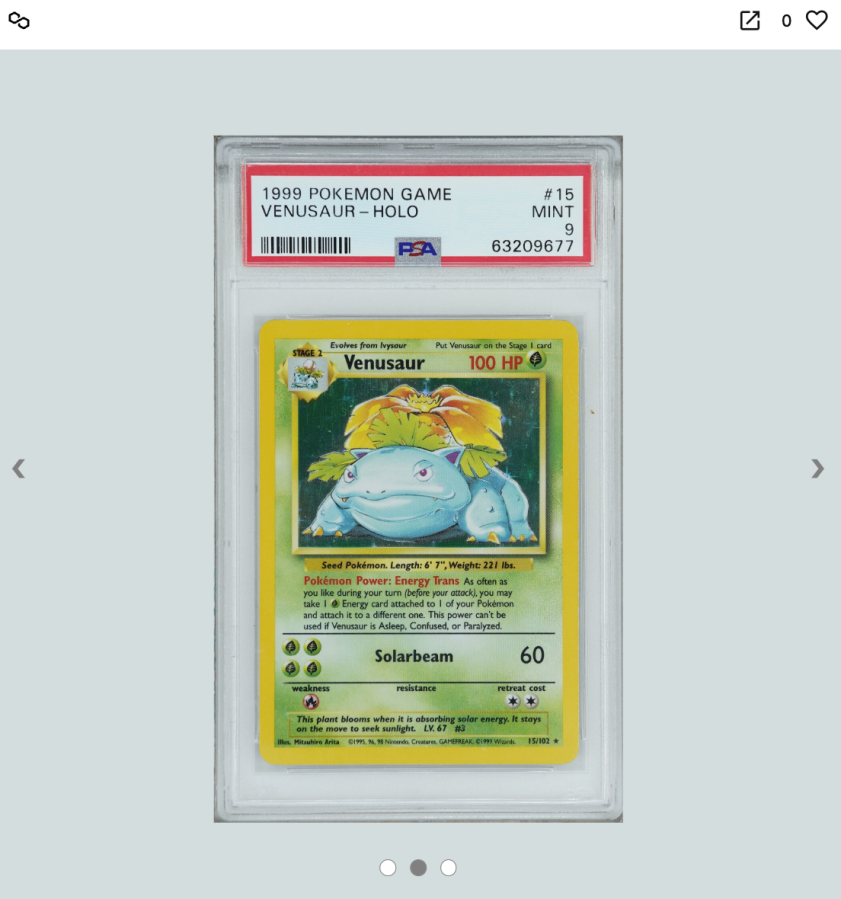 4. Nike sneakers
Things get a little trickier here, but read on.
During the height of NFT mania in December 2021, Nike bought an NFT company called RTFKT. Throughout 2022, the global sneaker brand released a series of NFT collections representing Nike sportswear. They included sneakers, t-shirts, sweatpants and hoodies.
One of the collections was called the RTFKT CloneX NFT collection, which let holders of the NFT "forge" a physical version of the NFT they had bought. In other words, the NFT functioned as a ticket to redeem a real-life Nike product.
In May this year, a borrower put up four "unforged" RTFKT CloneX NFTs as collateral for a US$14,000 (AU$21,800) loan. The loan was repaid, but technically, if the borrower had defaulted on their loan, the lender could've used the NFTs to redeem four Nike sneakers.