Another crazy week in the world of Web3. Here's everything that happened over the last seven days, condensed into an easily digestible wrap up for your reading pleasure in another edition of The Chainsaw Weekly Wrap. 
This week in Web3
The artificial intelligence race kicked off
This week the race for AI dominance well and truly kicked into gear. Just days after OpenAI's viral AI-powered assistant ChatGPT officially became the world's fastest growing consumer app, eclipsing 100 million monthly active users in just 2 months, Google announced the launch of its own AI chatbot dubbed 'Bard'.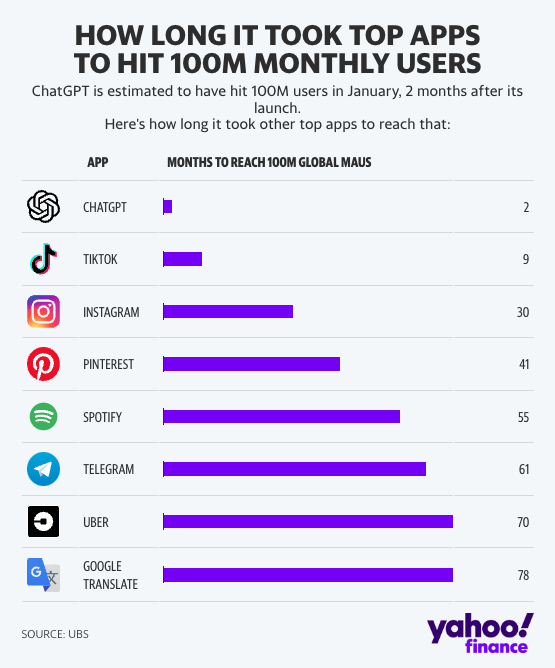 The very next day, Microsoft announced that its long-suffering search engine 'Bing' — which they've been trying (and failing) to get people to use for the past decade — would be getting a significant level-up. It revealed that the new and improved Bing would be getting an AI upgrade, with ChatGPT being built into its interface to deliver an entirely new web searching experience for users.
Google has been struggling to keep up the breakneck pace set by the new partnership between Microsoft and OpenAI, and their release of Bard has already suffered some significant setbacks.
On Thursday, Bard botched an answer to a relatively simple question about astronomy and was ridiculed for its inaccuracy across social media. Bard's telescope-related gaffe, along with broader sentiment that Google's AI technology simply isn't up scratch, saw it's parent company Alphabet wipe more than US$100B from its overall valuation.
Big Tech companies aren't the only ones honing in on AI technology. In the speculation-heavy world of cryptocurrency, traders developed a taste for everything AI, sending all of the tokens with any association to the tech surging in response.
Twitter goes down…
While the rest of the tech world was busy introducing new products Twitter was struggling to keep its head above water. On Thursday, the social media platform suffered a major outage that rendered the platform unusable for just a little more than an hour.
During the outage, users from around the world were unable to send or reply to tweets. Chief Twit Elon Musk claimed the outage had something to do with the Turkish government shutting the platform down due to footage of the earthquake surfacing on Twitter.
In case the outage and Musk's unpredictable behaviour have you looking around for another social media platform, we've recently seen the rise of a new decentralised alternative to Twitter, called Damus. Damus runs on an open-source protocol and features full end-to-end encrypted messaging. Amidst users from around the world beginning to download and experiment with the new app, China swiftly moved to ban Damus pulled it from app store.
In a little win for the good guys, internet detective Coffeezilla managed to dupe Dillon Dannis into shilling an NFT project without disclosing it as a paid aid, once again shining a light on just how easy it is for major influencers to perpetrate pump and dump schemes on their followers.
NFTs … on Bitcoin?
Just when you thought NFTs couldn't much weirder, a crew of cypherpunks have been playing around with the idea of minting NFTs on the Bitcoin blockchain. By using something called the Bitcoin Ordinals Protocol, developers have been able to use the recent Taproot upgrade to mint non-fungibles on Bitcoin.
With hype around the possibility of Bitcoin NFTs soaring, one project in particular has been receiving the lion's share of the interest (and money). 'Bitcoin Punks', a derivative of the popular Ethereum-based CryptoPunks collection, has been absolutely pumping, with one Bitcoin Punk selling for 9.5 BTC or approximately US$214,000 at the time of the sale.
As interest in Bitcoin NFTs popped off, Hermès, the luxury fashion brand came down hard on an artist who minted NFT derivatives of their trademark Birkin bags. Mason Rothschild, the artist behind the popular 'Metabirkins' project was forced to pay US$133,000 in damages for copyright infringement. The decision set a strong precedent for any other digital creators looking to leverage other brands' intellectual property for personal gain.
The Chainsaw Weekly Wrap: Big trouble looms for crypto in the US
On Friday morning shares in Coinbase (NSDQ:COIN) fell the most in a single day since July last year as the SEC comes down hard on crypto staking. The 15% Coinbase share plunge came directly after it was revealed that the SEC had reached a settlement with the US-based crypto exchange Kraken, where it was forced to pay a fine of US$30 million and pull all of its staking products.
The news came just one day after crypto venture capitalists Nic Carter and Mike Solana accused the Biden administration of trying to "quietly" ban Bitcoin, Ethereum and many other cryptocurrencies, in a Thursday Substack post.
Carter's post, dubbed "Operation Choke Point 2.0" — which is a reference to a 2013 government program that looked to remove undesirable industries from banking services — slammed the US for orchestrating a "sophisticated, widespread crackdown" against the crypto industry.
Carter's allegations came just hours after Coinbase CEO Brian Armstrong surfaced troubling rumours that the US Securities and Exchange Commission (SEC) were looking to come down hard on the second largest cryptocurrency, Ethereum (ETH).
"We're hearing rumours that the SEC would like to get rid of crypto staking in the U.S. for retail customers," Coinbase co-founder Brian Armstrong claimed in a Wednesday Tweet. "I hope that's not the case as I believe it would be a terrible path for the U.S. if that was allowed to happen."
While regulators are coming down hard on Bitcoin and Ethereum, no one seems to care too much about bringing the notorious crypto fugitives Zhu Su and Kyle Davies to justice.
The disgraced Three Arrows Capital founders, who are still hiding from authorities after their hedge fund collapsed and destroyed US$3 billion in value overnight, announced the launch of a new crypto exchange on Friday morning.
The new exchange dubbed 'OPNX' will… (I hope you're sitting down for this) deal specifically with bankrupt crypto exchanges and help them trade funds that are stuck on defunct crypto platforms.
"Our vision is unlocking trapped claims, radical transparency," Su wrote in a long thread on Twitter this morning, explaining how the OPNX platform would soon launch fully decentralized custody and clearing services before heading into the trading of stocks, forex and other products.
The Chainsaw Weekly Wrap: Funding roundup
It's the time of the week once again to round up all the hot deals that continue to make headlines, even though crypto markets remain subdued. Here's a quick roundup of the top investments into crypto and Web3 this week:
The Chainsaw Weekly Wrap: Market wrap
Crypto markets traded on a downwards trajectory this week, with inflation fears beginning to resurface following some uneven comments from US Federal Reserve Chairman Jerome Powell. Just as big-ticket crypto assets like Bitcoin (BTC) and Ethereum (ETH) seemed to be gaining momentum, Powell poured cold water on any hope of a future pivot, cautioning that inflation would still "take some time to beat".
Still, the majority of the damage to crypto prices can be traced back to the SEC's most recent moves to crack down on staking products in the US. It signals a broader (worrying) trend towards potentially classifying Ethereum as a security, which will bring with a number of complications for crypto investors.
As such, the price of Bitcoin — which typically leads moves in the wider crypto market — fell roughly 5% on the day. This saw BTC close down 7.3% from this time last week.
Surprisingly, the rumours of the SEC coming for Ethereum staking didn't hit the asset as hard as expected. Usually, Ethereum swings harder than Bitcoin during times of market turmoil, but the asset only fell 4% on Friday and closed the week down a total of 6.4%. This shows that the conviction in Ethereum holders might be stronger than once thought.
The Chainsaw Weekly Wrap: Winners & losers
With AI being very much the current thing, it should come as no surprise that the biggest gainer was a token of the artificial intelligence variety. Topping the crypto charts this week was SingularityNET (AGIX) with a whopping 110% weekly gain.
Don't worry, no one else had heard of AGIX up until a few weeks ago either. AGIX markets itself as a blockchain-powered platform where anyone can "create, share, and monetise" artificial intelligence services on its online AI marketplace.
In a distant second place was GRT, the native token of 'The Graph', a crypto project that uses artificial intelligence (AI) to do what Google did for the internet, but for blockchains. At the time of writing, GRT is up a very respectable 58% for the week.
The biggest loser this week was Fantom's native token FTM. Fantom is a smart contract platform providing DeFi services to crypto developers. Last week Fantom was one of the top performing tokens, causing it to suffer a sharp pullback this week as hype dried up.
And that's all for this edition of The Chainsaw Weekly Wrap.
As always here's some memes.