Web3 News: Here's today's top yarns you need to know.
A decentralised 'Twitter-killer' social media app called Damus has been pulled from China's app store.
Coffeezilla tricked Dillon Danis into promoting an NFT scam on Twitter.
ChatGPT reaches 100 million new users in just 2 months, the fastest app in history to do so.
Today's top performing cryptocurrencies.
New decentralised 'Twitter-killer' banned in China
Damus, a decentralised social media app that markets itself as an alternative to Twitter launched early last week. Damus is powered by an open social networking protocol called Nostr, which is runs on cryptographic key pairs.
In December last year, Twitter co-founder Jack Dorsey donated 14 Bitcoin (worth approximately US$245,000 at the time) to fund the development of Nostr even though he was already investing in another decentralised protocol, which will run his newest Web3 social media venture, Bluesky project.
A number of new venture-capital backed Twitter alternatives have arrived on the scene in the wake of Elon Musk's takeover, but Damus is not funded by any of them. Damus markets itself as a platform with no central authority that can make decisions about which content should be posted or who should be banned.
"There is no platform that can ban or censor you. You are in control of your data."

Damus, official website
Damus does not require users to sign up with a phone number, email or any real-world form of identification, favouring a cryptographic key phrase instead. The app also includes end-to-end encrypted messaging, meaning that no one central authority could spy on your messages.
The promise of privacy saw a number of Chinese users flock to the application upon launch, as social media applications in China quickly censor any information deemed illegal. Unsurprisingly, China's government swiftly cracked down on Damus and the app was pulled from the App Store in China a mere two days after launch.
Web3 News: Coffeezilla tricks Dillon Danis into promoting an NFT scam
The meteoric rise of NFTs also saw an equal, parallel of opportunistic celebrities and online personalities looking to make a quick buck by shilling NFT projects to their followers in exchange for oftentimes handsome payouts from project founders.
A number of prominent celebrities such as Kim Kardashian, Floyd Mayweather and Logan Paul have been perpetrators of such tactics. Now, an MMA "fighter" called Dillon Danis is the latest to join the ranks of NFT and crypto scammers.
According to the internet detective Coffeezilla, his team managed to get Danis to post an advertisement to his three million Twitter followers for an NFT project that literally spelled out scam. Danis was reportedly paid a mere US$1,000 for the post.
While the stunt was designed to catch Danis in the act of straight up shilling an obvious NFT scam, Coffeezilla added another fun bonus for any unfortunate user who fell for the scam. When users clicked the "Mint Sourz" button on the project's webpage they were promptly redirected to a website that shows all of the scams that Danis has supported and profited from in the past.
Web3 News: ChatGPT reaches 100 million users in just 2 months
Artificial Intelligence (AI) has officially arrived, with ChatGPT reached an estimated 100 million monthly active users (MAUs) in January, making it the fastest growing consumer internet application in history according to a new study from UBS. Web3 has been rapidly influenced by the recent rise of AI.
"In 20 years following the internet space, we cannot recall a faster ramp in a consumer internet app."

UBS analysts.
According to Yahoo Finance, UBS analysts predict that ChatGPT's total addressable market is somewhere around the US$1 trillion mark.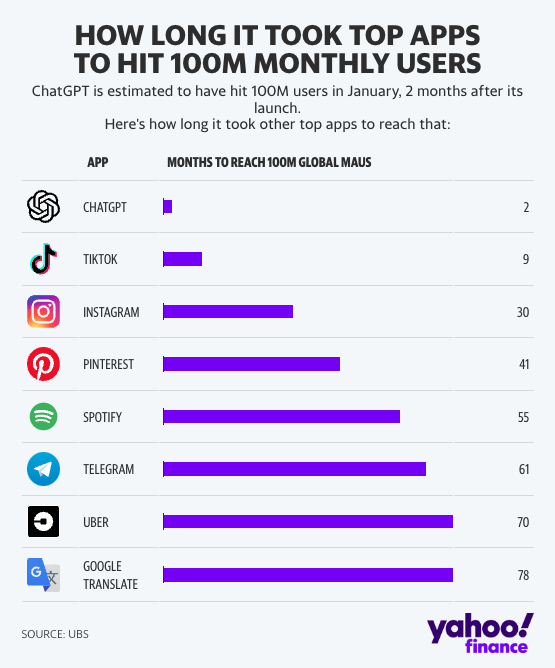 By UBS's measurements, TikTok took nine months to reach 100 million MAUs, while Instagram took 30 months to hit the same benchmark.
Crypto: todays' top performers
Todays top performing tokens are largely Artificial Intelligence crypto tokens, which have become the market favourite in recent weeks.
Web3 News: Biggest gainers
AGIX, the governance token of AI marketplace SingularityNET is up 34%.
GRT, the native token of the The Graph protocol is up 13%.
OKB, the native token of the cryptocurrency exchange OKB is up 6%.
Web3 News: Biggest losers
LDO, the token of the Ethereum liquid-staking protocol Lido DAO, is down 11%.
LRC, the token of Loopring is down 10%.
FTM, the native token of the Fantom Network is down 9%.
And that's all the Web3 news you need to know before you start your day.