Gm legens. As usual, the past seven days have delivered us some pretty exhilarating highs and some less-than-ideal lows. So without further ado, here's the weekly wrap from the crew here at The Chainsaw.
This week in Web3: Magic Eden ditched royalties and got slammed for it
On Saturday, Magic Eden, the largest Solana-based NFT marketplace, took a pretty major stumble when they bailed on royalties for NFT creators. The decision — which Magic Eden apologised profusely for in a confusing Twitter Space — was massively unpopular with many artists in the NFT community.
While creators like FrankdeGods and Beeple voiced their support for the move, many smaller creators were livid, claiming that removing royalties would ultimately cripple projects over the long-term.
Shots were fired at Sam Bankman-Fried (SBF) and Three Arrows Capital
Regulators from the Texas State Securities Board (TSSB) went sniffing through the US arm of FTX's billion-dollar plan to acquire the now-bankrupt crypto lender Voyager Digital and found that the company may be violating state law by offering yield-bearing products to US customers.
According to court filings, the crypto exchange's yield-bearing crypto product may actually constitute an unregistered security offering. Because of this, the American division of FTX can't move forward with its plan to acquire Voyager until the investigation is concluded. SBF didn't seem too worried and decided to capitalise on the publicity by shitposting about the proceedings on Twitter.
More recently, SBF has been getting slammed by the cryptosphere for aligning himself too closely with regulators.
Elsewhere in regulation land, the Securities and Exchange Commission (SEC) and the Commodity Futures Trading Commission (CFTC) doubled down on their investigation into the now-defunct crypto trading firm Three Arrows Capital (3AC). Incredibly, the location of 3AC's founders Su Zhu and Kyle Davies are still unknown, with regulators being forced to potentially serve them with their respective subpoenas by sliding into their DMs on Twitter…
A new blockchain called Aptos launched and it went terribly
A crew of former-Meta developers launched a new layer one blockchain called Aptos (APT) that flopped in a very big way. The new blockchain, which has been dubbed a "Solana killer" for its (supposedly) high speeds and scalable programmability, was ripped to shreds by people from every corner of the crypto space.
The crypto community slammed the project for the majorly centralised ownership of its native APT token, its unimpressive functionality and the fact that it doesn't really solve a pressing problem in the crypto space whatsoever. Feeding into the narrative of its founders being shady, the Aptos team begged exchanges to not list perpetual contracts following criticism from the community (which was a bid to avoid volatile price action when the native APT token dropped).

It didn't matter in the end, with the APT token plummeting 45% on its first day of trading…
Decentralised social media became a thing
Kanye West reignited the media buzz around social media platform ownership when he announced that he'd be buying the conservative-friendly platform Parler.
While Kanye was caused a stir for a lot of the wrong reasons, Twitter co-founder Jack Dorsey countered with a seriously baller move for the social media. On Wednesday, Dorsey unveiled plans to launch a new decentralised social media app called Bluesky Social.
If the claims made by Dorsey and Bluesky Social are true, the app will deliver social media users the ability to exercise enormous amounts of control over their personal data. As the real-world implications of nefarious social media algorithms harnessed by Facebook and Instagram begin to rear their ugly heads, Dorsey's app could be a breath of much-needed fresh air in the increasingly predatory world of social media tech.
Reddit NFTs are secretly popping off
Reddit made some major waves in the NFT space, with more than three million users creating Polygon-based crypto wallets to house their "digital collectible avatars" (Reddit speak for NFTs). This marks a huge step forward for the NFT space, as Reddit is very much the first mainstream social media platform to leverage non-fungible tech in furthering the identity and ownership online.
Oh yeah and Bitcoin got added to the Guinness Book of World Records, which is pretty cool.
The money shot
We all know what's happening with crypto prices at the minute – a steady sideways grind causing some to jokingly refer to Bitcoin as a stablecoin. But irrespective of digital asset prices, there's still a fair bit of fundraising happening across the sector. These are some of the top deals of the week:
Canadian Web3 infrastructure company ChainSafe closed a US$18.75 million round that was backed by ConsenSys, Digital Finance Group and others. The company said the funding would go toward supporting the growth and adoption of Web3 technology.
Yoloyolo, which connects NFT owners and brands to sell merchandise, raised US$3.5 million in seed funding to help hire more employees and bring new brands onboard.
Stash Financial, a popular investment app that opened access to cryptocurrencies earlier this month, raised US$52.6 million in a debt offering to expand its services.
Celestia Foundation, a non-profit organisation dedicated to solving societal issues through technology, raised US$55 million to build "modular blockchain architecture" with the hope of solving challenges inherent when deploying and scaling blockchains.
ego death capital, a new venture capital firm dedicated to the Bitcoin ecosystem raised US$11.425 million towards its target of US$30 million for its first fund.
Solana infrastructure startup Helius raised a US$3.1 million seed round to provide the tools to help developers build Web3 applications in less time and for less money.
Crypto hedge fund Edge Capital Management raised US$66.78 million across two DeFi-focused funds.
New Layer 1 blockchain Shardeum closed its US$18.2 million seed funding round at a $199 million valuation to build scalability into Web3.
Web3 Builders Inc. raised US$7 million in seed funding and launched its first product, TrustCheck. Founded by a former Amazon Web Services executive, Web3 Builders aims to provide an anti-scam tool and make Web3 safer for all.
BlockTower, a crypto fund that tends to operate in stealth, unveiled a new US$150 million fund.
College sports fan experience platform and NFT collectibles platform Mercury raised US$7.5 million in a seed round led by Multicoin Capital to ramp up hiring and "deliver new experiences for athletes and fans alike".
New Web3 API startup Airstack closed a US$3 million pre-seed round with investors such as Animal Ventures, Polygon and Resolute Ventures. Airstack wants to make it easy for individuals to discover and consume data from across the Web3 ecosystem via APIs.
Arcade2Earn, a play-to-earn gaming platform built on the Solana blockchain raised US$3.2 million in a seed funding round led by Crypto.com Capital to further ongoing development.
Chainsaw Weekly Wrap: Impact corner 
Good news in the good news corner this week.
A new study on the Industrial Growth of Blockchain for Non-Profits Market for 2022-2027 has found that blockchain tech is increasingly becoming adopted in the NGO space to better protect charitable donation information and reduce administrative costs in the impact sector.
The report analysed major companies including IBM, NGO Xchange, Coinbase Global, Oracle, Airbus, Tezos, Bitfury, Accenture and more, finding that the global players are rapidly adopting smart contracts to boost efficiencies and enhance transparency in the philanthropy industry. Crypto trials are being used to track impact of monetary contributions while exploring the use of crypto tokens to incentivise making donations.
And there you have it, there is still a healthy amount of activity going on under the hood while markets tick along sideways for what seems like eternity (at least in the crypto world).
Crypto's groundhog day — some price action would be great …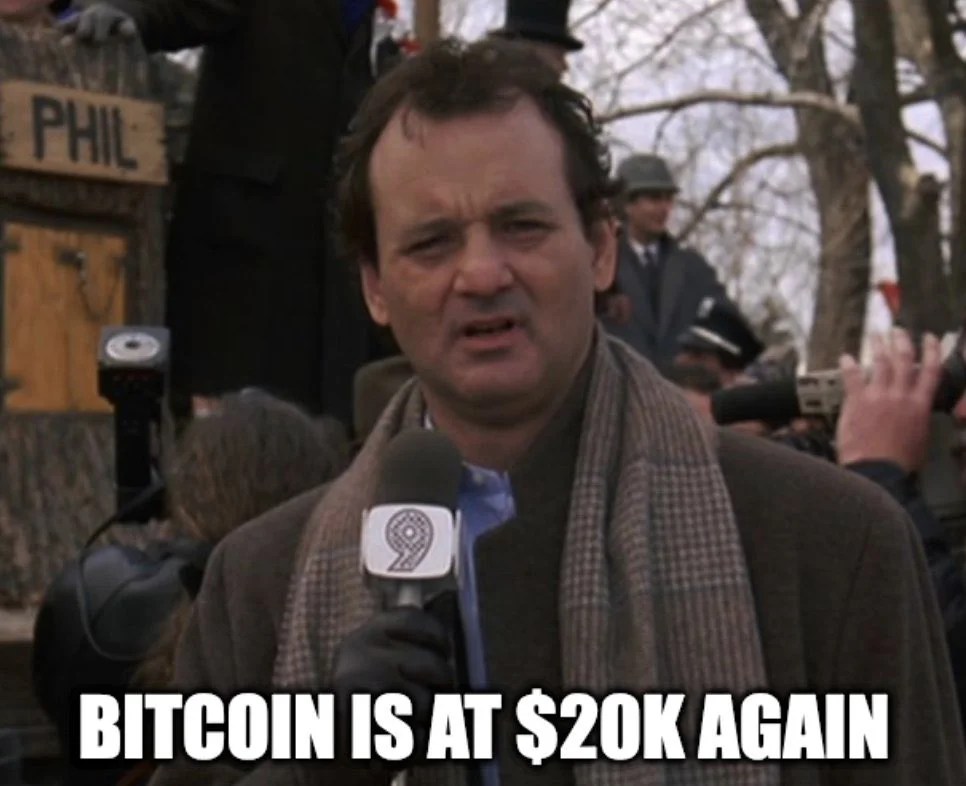 Another week, another seven whole days of roughly US$20k Bitcoin (BTC). It'd be nice to write something more about markets but literally not enough happened. BTC is currently hovering around the US$19,000 mark, down 3.7% for the week.
The last couple of days provided some much-needed respite for Ethereum's recent "major down only" price action with ETH only down 3% for the week. This marks the first time since the Merge was finalised that ETH has closed up the week with better price action than BTC, a signal that the market might be warming up a little more to the second-largest digital asset.
Chainsaw Weekly Wrap: Winners and Losers
In terms of winners, there really wasn't all that much in the way of big green arrows for investors. Anyone holding Maker (MKR) definitely had a good week, with the governance token growing a little over 11%. This was followed closely by lending protocol Aave (AAVE) which saw a healthy 10% gain as well.

Those of you holding onto Terra Classic (LUNC) would've had a rough couple of days, with the token dropping a little more than 16% over the course of the week. It also wasn't a great week for Cardano (ADA) and Solana (SOL) investors, with both of the layer ones witnessing a substantial 10% fall.
Aaaaand that's it for the The Chainsaw Weekly Wrap.
As always, here's Crypto Twitter's most poignant memes served up hot for your weekend enjoyment.
Chainsaw Weekly Wrap: And that's a wrap.