Following in the footsteps of Elon Musk, Ye — formerly known as Kanye West — has thrown his hat in the social media platform ring today by announcing his decision to acquire the "free speech focused" Twitter alternative, Parler.
The news comes one week after Ye's Twitter and Instagram accounts were locked after the iconic rapper posted anti-Semitic tropes concerning Jewish people and their control of world events. Since rejoining Twitter, Ye said he was going to "go death con 3" on Jewish people.
Kanye West and crypto
These statements, alongside a recent appearance at Paris Fashion Week are widely acknowledged as some of the main reasons why US bank JPMorgan decided to officially cut all ties with Ye starting next November. Since the financial institution made the decision to ditch Ye, he has been spotted wearing a Satoshi Nakamoto hat, hinting at a lean towards the crypto industry.
Parler CEO George Farmer wroted in a pinned announcement on the platform that Ye's decision to acquire the platform means that he will "never have to fear being removed from social media again", complete with the hashtag: '#uncancelable'
Parler
The official statement concerning the acquisition leaves most of the finer details to the imagination.
"Parlement Technologies announced today that it has entered into an agreement in principle to sell Parler, the world's pioneering uncancelable free speech platform, to Ye," the document stated.
The agreement is set to finalise during Q4 of 2022. It outlines that Ye will receive ongoing technical support from Parler's parent company, Parlement Technologies.
The Parler platform launched in early 2018 and markets itself as a free speech focused alternative to traditional social media platforms. Today it's used almost exclusively by American conservatives.
Donald Trump NFTs anyone?
Parler made waves earlier this year when it launched its own NFT Marketplace "Deep Red Sky", which featured Donald Trump themed NFTs titled the "CryptoTRUMPClub". As of today, the platform features NFT collections from popular satire media outlet The Babylon Bee and conservative political commentator Brandon Tatum.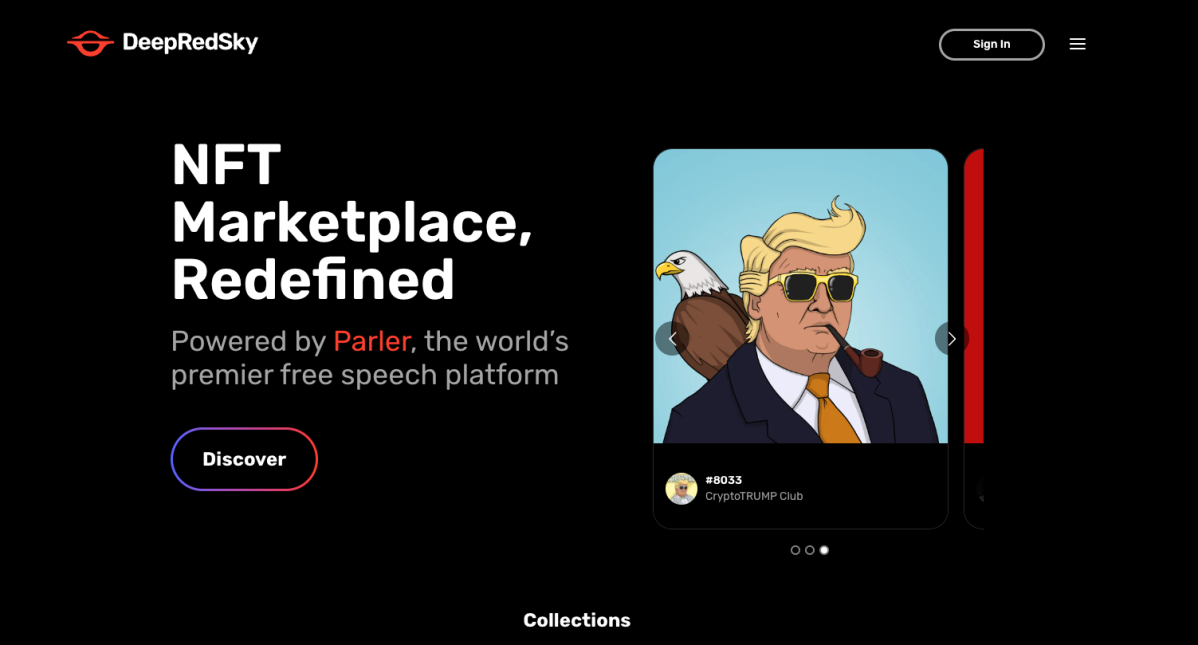 Donald's wife, Melania Trump also tried her hand at non fungibles late last year, choosing to mint a series of NFTs depicting herself on the Solana blockchain, a move that the team at Solana were quick to deny any involvement in.
A representative from Solana made the following statement to Yahoo Finance: "to avoid any confusion… her choice to use the Solana blockchain was completely organic and this project is not part of any Solana-led initiative."
It may not be worth worrying too much about a potential right-wing takeover in the social media space. In the last month the Parler app has seen just 90,000 downloads compared to a healthier nine million for Twitter. Additionally, data from SimilarWeb shows that the Parler website received just 1.3 million visitors on its website last month compared to the 6.8 billion on Twitter or 18.3 billion on Facebook.
The Chainsaw reached out to representatives from Parler but is yet to receive comment.