Aptos, a new speed-focused Layer 1 blockchain, unofficially dubbed the "Solana killer" has gotten off to a bit of a rocky start.
When the Aptos mainnet launched on October 17, it was met with potent criticism from the broader crypto community.
The bulk of the concern was directed at a host of transparency issues around how the native Aptos token (APT) would be listed on exchanges and the disconnect between its promise to deliver over 130,000 transactions per second (TPS) and its actual TPS which was actually actually in the low single digits.
According to a detailed thread from a prominent figure on Crypto Twitter 'Paradigm Engineer 420', the Aptos blockchain is already "broken" and may yet pose a major threat to new investors.
"Aptos promises 100k TPS in its finalised version. However, the current TPS is somewhere around 4 transactions per second," they wrote.
"The majority of these transactions are not actual transactions, they are merely validators communicating and setting block checkpoints and writing metadata to the blockchain," added the engineer.
Paradigm also called out Aptos for a technical fault: "Between genesis and 1:30 PM PT, the Aptos Discord was disabled – users couldn't chat or ask any questions. They've only recently opened a few channels, but important channels like dev-resources are still closed."
Staking
Additionally, 82% of the total supply of 1 billion APT tokens were staked, a factor that has led many in the cryptosphere to assume that there was a very high risk for retail investors to be dumped on by early Aptos investors.
Speaking to The Chainsaw, Paradigm explained that the centralised volume of staked APT tokens was their number one concern with the new blockchain network, saying that Aptos insiders are primed to dump their tokens on "users who don't know what they're buying".
Next came the shadiness around the listing of the network's native token APT on different exchanges.
There's some trust issues with Aptos
Crypto Twitter luminary Cobie was among the first to call out Aptos for a lack of transparency in the listing of their APT token on both FTX and Binance.
"Surely it should be a prerequisite to listing something that users can have the basic information on what they're buying," wrote a frustrated Cobie.
The general lack of trust around the new kid on the block was aggravated by Aptos' warchest of VC funding, with the former-Meta employed founding team already having secured a total of US$400 million in funding, with US$200 million coming from a16z and US$150 million from FTX and Jump Capital.
Following the controversy around the lack of any tokenomics, Aptos quickly released a breakdown of its token supply, claiming in the announcement tweet that the Aptos Foundation aimed to "create a network for the people… with community and fairness at its center". Unfortunately the actual allocation breakdown did little to appease criticism from the community.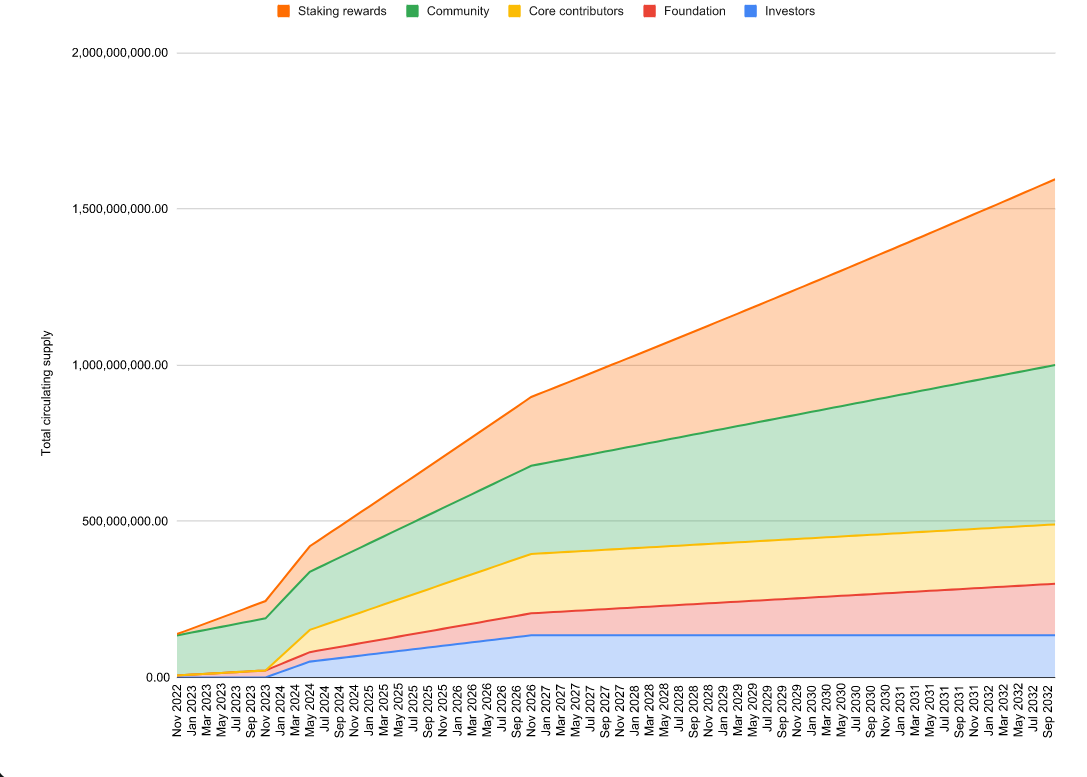 Aptos summary
The summary showed that the initial total supply of APT at Monday's launch was 1 billion, with 510 million (51%) being distributed to community members. 190 million tokens went to core contributors and the remaining amount going directly to the Aptos Foundation and private investors. Tokens held by private investors are subject to a 1 year lock up and the entire circulating supply is set to be released over the next ten years.
More recently, Aptos has been caught out "urgently persuading" exchanges to take down perpetual futures contracts for its native APT token. According to Wu Blockchain, the first to report on the matter, the reason for Aptos' attempts to delist financial products may comes from the Aptos team trying to avoid any major price volatility. Regardless, Binance has refused to heed requests from Aptos and will launch perpetual contracts today (October 19).
Overall, the general response to Aptos' arrival in the cryptosphere can be summed up by this scorcher of a meme: