NFTs and Mental Health: The adulation and fulfilment that individuals receive by engaging in the NFT space is often caveated with passive contradictory statements that they are experiencing mental health issues such as stress, burnout, and exhaustion. 
Artists and investors alike have been known to remark: 'the NFT space has provided me with so many opportunities, but I'm on the verge of burnout' or 'never met an nft degen that wasn't sleep deprived and tired'.
In a market where one mint can change a life, at least financially, the fear of missing out overrides and rationalizes all logical decisions to withdraw and retreat. The result of this is chronically active participation, bordering on the realm of addiction, where arbitrary rewards are prioritised over one's own health and wellbeing.
Virally shared memes and skits corroborate the collective sentiment, but instead of empowering change, unify a spirit of 'we're all in this together'. Or, as the saying goes, 'we're all gonna make it' (wagmi).
This glorification of democratic falsehoods provides validation to impulsive actions. Driven by fear of regret, this enacts a perpetual cycle spun by the industry of capitalism in which ambition is elevated to an unprecedented pedestal, and those who fall short are perceived as lazy and incompetent.
The verbicide of success has been corrupted to symbolize relentless effort, when in fact long-term achievement in any field is often a result of patience and endurance. Persevere wisely as the common adage goes. But that's not how many see it.
Collectors willingly drop 0.2 ETH on a speculative mint following a one-month fanfare-induced promotional campaign, but wouldn't consider investing that same US$250 into three or four therapy sessions.
Web3 Dreams, Web2 Reality
Much of the communication between brand and consumer, as well as the interactions between individuals in the space, occurs predominantly on social media platforms Twitter and Discord.
And so, on a fundamental level, we see advocates and evangelists of Web3 engaging with platforms built and designed for the needs of the Web2 era. To compound the matter, these platforms' algorithmic incentives foster an environment in which the users are valuable consumers, not valued community members.
A prime example of this is 'grinding the Discord', a process in which users send messages on an NFT project's channel in pursuit of a whitelist spot, and consequently the exclusive opportunity to mint an upcoming asset.
Whitelists, now referred to as friends lists or allow lists for the purpose of more inclusive terminology, were a guaranteed ticket to the jpeg promise land in the bull market of 2021.
Their scarcity fuelled mass hysteria, and the obsession with the floor price of a collection — as though it represented the sole metric of success — cultivated an insatiable demand to consume. And with that came soaring prices.
But behind every collection from Bored Ape Yacht Club to Cool Cats to Fidenza there are real human-beings – artists with a conscience and soul, an archive of troubles and triumphs, and emotions to portray on their canvas of choice.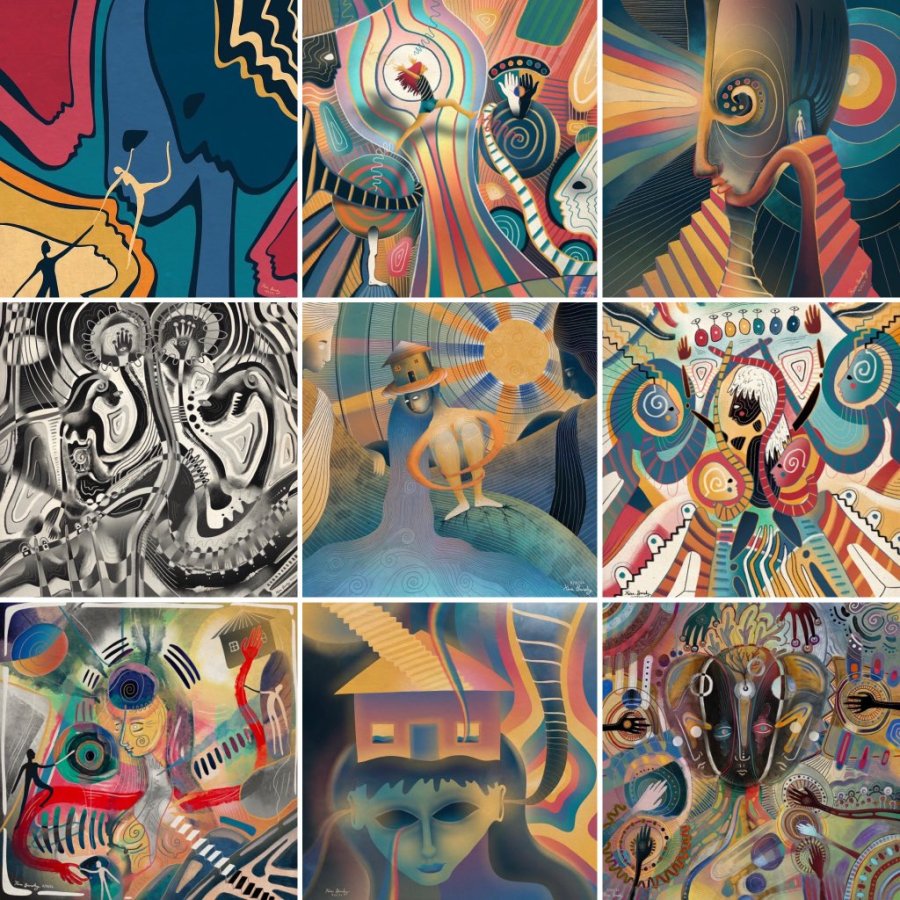 NFTs and Mental Health: Interview with Kira Burksy
The Chainsaw sat down with Kira Burksy, a prominent NFT artist and mental health advocate known as AllAroundArtsy to explore the true mental impact of the NFT space on artists. Burksy's work primarily centres around exploring the nuances and symbolisms of self-care.
Throughout the conversation, it became evidently clear that to help mediate the more challenging aspects of the NFT market, as well as technology at large, she felt that it's important to reconnect back to your purpose – the true reason why you began creating or engaging in the first place.
Recapturing the vibrancy and silliness of her character, as well as being uplifted by her fellow artists' innovations and discussions, are crucial elements for her process of dealing with periods of anxiety and depression.
"What I've discovered in my journey is that whenever I've just let myself have fun, and be silly and become connected to my core self, that's generally when I've had the most success in the community."

Kira Burksy
The need for artists to display a ubiquitous presence across a multitude of social media platforms can become a source of enhanced pressure within the creative process.
Add in the insidious, quietly creeping influence of excessive screen time, in tandem with the work-from-home culture, and the looming utopia of the metaverse and there you have a mind of cacophony, sheer overwhelm for the everyday, let alone creative pursuits.
Burksy shared that she sometimes finds it challenging to manage the demands of the space, especially due to the fact that the communities operate 24/7 and internationally.
"I think for anyone in the NFT community finding that balance of how much you're on social media is really hard. I think a lot of what we read on social media affects us in deeper ways than we realise", she said, but that "it's a balance that I'm still figuring out each day."
In August this year, Burksy's NFT project Magic Mind donated 6ETH ($9,000 at the time) to three mental health charities: American Foundation for Suicide Prevention, International OCD Foundation, and Harmless UK.
NFTs and Mental Health: Positivity Always Wins
Revered thought leaders from the space such as GMoney, Alejandro Navia and Satvik Sethi have all spoken candidly on the subject of mental health, vocalizing their concerns for the culture, but pledging their intent to make a positive difference.
Similarly, projects such as Psychedelics Anonymous, Etched, and Gary Vaynerchuk's VeeFriends have too birthed their philosophies upon positive principles of unity.
For those who have established a proverbial foothold in the space, through such actions as acquiring a culturally-esteemed collectable, or being employed into a position to provide content or commentary, the experience of interacting with the NFT community can be socially fulfilling.
The daily gm, a warmful greeting between frens. Once you're actively engaging within communities through Twitter Spaces, Discord chats, IRL events, etc, the experience can become so much different.
Joan Westenberg defines community as "a group of people who interact with each other, support each other, and feel a sense of connection. A community is a group of people who have a shared understanding of identity."
It's not where people gather, but that they do, she argues. So, even in the world of Web3 and decentralisation, feelings such as togetherness, unity, and a sense of belonging remain universal needs.