Non-fungible tokens (NFTs) and other digital assets have witnessed a great deal of interest over the last few years. Although the prices of major collections have fallen significantly since their peak value in 2021, there's still a good deal of interest in the emerging technology. That's why we're breaking down all of the best marketplaces to purchase NFTs in 2023.
When we're talking about NFTs, the technology goes beyond just being 'digital art'. NFTs can be anything from very expensive pictures of monkeys all the way to pieces of land in the metaverse. For that reason alone, many experts believe that NFTs as an asset class still have a very strong future ahead of them.
If you're still struggling to grasp the concept of NFTs — and why some people are paying millions for them — an NFT is merely a 'token' that creates a unique version of a picture, video or any digital media online. Minting something as an NFT allows for this item to be verified and traced back to its creator at all times, essentially nullifying the problem of 'copy pasting' digital work online.
See prominent NFT designer Jack Butcher's very simple visual explanation of NFTs below.
What is an NFT marketplace?
An NFT marketplace is a digital place where you can buy, sell and trade NFTs. A good NFT marketplace is your gateway to participating in the purchase and sale of these digital assets, allowing you to buy anything from art to music to virtual property.
It's easy to imagine an NFT marketplace as something akin to Amazon or eBay, except for the world of virtual goods.
Why do you need an NFT marketplace?
Because of the rapid proliferation of different types of NFTs, the Web3 space has witnessed a growing wave of new NFT marketplaces entering the industry, with many of them honing in on a specific niche.
So, what should you look at before deciding which one to use, and what are the top NFT marketplaces out there? Here's everything you need to know about NFTs and the best places for purchasing them in 2023.
How do NFT marketplaces work?
Buying NFTs
NFT marketplaces allow digital asset enthusiasts to purchase a wide range of non-fungible tokens. If you're interested in art, music, virtual land or digital collectibles, then understanding how to buy NFTs is an invaluable skill to learn.
Minting NFTs
The term for creating a brand new NFT is called 'minting'. This process involves creating a new 'token' on the blockchain and attaching a picture, video or any type of digital multimedia to this token. When you 'mint' an NFT, you're actually creating an entirely new digital asset, that extends beyond just being a jpeg on the internet.
Selling NFTs
Selling an NFT involves listing it on an NFT marketplace for a certain price. The key thing to note when selling NFTs is the type and size of the fees that marketplaces charge on each sale. Fees begin at 0% and range all the way up to 15% on more premium marketplaces.
Types of NFT Marketplaces
NFT art marketplaces
NFTs rose to prominence as a way for artists to create, buy and sell digital art online, in a way that avoids the 'right click save' phenomenon of simply copying pictures. By minting each picture on the blockchain as a non-fungible token, artists can use smart contracts to enforce royalty payments every time their digital art is sold on some platforms.
As the name suggests, NFT 'art' marketplaces are more aimed at the sale of art, rather than offering a wide array of NFTs. Such platforms include all of the major ones like OpenSea, Magic Eden, SuperRare and Rarible, however for those looking to find more premium, curated collections of 'art' online, its best to take a look at NFT marketplaces such as Foundation and MakersPlace and Nifty Gateway.
NFT music marketplaces
Music NFTs are a very specific niche within the world of digital assets. Many of the larger NFT marketplaces include support for NFTs that come with music functionality or serve as links to the world of music. If you're looking to browse musicians and artists that release music NFTs, niche marketplaces like Emanate and Audius specialise in the streaming of music in the world of Web3.
Ethereum NFT marketplaces
Ethereum is the most popular blockchain for buying, selling and minting NFTs. As a result, almost all major NFT marketplaces include support for assets hosted on the Ethereum network.
Solana NFT marketplaces
Solana is a blockchain network that operates in a similar way to Ethereum, however because it's cheaper to use and build on, a lot of creators with smaller budgets prefer creating on Solana. The best Solana-friendly NFT marketplace is Magic Eden, which was launched as a Solana-only platform in September 2021.
The best NFT marketplaces
OpenSea
Launched in 2017, OpenSea has grown to become the leading marketplace for buying, selling and minting NFTs. OpenSea has the widest range of digital assets available for sale on its platform, and it's free for anyone to sign up and use.
OpenSea is one of the easiest NFT marketplaces for beginners to use. It has an intuitive 'no code' process for creating new NFTs as well as listing them for sale.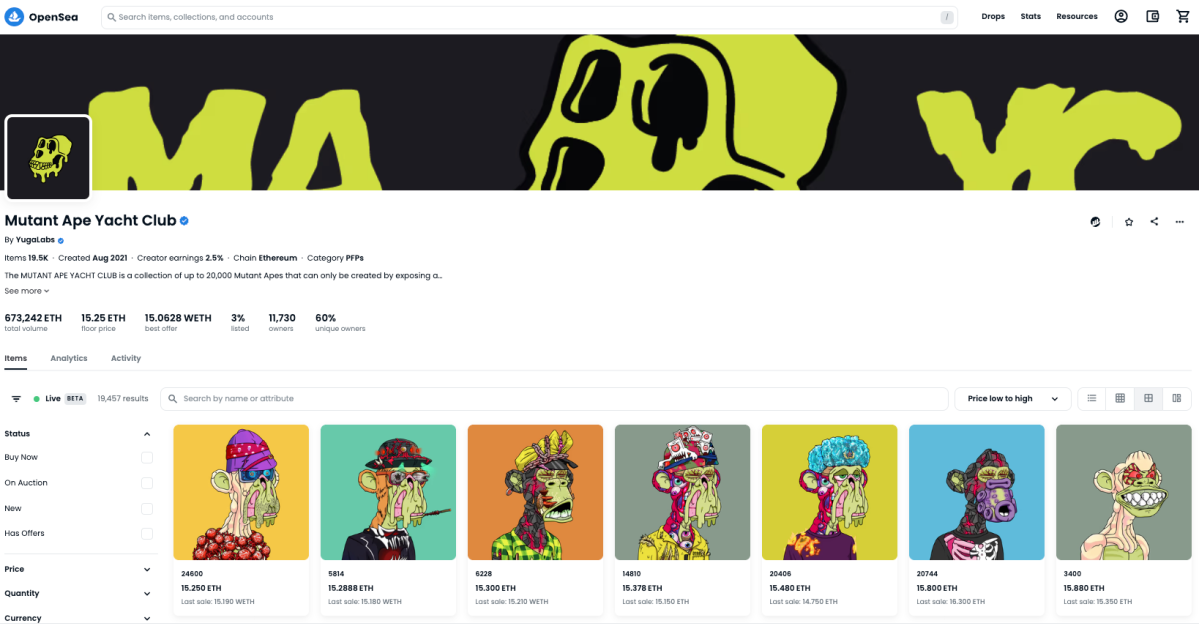 The OpenSea marketplace features support for more than 150 different cryptocurrencies, making it the most widely accessible tokens, so the platform's name is appropriate. For an introduction to the NFT world, OpenSea is a great place to start.

It's worth keeping in mind that OpenSea takes a 2.5% fee on the final sale price of every NFT sold on its platform, which is slightly higher than some of its competitors.
Magic Eden
Despite being launched in September 2021, Magic Eden rapidly surged to become the most popular NFT marketplace on the Solana blockchain network. It has the highest number of users among SOL NFT markets, and is the second-largest NFT platform in terms of trading volume, coming in just behind OpenSea in terms of daily trading volume.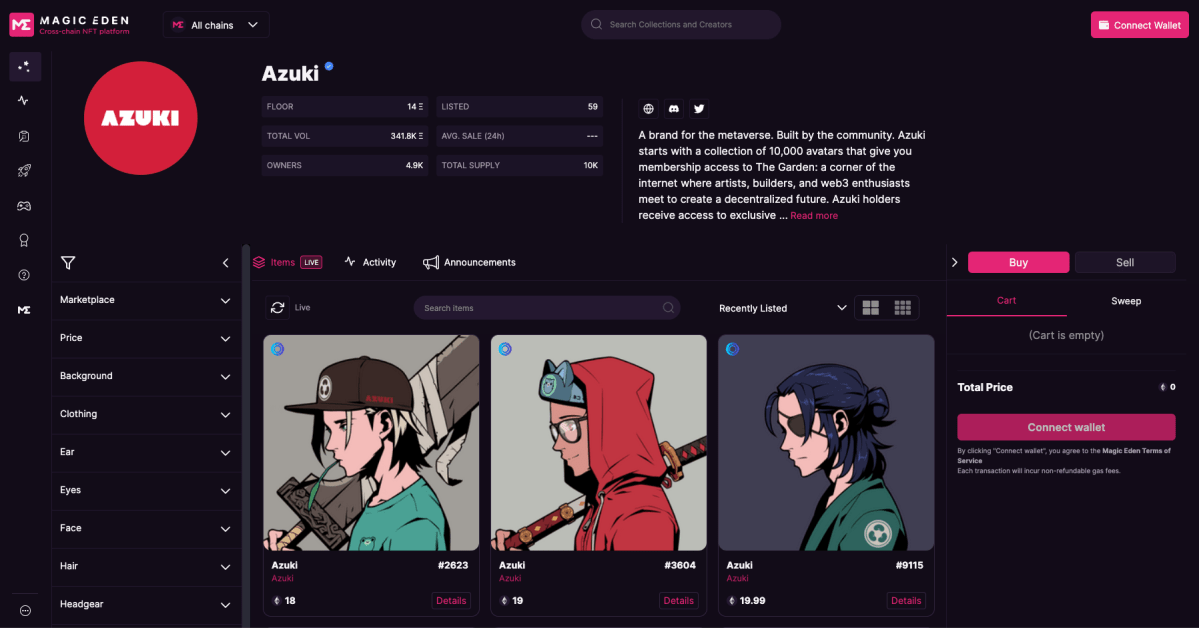 Magic Eden has become popular among digital asset collectors looking for smaller, more niche collections. While the platform launched as a Solana specific platform, it has since expanded to include support for Ethereum-based NFTs, with support for a number of new blockchain networks to be added in the near future.
Magic Eden is one of the more competitive NFT platforms when it comes to fees, taking just 2% of every sale.
Rarible
Rarible is another major NFT marketplace that offers an extremely wide range of digital assets, making it very similar to OpenSea. An expansive array of art, music, collectibles, and videos can be bought, sold, and minted on the Rarible platform.
The only major downside to Rarible is that, unlike OpenSea and other NFT marketplaces, you'll need to purchase some of the marketplace's native token 'RARI' to buy and sell on the marketplace.

Despite Rarible being built on the Ethereum blockchain, it is still yet to offer purchasing options for users looking to buy digital assets with ETH or any other of the major cryptocurrency, so definitely something to keep in mind if you don't like the idea of 'swapping' your pre-existing crypto into RARI tokens.
In recent months, Rarible has partnered with some notable brand names including Yum! Brands, fast food chain Taco Bell and cloud software giant Adobe.
SuperRare
SuperRare is another one of the leading NFT marketplaces for digital artists and collectors alike.
SuperRare recently announced the launch of its native token 'RARE' on the Ethereum blockchain. The tokens will be used to find and curate new talent for the marketplace. Similarly to Rarible, NFT created on the SuperRare platform can also be bought and sold on OpenSea.
SuperRare charges a 3% fee on all NFT sales which is always paid by the buyer.
Nifty Gateway
Nifty Gateway is the top NFT marketplace for influencers, celebrities and established brands to create limited-edition digital items. Since launching in 2018, Nifty Gateway has hosted exclusive drops for celebrities and artists such as Lil Yatchy, Beeple, Grimes and Trevor Jones.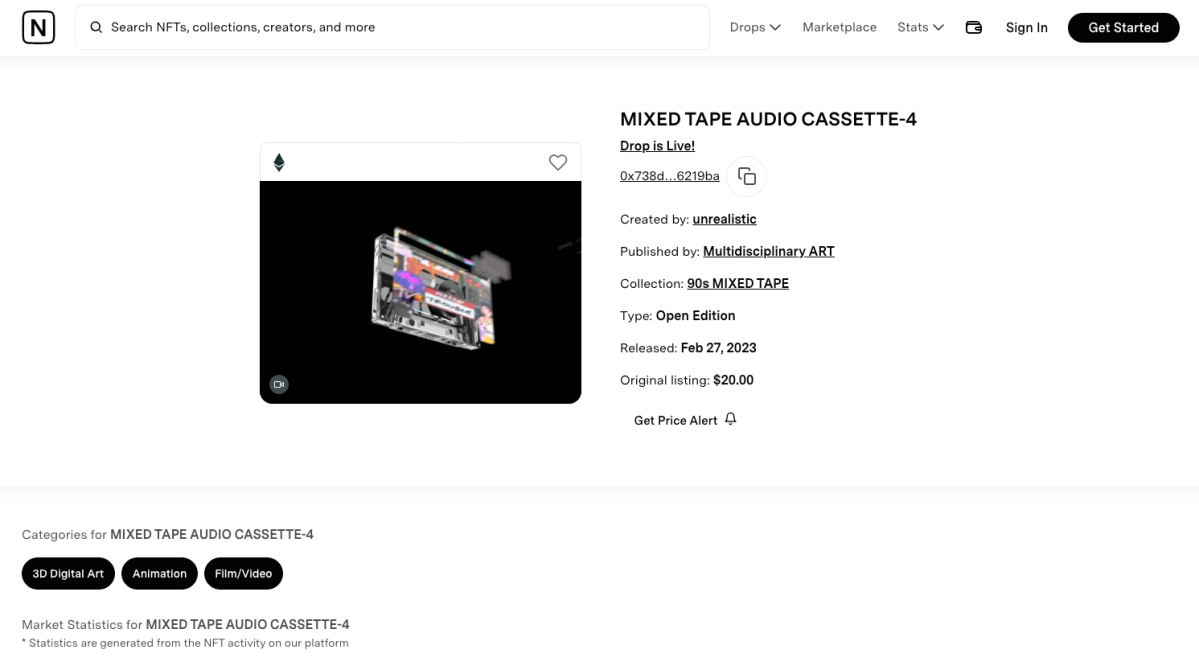 Most notably, Nifty Gateway famously hosted a US$6.6 million sale for a work by prominent digital artist, Mike Winkelmann, better known by his pseudonym 'Beeple'. It's also worth noting that Nifty Gateway has strong ties to the Winklevoss-owned crypto exchange Gemini.
Due to its celebrity-focused preference for listing NFTs, Nifty Gateway takes a whopping 15% fee on all sales and only supports purchases made on the Ethereum network. If you're looking for indie artwork or more 'grassroots' collections, Nifty Gateway probably isn't the platform for you.
Foundation
Foundation.app was designed as a simple way for collectors to bid on digital art. Since the marketplace's launch in February 2021, it has sold more than US$100 million worth of NFTs.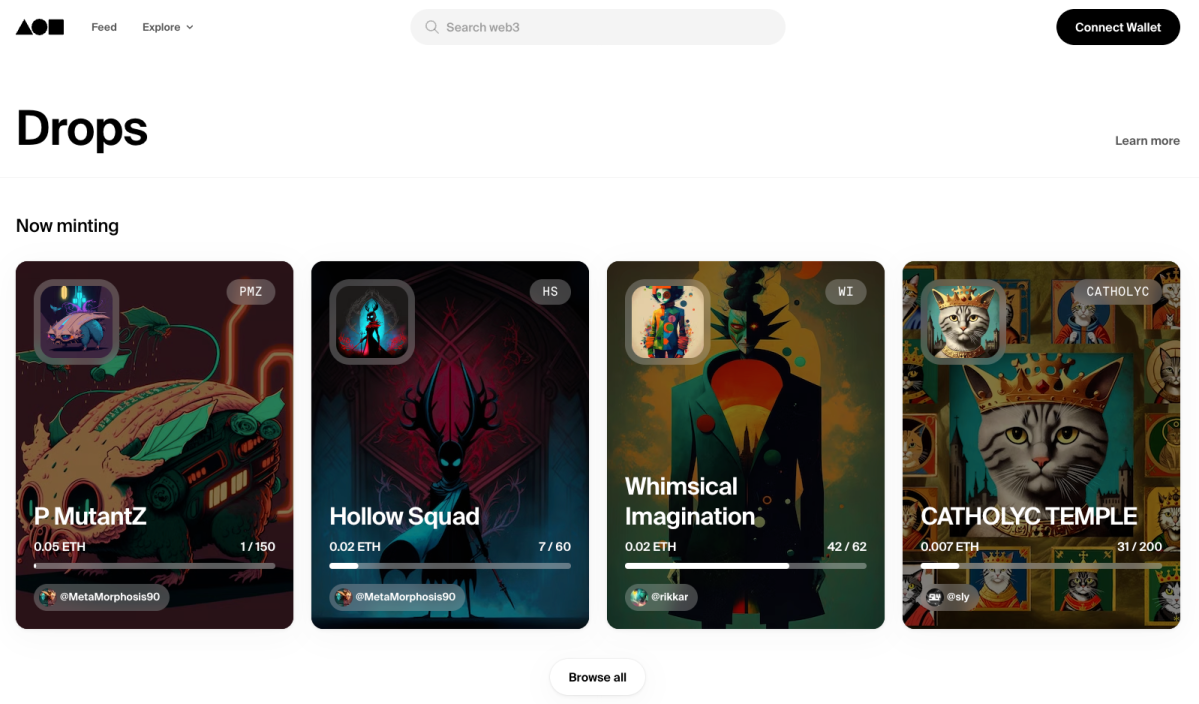 Foundation is a selective NFT marketplace, and as such, only artists that receive an invitation from the Foundation community can list their work on the Foundation platform. If you're looking to purchase digital art from the Foundation platform, all you need to do is link a crypto wallet with Ethereum (ETH) to begin making purchases.
Foundation is definitely aimed at those looking to collect premium digital art. If you're a new artist looking for a quick way to start minting your own NFTs, Foundation probably isn't the best place to begin. Still, the Foundation platform offers a very clean user experience and is a great destination for buyers looking at investing in curated collections of digital art.
Blur
Blur.io is an NFT Marketplace built on the Ethereum network. Launched on October 19 2022, Blur has rapidly become the number one trading platform for NFTs by total sales volume. Unlike other NFT marketplaces that target everyday users and long-term collectors of digital assets, Blur is designed with the professional NFT trader in mind.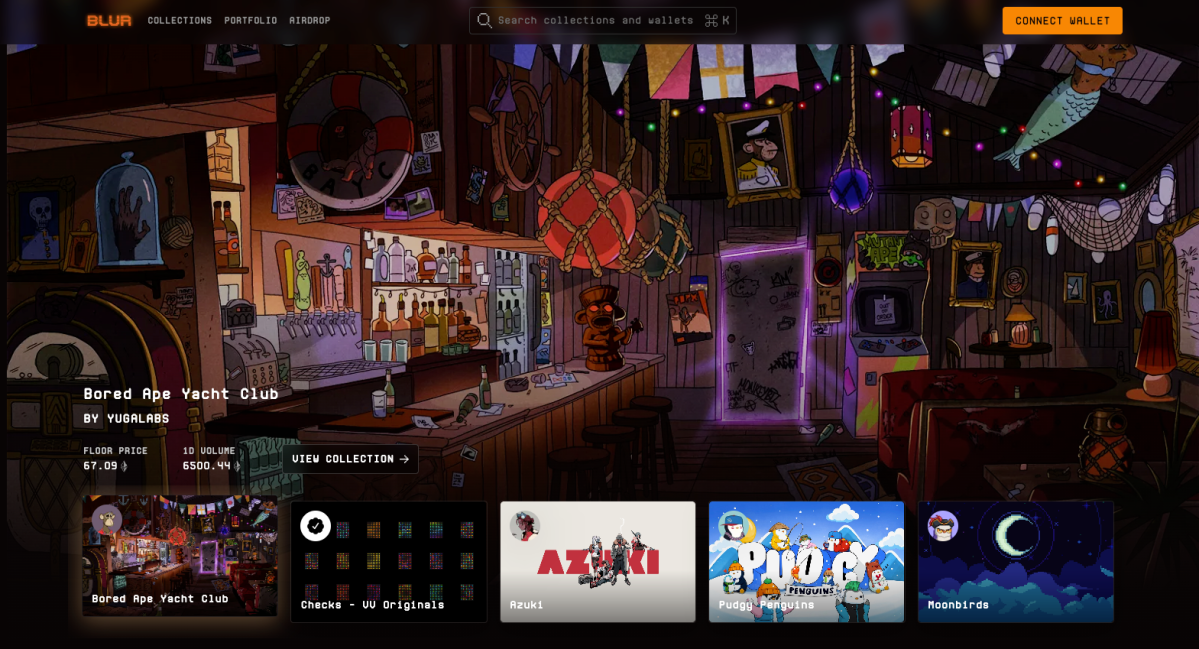 It's worth pointing out that users cannot 'mint' new NFTs on Blur, as the platform is designed entirely for buying and selling NFTs. What makes Blur so attractive to traders is that unlike many of the other marketplaces, it doesn't charge any transaction fees for users on the platform.
When it comes to royalty payments, which are mandatory across most of the marketplaces today, Blur simply recommends a default royalty rate of 0.5% for buyers. This small royalty fee can often be customised and set to zero if the user wishes to trade without fees altogether.
Overall, Blur offers a convenient and cost-effective platform for looking to buy and sell NFTs quickly.
Investing in NFTs
While NFT marketplaces serve as your gateway into the world of investing in digital assets like art, music and collectibles, it's important to remember that NFTs are highly speculative assets. Make sure that you're never investing in NFTs because of hype or FOMO (fear of missing out).
While many NFT collections like Pudgy Penguins and the Bored Ape Yacht Club have surged in value, there's never any real guarantee that ensures an NFT collection will grow in price in the future.
Much like the world of physical art and collectibles, value can be extremely subjective and determined by a number of factors that don't fall under the purview of traditional investments. When purchasing NFTs, make sure it fits into your broader investment strategy and never spend money you can't afford to lose.
What is the most reliable NFT marketplace?
The most reliable NFT marketplaces are typically the largest. So in this case it's best to think of major marketplaces like OpenSea, Rarible and SuperRare as the most reliable and safe places for your digital assets. While smaller NFT marketplaces may offer more niche investment opportunities, the general rule of thumb is; the larger the NFT marketplace, the better.
Where to buy crypto to use on marketplaces
The best way to buy crypto to use on NFT marketplaces is by purchasing cryptocurrency, typically Ethereum (ETH) or Solana (SOL) from a major exchange like Binance, Coinbase or Crypto.com.
Once you've purchased your cryptocurrency from one of the exchanges, you'll need to set up another third-party crypto wallet that you can then connect to the NFT marketplace you wish to buy non-fungible tokens from.
If you're purchasing mostly Ethereum-based NFTs, the most versatile crypto wallet to use is MetaMask.
However, if you prefer Solana-based NFTs, you'll want to use Phantom Wallet.
Then once you've purchased your cryptocurrency from a major exchange, you can then send it to your MetaMask or Phantom wallet. Once the crypto has been transferred, you're free to start browsing NFTs on any or all of the NFT marketplaces listed above.