If you're a crypto bag holder who's constantly on the lookout for places that accept crypto as payment, look no further. A new study by crypto tax software CoinLedger has revealed that the retail and e-commerce sector has the highest number of companies that are accepting crypto as payment.
The company compiled a list of over 300 major corporations worldwide that take crypto from their customers – the list included brands like H&M, Adidas, and Etsy. In the end, CoinLedger found that of the total number of companies surveyed, retail and e-commerce companies emerged as the top sector that's seeing the highest crypto adoption with as many as 60 companies accepting crypto as a payment method.
Coming in second is the food and dining sector with 54 companies accepting crypto. They included Chipotle, Domino's, and delivery services Uber Eats and DoorDash.
In third place on CoinLedger's list is the luxury and retail sector with 35 companies. High-end fashion and timepiece brands Gucci, Ralph Lauren, and Hublot are those that are accepting crypto payments from wealthy customers.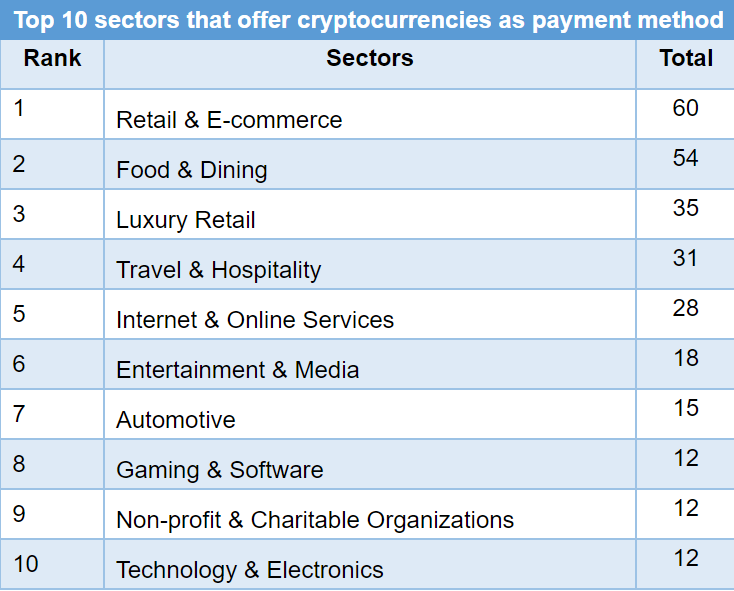 Rounding off the top ten is the tech and electronics sector with 12 companies accepting crypto coins as payment.
Crypto as payment: In luxury
The luxury sector is one of the fastest growing industries when it comes to crypto adoption. A May 2023 survey by crypto payment solutions provider HAVN Pay showed that 20% of crypto payments handled by the company are towards hefty luxury purchases, from designer handbags to luxury cars.
"The increasing number of companies accepting cryptocurrency payments reflects the growing acceptance and adoption of digital currencies in the mainstream economy," said David Kemmerer, co-founder and CEO of CoinLedger.
The emergence of companies like Travala, where travellers are able to book flights, hotels, and tours with crypto, also show that there is a market for consumers who want to pay using digital assets. 
Crypto as payment: Australia
In Australia, there is also no shortage of crypto or Bitcoin ATMs for fellow crypto enthusiasts. Per Coin ATM Radar, there are currently a total of 707 Bitcoin ATMs and tellers across the country, with 145 of them in Melbourne and 186 in Sydney.
Last year, Aussies also claimed the number one spot for being the most 'crypto-curious' people in the world.
"From major retailers to small businesses, the diversification of sectors embracing cryptocurrencies demonstrates the versatility and potential of blockchain technology. As this trend continues, it's likely to contribute to the broader acceptance of cryptocurrencies as a legitimate form of payment, paving the way for a more decentralised and accessible financial landscape," Kemmerer adds.