Aussies really like cryptocurrency — at least that's what the numbers suggest. Right now, Australia stands as the number one most 'crypto-curious' country in the world, and impressively, we're taken out the number four spot internationally when it comes to overall crypto adoption.
According to Finder's global crypto adoption index, approximately 22% of all Australians own some form of digital currency — a fairly substantial increase from 18%, a figure shared in a report released at the tail end of last year.
Which country has the highest rate of crypto ownership?
Leading the world in terms of general crypto ownership is India, with approximately 29% of all citizens owning some form of digital asset, followed closely by Nigeria at 27% and Vietnam snapping up third place with 25%.
The global average for crypto ownership stands at roughly 11%, meaning that, very broadly speaking, an Aussie picked at random on the street is twice as likely to own crypto.
Aussies are the most crypto-curious
It's not just the ownership stats that are intriguing.
During 2021, Australians made more Google searches for 'cryptocurrency' per person than any other country by a massive margin. According to the Worldwide Crypto Readiness Report, Aussies made 4579 crypto searches per 100,000 people, followed in a distant second by Ireland with 3472 searches per 100k people.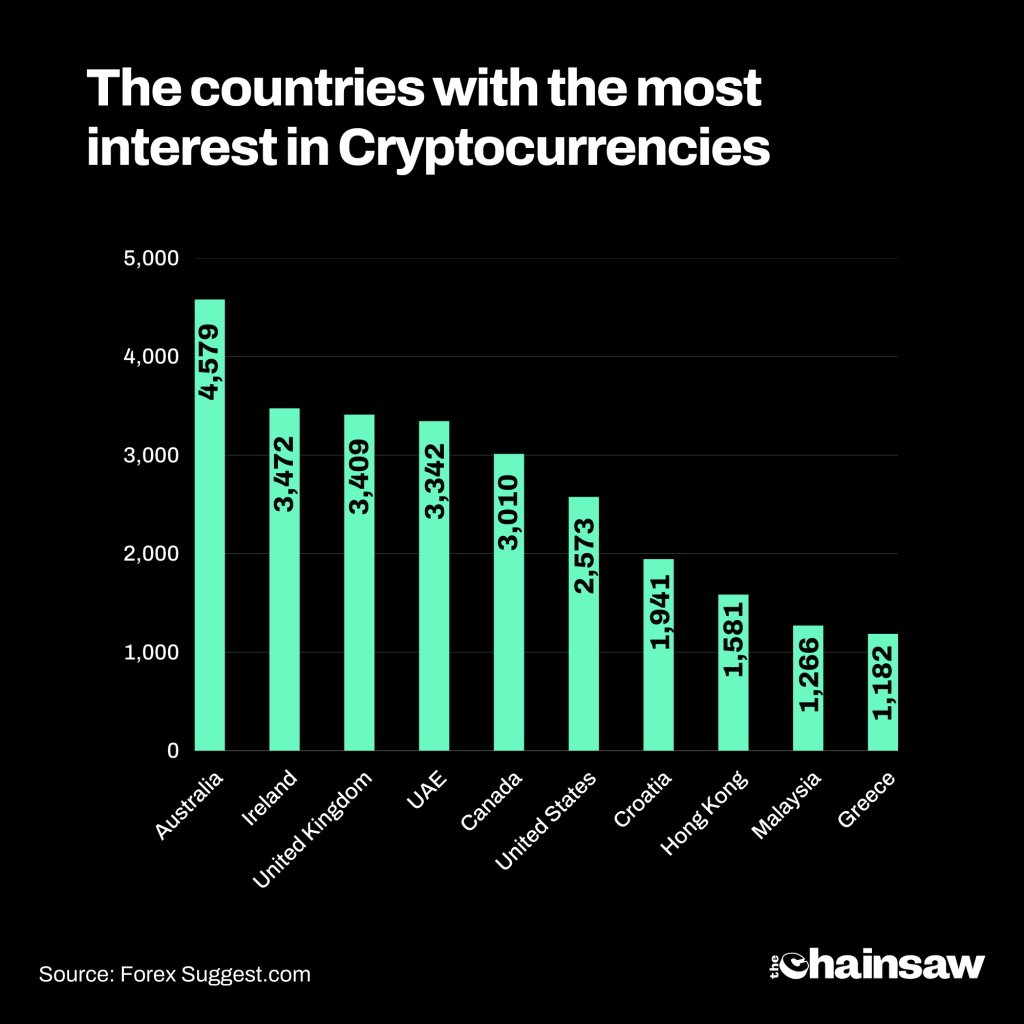 2021 was also the breakout year for the Australian love affair with crypto. Gemini's 2022 'Global State of Crypto Report' found that two in five – or 40% – of all Aussie crypto owners began investing in digital assets sometime last year. The study surveyed nearly 30,000 people throughout 20 different countries, 1200 of whom were Australians.
Gemini's report also found that the gender gap among the crypto-curious is essentially non-existent, with 52% of Aussies showing a piqued interest in crypto being female.
There's still some work to do
Ownership-wise, Australian men are still more likely to own cryptocurrency, with the current split showing that 63% of crypto owners are male and 37% are female.
Unfortunately, a more detailed report from market research firm Roy Morgan found that when looking at the actual sums of crypto owned by men and women in Australia, men account for a total cryptocurrency investment amount of $17.4 billion (81% of the market) compared to only $4.2 billion (19%) for women.
Wait… 'Old people' own the most crypto?
Surprisingly, even though they're far less likely to be cryptocurrency investors, Australians aged 50+ have the largest average cryptocurrency investments, with an average portfolio size of $56,200. This means that the value of crypto holdings for people over 50 stands at roughly $7.6 billion, or nearly 35% of the total market.
Contrastingly, even though they're much more likely to be crypto investors, Australians aged 18-24 have an average crypto portfolio size of just $2600. Even though the headlines might make it seem a new 21-year-old crypto millionaire is popping up every day, younger Aussies hold a total of $630 million in crypto investments, which is just 3% of Australia's total cryptocurrency market.
Crypto adoption: Our favourite tokens
As you'd expect, Bitcoin (BTC) is the most favoured crypto among Aussies, with Finder's August index seeing that 60% of investors own the original token.
This is followed closely by Ethereum (ETH), which now sits in 44% of all Australian crypto wallets. In third was Elon Musk's favourite, Dogecoin (DOGE), which is owned by 25% of Aussies, then Cardano (ADA) at 18%.
Aussie crypto adoption moving forward
While the recent decline in digital asset prices has undoubtedly had a negative impact on crypto adoption rates around the world, the overarching trend of adoption in Australia remains on a steady incline.
If the efforts of blockchain developers are anything to base predictions about the future of crypto adoption on, it seems reasonable to think that bear market might already be a build market.