Well, the last seven days certainly didn't pull any punches for crypto and Web3. Read up on everything that went down in this edition of The Chainsaw Weekly Wrap.
This week in Web3
Kicking things off with a bang, popular crypto influencer Ben 'BitBoy' Armstrong flew to the Bahamas in a bid to 'hunt down' the disgraced FTX founder Sam Bankman-Fried (SBF). Apart from allegedly finding SBF's Toyota Camry which had a mysterious bottle of pills laying on the front seat and visiting some locations associated with FTX's financial misdealings, BitBoy ultimately failed to provoke an in-person from SBF.
Providing us with some much-needed good news, Belgian financial regulators ruled that Bitcoin (BTC) and Ethereum (ETH) are not securities. The Belgian Financial Services and Markets authority said that because crypto assets like BTC and ETH do not have an issuer and are instead "created by computer code" they should be exempt from securities regulation. Hopefully the SEC's Gary Gensler takes some notes.
In a sea of red for crypto markets, the only real glimmer of hope was found in an unlikely place. Dogecoin (DOGE) surged roughly 15% between Monday and Wednesday as news of Elon Musk potentially accepting the memecoin as payments for Twitter sent the market into a brief frenzy. The DOGE spike came as Elon Musk also hit out at Apple criticising its 30% "tax on the internet".
Mysterious deaths
The mysterious and untimely death of Amber Group co-founder Tiantian Kullander raised some eyebrows this week as well. Kullander reportedly died in his sleep from "unknown causes", but many were quick to question the legitimacy of these reports. Kullander  was widely regarded as being in "good health" and at just 30 years of age, dying abruptly in one's sleep is extremely rare. 
With the FTX contagion continuing to wreak havoc on the broader crypto market, US State Regulators announced that they would launch an investigation into Genesis Global Capital, one of the largest banks in the crypto industry. According to a report from Barron's, investigators from Alabama are honing in on whether Genesis broke the law by encouraging investors from the state to invest in crypto products without having the required registrations.
The parent company of Genesis Global is none other than Digital Currency Group (DCG) which also owns a number of major pillars of the crypto economy, namely: crypto's largest asset management firm Grayscale and leading crypto publication CoinDesk.
DCG has rapidly become the subject of growing scrutiny from regulators and crypto market participants alike after the Wall Street Journal revealed that the company unsuccessfully scrambled to find a spare billion dollars to help fill a hole somewhere in its books (we're looking at you Genesis). According to Semafors, DCG also began taking offers for CoinDesk this week with one potential buyer offering US$300 million to buy the crypto news outlet.
Don't worry, the FTX drama didn't stop there. After weeks of beating around the bush, crypto lender BlockFi finally admitted it was broke and filed for Chapter 11 bankruptcy protection in the United States. 
FTX
The icing on this week's FTX cake was Sam Bankman-Fried appearing on his first live interview since the epic collapse of his crypto empire. Bankman-Fried spoke with Andrew Sorkin at the New York Times annual Dealbooks summit where he attempted to reframe the implosion of FTX and Alameda Research as a series of "genuine mistakes".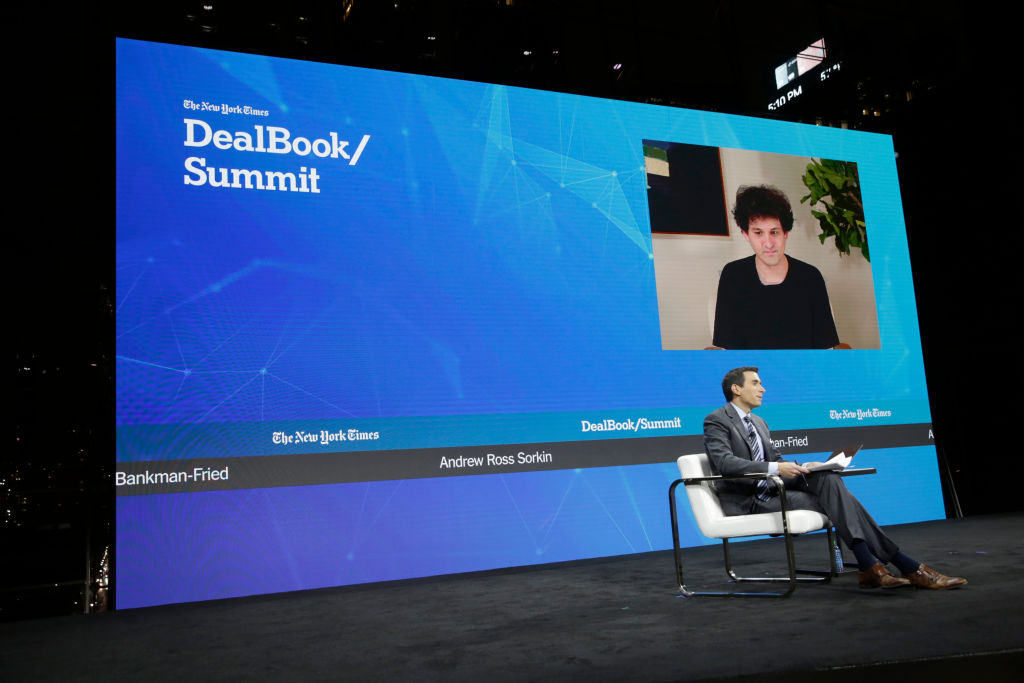 While media outlets like the NYTimes may be more sympathetic to his apologetic stance, many in the crypto community were a little more unforgiving, and argued that the failure of FTX was the fault of fraudulent and deceitful behaviour, not by Bankman-Fried's lack of "risk management".
Despite all of the FTX-related chaos, Binance CEO Changpeng Zhao (CZ) said that the industry is "healthier" after a "nasty" year. Speaking at a Binance event in Athens CZ added that crypto investors can expect to see a recovery for the crypto industry in the long term, but refused to give any time-specific predictions around 'when' this recuperation might go down. 
Terra Luna
It wasn't all about FTX this week, with regulators coming down hard on the failed Terra (Luna) ecosystem. According to a report from South Korean news outlet Yonhap, Korean prosecutors are reportedly seeking an arrest warrant for Terraform Labs co-founder Daniel Shin for "illegally taking profits" from the Terra money project. South Korean authorities are still hunting Terra's founder Do Kwon, despite him repeatedly telling his one million Twitter followers that he's "not on the run".
Over in CBDC land, the Reserve Bank of India announced that it would begin testing its retail central bank digital currency (CBDC), the digital rupee, across four major cities; Mumbai, New Delhi, Bengaluru and Bhubaneswar. The RBI says that four main banks will participate in the pilot.
What's new in non-fungibles?
In some more light-hearted news, Dan Harmon, the creator of Rick & Morty, says that he'll write one lucky NFT holder in the season finale of his new show Krapopolis.
This week also saw some good news for NFT creators, with Magic Eden launching a protocol that will see royalties enforced for creators that opt in. This comes as a welcome semi-backflip after the leading Solana-based NFT marketplace told creators that enforcing royalties would be a thing of the past.
OpenSea, which has made its own interesting moves in the royalty space, reported that NFT creators have now officially seen more than US$1.1 billion in royalty payments, with a little over 80% of that number being paid out to collections outside the top 10.
With regulators looking at the crypto and Web3 space a little more closely following the events of this month, a group of crypto experts took the stage to advise European Union policy makers on how best to approach regulating the wild world of NFTs. According to a report from The Block, Fabian Vogelsteller, who famously penned the code behind the ERC-20 token standard, told regulators that "thinking of NFTs solely as financial instruments is not the right approach."
Finally, some cash money
With markets in the doldrums, is there any activity happening in the world of fundraising? Glad you asked, a fair bit in fact. Here are the money moves making the most noise in the space.
Not too shabby for a bear market.
The Chainsaw Weekly Wrap: This week's crypto market moves
It'd be lovely to be able to share some good news for markets this week, but once again, the past seven days have seen the price of cryptocurrencies continue on their downward trend.
Flagship cryptocurrency Bitcoin (BTC) technically finished this week up 3% overall but remains down nearly 20% for the month. At the time of writing, BTC is desperately clinging to what some analysts are hoping will be a new US$17k support line.
Ethereum rebounded a good deal more than its larger counterpart, posting an 8% gain for the week. The price action was spurred when Rostin Benham – the chairman of the Commodities and Futures Trading Commission (CFTC) – backtracked on previous statements and said that ETH and a number of other altcoins shouldn't be treated as securities.
The Chainsaw Weekly Wrap: Winners and losers
This week saw some surprisingly positive price action for a number of the smaller altcoins on the market. Fantom's native token, FTM, rallied a whopping 36% on the news that it had a cash runway that could service its current operations for the next 30 years without selling a single token.
Following it in a close second place was none other than DOGE, which saw a hefty boost after its pumper-in-chief, Elon Musk hinted that Twitter may one day accept the pooch-themed token for payments.
This week's biggest loser was the native token of GameFi platform BinaryX. The BNX token closed this week down 23%. BNX was followed into the red by sports and entertainment token Chiliz (CHX) which posted an 8% loss for the week.
That's all from this edition of The Chainsaw Weekly Wrap. Have a great weekend from the crew here at The Chainsaw.
As always, we'll leave you with some memes.