Rick and Morty creator Dan Harmon is writing a new show called Krapopolis, will write you into the season finale of his new series if you're the lucky holder of an NFT.
The series, set in mythical Ancient Greece, follows a flawed family of humans, gods and monsters trying to run one of the first cities in existence without killing one another. The animation series has been created in partnership with Fix's subsidiary Bento Box, and the series is set to go live in 2023.

Blockchain Creative Labs, Fox Entertainment's Web3 arm, is overseeing the development of NFTs and sales.
"One of the rarest in the entire collection, Krap Chicken #277 will be auctioned off with a Season One Key to KRAPOPOLIS trait on OpenSea. The Key allows the owner to be written into the season one finale as a background character when redeemed by December 9th, 2022, 12:00PM."
When Krapopolis first launched, they announced that 'Krap Chicken' NFTs could get fans access to early screenings. Holding an NFT could get you a meet-and-greet with the cast, and a conversation with the crew.
The Krapopolis team hold the hope that this will drive fan engagement and give them an edge over competitors.
Stoner Cats
This isn't the first TV that has sold NFTs for fan engagement. A show called Stoner Cats sold NFTs for the right to watch the series.
The show is owned by Mila Kunis' production company, and featured her hubby's voice (Ashton Kucher), as well as her own. Vitalik Buterin, Overlord of Ethereum, even had a part. He played Lord Catsington, who dispenses advice to the other cats.
Other cameos included Chris Rock, Jane Fonda and Seth MacFarlane.
10,000 NFTs were sold for access to the show, and you couldn't see it without one. Then, the NFTs could be sold afterwards to others to access the show.
Initially, the 10,000 NFTs sold out in 35 minutes. Each cat NFT cost 0.35 ETH, in total $8.4 million was raised.
You can still buy the NFTs on OpenSea.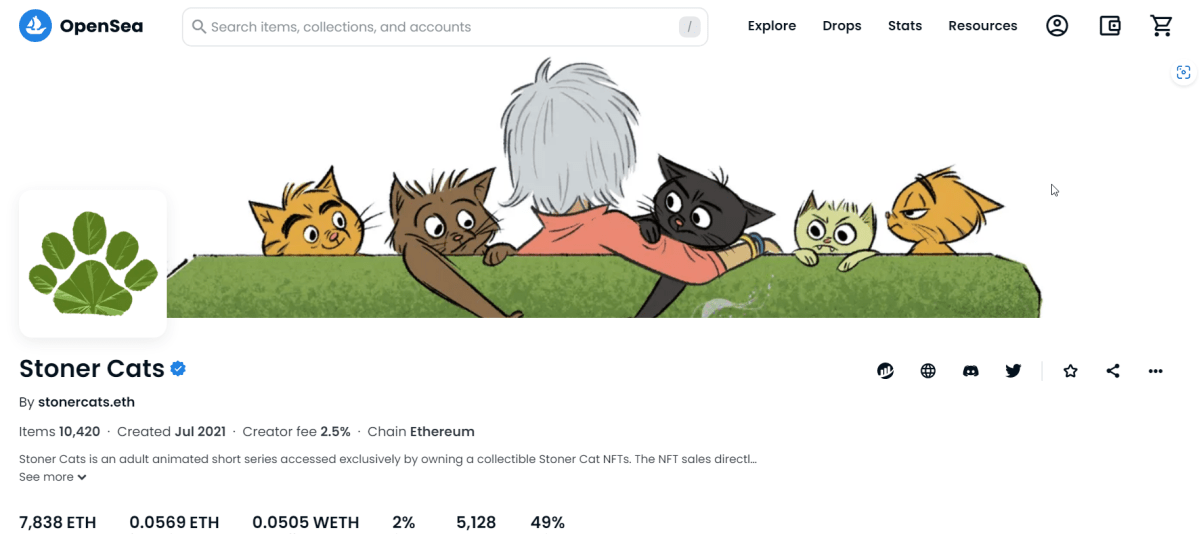 Stoner Cats and the potential of NFTs
The infamous blazer series stars Ms. Stoner, a woman who cohabits with a bunch of crazy cats. Ms. Stoner has Alzheimer's and uses medical marijuana to get her through her health issues.
One day she accidently drops a joint and the whole house is immersed in a marijuana fog. The cats breathe it in and start talking to each other.
The Stoner Cats experiment was interesting for people trying to raise money for upcoming projects. It presented the idea that NFTs could be pre-sold to fund the upcoming production.
Anyone who says NFTs are dead might need to backtrack on that statement, and soon.