As we close up the first week of the new year, it's once again time for a brand new edition of The Chainsaw Weekly Wrap. While the majority of the world is still enjoying some time off work and revelling in a post-Christmas relaxation period, cryptoland is still very much in full swing.
Here's everything that went down this week.
The Chainsaw Weekly Wrap: This Week in Web3 
We kicked things off by ringing in a new year. And with it came a torrent of new developments for crypto and Web3. On the first day of this glorious new year Australia claimed a fresh new title, surpassing El Salvador to become the world's fourth largest hub for crypto ATMs.
Even though the majority of Aussies are still understandably confused about the concept of cryptocurrencies, nearly half of all Australians are still keen to invest dollar bills into crypto in 2023.
We also saw the surprise boom (and the subsequent crash) of a new Solana memecoin called BONK, which briefly revived the price of SOL and saw Solana NFT creators go buck wild on Twitter.
The FTX saga drags on
As always news of Sam Bankman-Fried (SBF) managed to float it way to the top of the headlines, with the failed FTX founder pleading 'not guilty' to eight counts of fraud in a lower Manhattan Federal court on January 3rd.
The same day, a new report from the Wall Street Journal revealed that SBF's hedge fund Alameda Research was never actually any good at investing, and first began experiencing severe financial difficulty as far back as 2018. In the following years, SBF along with his business partners Caroline Elisson and Gary Wang engaged in a wide array of creative accounting activities to make sure that the financial health of Alameda Research never saw the light of day.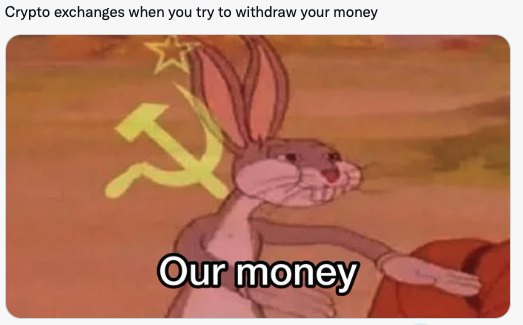 Regulators turn up the heat on Celsius & Coinbase
Continuing this weeks' theme of hardcore crypto crack downs; Alex Mashinsky, the former CEO of the now-bankrupt crypto lender Celsius has been sued by the State of New York for defrauding investors. New York's State Attorney General Letitia James said that she intends to ban Mashinsky from doing business in the state, as well as pursuing damages relating to investors that lost money in the Celsius meltdown.
Coinbase was also on the receiving end of some financial punishment when it reached a US$100 million settlement with the New York Department of Financial Services, after it failed to rectify issues with its Anti-Money-Laundering (AML) and Know Your Customer (KYC) measures.
Cathie Wood buys the dip
This morning, Cathie Wood the CEO of ARK Invest purchased roughly US$5 million worth of Coinbase shares, doubling down on her investment thesis that positions crypto as the future of finance.
Huobi. You ok?
Concerns around the stability of crypto exchange Huobi have arisen after reports emerged that the exchange is in the process of significantly reducing its workforce as well as making it mandatory for staff to receive their salary in stablecoins.
As a result the exchange's native 'HT' token has fallen more than 10% to US$4.56 in the last 24 hours.
'Mutant Ape Planet' NFT founder charged with fraud
This morning, the developer of the Mutant Ape Planet NFT project was arrested and charged with fraud for perpetrating a US$2.9 million rug pull. This sets a pretty strong precedent showing that law enforcement is no longer looking past NFT founders and is actively pursuing those in the Web3 space that fail to deliver on their promises.
Crypto critic Bennett Tomlin said it best: "Rug pullers beware."
Someone replaced NFTs on Magic Eden with racy images
Solana's largest NFT marketplace Magic Eden which also features non-fungible collections from the Polygon and Ethereum blockchains experienced a bit of a hiccup this week, when some of the NFTs on the marketplace were replaced with seemingly random pictures from the CBS show 'The Big Bang Theory' and saucy images. 
Magic Eden denied they'd been hacked and reassured Web3 degenerates that everything was under control, but obviously something went wrong with the metadata somewhere along the line.
If you were wondering about any of the other weird and wacky movements in the world of NFTs, the crew here at The Chainsaw did a deep dive into 'what popped' and 'what flopped' this week in digital art.
The Chainsaw Weekly Wrap: It's official: Black Mirror is here
A new development in Augmented Reality (AR) called 'Mojo Lens' has ruffled some feathers this week. Essentially, the team at Mojo Lens have created a contact lens that has an inbuilt display giving users live information about the world around them, without interrupting how people see the world.
In other artificial reality developments, Apple has created a mixed-reality headset that will turn any boring ass room into an augmented reality playground.
The Chainsaw Weekly Wrap: Big names and bigger numbers
OpenAI, the parent company of the new Artificial Intelligence assistant ChatGPT is reportedly in talks to sell their company for a whopping US$29 billion.
Shopify took another massive step into Web3 after introducing a new app called Venly that will see its 2 million merchants given the opportunity of minting and selling NFTs all without having to leave the Shopify platform. This is a pretty significant step for the adoption of Web3 tech in the mainstream.
The Chainsaw Weekly Wrap: 3AC founders subpoenaed via Twitter
The founders of Three Arrows Capital, Su Zhu and Kyle Davis still owe former investors in their crypto hedge fund more than US$3 billion. Since the collapse of their hedge fund, the founders have been on the run but have strangely still been quite vocal about happenings in the crypto industry on Twitter.

So what better way for regulators who can't track them down physically, to serve them via a Twitter post?
The Chainsaw Weekly Wrap: Markets
In markets this week, Bitcoin (BTC) continued to do exactly what it's done for the past few months. Trade sideways and down. Aside from the seemingly endless sell pressure placed on markets by never-ending rate hikes from the US Federal Reserve, very little happened in crypto markets this week, so we can keep this section nice and short.
At the time of writing Bitcoin is trading for $16,800 apiece and has closed this week up 1.1% overall.
Ethereum followed closely in Bitcoin's footsteps, slightly outperforming its larger counterpart, posting a 4.1% weekly gain.
The Chainsaw Weekly Wrap: Winners and Losers
The biggest winner of this week was easily Solana's newest dog-themed memecoin 'BONK' which witnessed an incredible 5000% gain in the space of 6 days. Solana investors have been enjoying the ride, but what goes up rapidly tends to come down just as fast. In the last 24 hours BONK has plummeted more than 60% as hype dries up.
As a result Solana followed BONK into the green posting a whopping 38% gain for the week, an impressive turn around for the token that's fallen roughly 90% from its all time high.
The biggest loser of the week was 'HT' the native token of Justin Sun's Huobi exchange, which fell more than 10% in the last 24 hours following sell-side pressure induced by rumours of internal drama at the Seychelles-based crypto exchange.
Following Huobi into the red this week was the Huobi-affiliated TRON (TRX) token which dropped a little more than 5% in the wake of the recent troubling reports.
And that's all for this week's edition of The Chainsaw Weekly Wrap.
As always here's some memes.