Donald Trump zoom call: In a stunning turn of events, the 'limited' edition NFT tickets that allow you to join in on a group Zoom call with former US President Donald Trump aren't exactly selling like hot cakes.
Donald Trump zoom call
In fact, you can pick up one of Trump's special 'Digital Trading Cards' (another way of saying NFT) that let you into a 2,000-person Zoom call with Trump for less than US$25 a pop.
Trump's newest NFT collection, dubbed 'Win Trump Prizes' includes a pretty wide array of potential prizes, including one-on-one meetings, dinners and golf games at the Mar-a-Lago, Trump's 20-acre Florida resort home.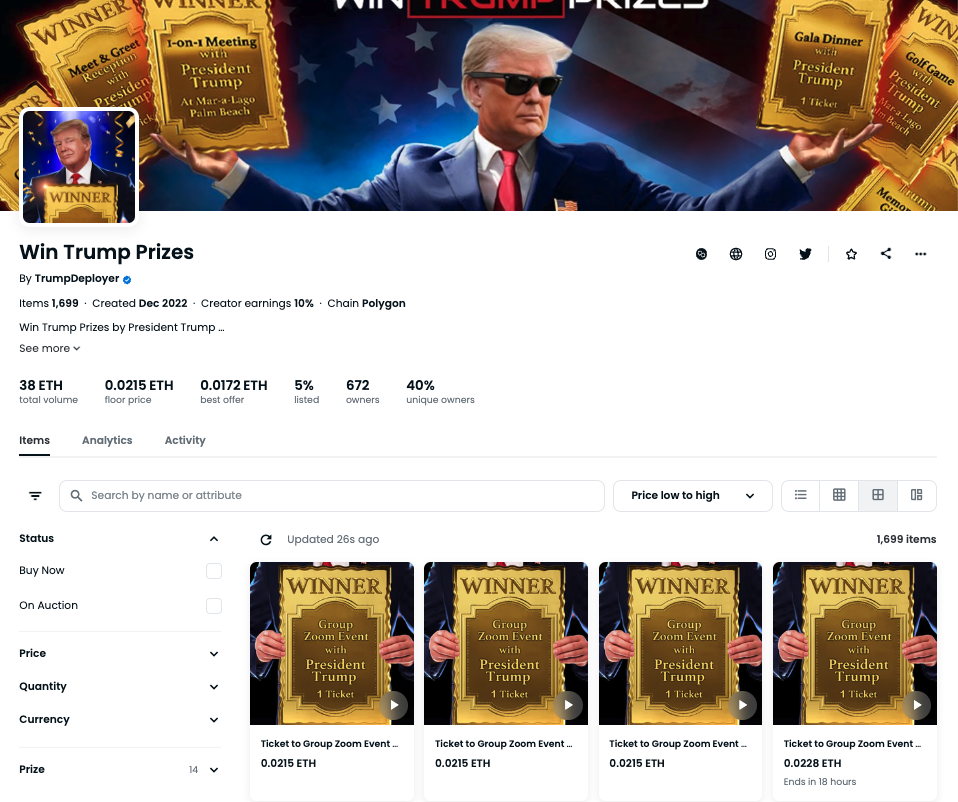 According to the description attached to each of the NFTs, the group Zoom call will include up to 2,000 people and last for around 20 minutes. NFT holders can submit questions to the former-President before the call, but there's nothing that ensures the questions will be answered. Think of it like a massive, risky 'Ask Me Anything' (AMA) session with Trump.
Donald Trump's digital trading cards
Donald Trump took the wild world of NFTs by storm when he announced the launch of his Digital Trading Card collection in mid-December last year. At the time it seemed like everyone — including some of Trump's most vocal supporters — had a negative take on Trump's cringe-inducing NFTs. Still, this didn't stop the collection from selling out in less than 24 hours, with 44,000 of the NFTs being snatched up at US$99 apiece.
The price of the Trump trading cards spiked more than 1000% in the following days, with the collection's floor price (the cheapest available NFT) growing to a whopping 0.75 ETH (US$880). Since then, the price of Trump's NFTs have fallen more than 78% as interest in the project dwindles.
Still, a number of Trump NFT holders are trying their best to sell on their precious NFTs to those willing to pay for the opportunity to meet Trump in a more personal setting.
An NFT that allows you to enjoy a more exclusive one-on-one Zoom meeting with Trump is currently selling for a staggering 200 ETH (US$283,000) on OpenSea while a ticket for a group gala dinner with the Donald will set you back 50 ETH (US$70,000).