Donald Trump's NFTs: Donald Trump's latest foray into the world of Web3 has been a strange one. His recently-launched 'Trump Digital Trading Cards' collection — which features the former President posing heroically across wide range all-too-American themed scenes — surged more than 1000% over the weekend.
The collection of 45,000 different Donald-themed non-fungible tokens (NFTs) sold out in less than 12 hours. With an original mint price of US$99 the rapid sale of the NFTs would have seen roughly US$4.5 million slide into Trump's pocket.
On Sunday evening, the floor price (the cheapest possible price tag) of Donald Trump's NFTs reached a whopping 0.75 ETH (US$880) according to data from DappRadar and CoinGecko, surging a whopping 1000% from their original listing price of 0.075 ETH.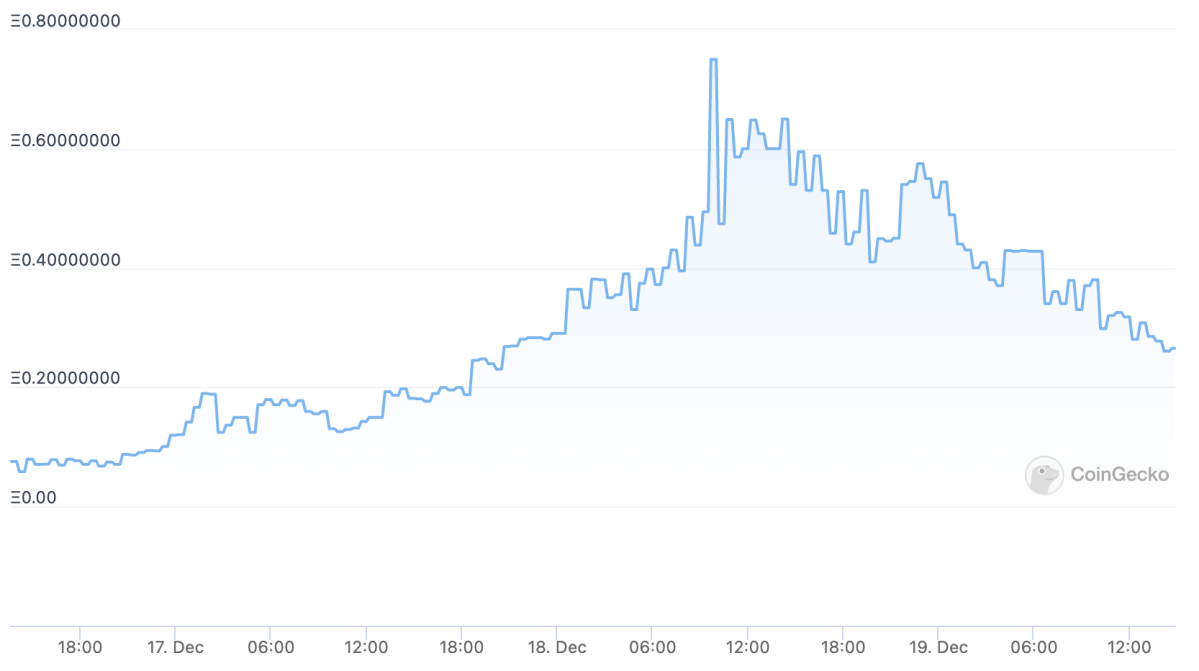 The orange man NFTs are still standing as the top collection on popular NFT marketplace OpenSea, racking up more than 1,237 ETH (US$1.4 million) in trading volume since inception. This outpaces the next most traded collection 'Mutant Hound Collars' by nearly 1000 ETH.
Things seems to have settled down a touch now, with the floor price of a Trump digital trading card only setting back a Trump fan a more respectable 0.26 ETH (US$300).
Donald Trump's NFTs: Meet the flippers
Many rode the Donald-inspired NFT resurgence to new heights, with NFT trader 'Kix.eth' posting a screenshot of their Ethereum-wallet address. Kix purports to have made roughly 14 ETH (US$16,500) from flipping the digital trading cards.
Another pseudonymous trader 'D4RNT' reportedly earned a respectable 1.79 ETH (US$2118) from their Donald-themed NFT activities.
Hold up, how did we even get here?
Midway through last week, Donald Trump teased a "major announcement" on his dubiously named social media platform Truth Social, a network he launched himself after being banned from Twitter last year. Many speculated that Trump would be announcing his running mate for the 2024 presidential election, or some other key detail for his campaign.
Unfortunately, the Trump-themed NFT collection turned out to be a disappointment that caused even the most die-hard Trump supporters to cringe upon seeing what the 45,000 digital 'trading cards' held in store. One such skeptic was Steve Bannon, Trump's former Chief Strategist, who said that anyone involved in helping Trump launch the NFT project "ought to be fired".
Trump has formerly been a fairly outspoken critic of anything to do with cryptocurrency. The former Commander in Chief has previously said, "I am not a fan of Bitcoin and other cryptocurrencies, which are not money, and whose value is highly volatile and based on thin air. Unregulated crypto assets can facilitate unlawful behaviour, including drug trade and other illegal activity."
However, in classic Trump fashion, he seems to have adjusted his views on cryptocurrency now that it presents itself as an opportunity for him to do what he truly loves: make money.