Donald Trump NFTs: Donald Trump's flagship NFT collection dominated the airwaves last week, igniting the passions of everyone from crypto degens on Twitter all the way to news anchors on mainstream television networks.
While almost everyone — including some of Trump's most vocal supporters — seemed to have a critical take on Trump's cringe-inducing 'digital trading cards', this didn't stop the collection from selling out in less than 24 hours, with 44,000 of the NFTs being snatched up at US$99 apiece. The creators of the project withheld 1,000 of the NFTs from supply, meaning that there are a total of 45,000 Trump collectibles in existence.
In the following days, Trump's trading card collection surged more than 1000%, skyrocketing from an original mint price of 0.075 ETH (US$99) to 0.75 ETH (US$1000). After prices and trading volume surged, which saw the Trump-themed NFTs land the number one spot on OpenSea, trading activity fell off a cliff as the media hype faded.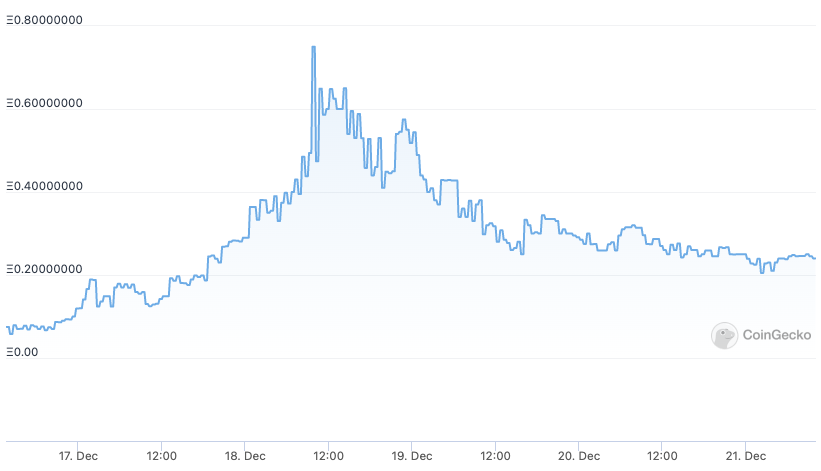 Donald Trump NFTs
The Donald's NFTs were minted on the Ethereum scaling network Polygon, and were first listed for sale on the website 'collecttrumpcards.com', which like all things Trump, was sprinkled with a familiar opportunistically cheap aesthetic. Buyers were encouraged to buy into the project in the hopes of winning a number of exclusive Trump-related prized, including a one-on-one dinner with the former President at the Mar-a-Lago, Trump's 20-acre Palm Beach resort home.
Apart from being criticised for combining two polarising topics: Donald Trump and NFTs — the project was also slammed for reportedly using stolen artwork, with some commentators claiming that you can still see watermarks from stock photo imagery.
Making matters worse, Twitter user 'Un Known' did some digging and found that the administrator wallet — which is owned by the project's creators — contains an unnerving number of the 'rare' NFTs.
According to a Twitter thread, the project's creators hold 25% of all the ultra rare 'one of ones' and 33% of all the equally rare 'autograph' NFTs. This means that the game has been somewhat rigged against collectors who bought into the project believing they had a good chance of striking it lucky.
Regardless of the cost to users, Trump has been raking it in from creator royalties. Unlike most NFT projects which typically take a rate around the 5% mark, Trump elected to take a 10% cut of all secondary sales on NFT marketplaces that still enforce royalty payments.