Crypto money laundering: A new Chainalysis report has revealed that US$22.8 billion was laundered through cryptocurrency in 2022. This figure is a substantial 60% increase from 2021 and marks an unfortunate new yearly high for money laundering in crypto. The Bitcoin you hold may have come from via the darkweb.
According to the cybersecurity analytics provider, mainstream centralised exchanges were the largest recipients of illicit cryptocurrency, receiving just under half (49%) of all funds sent from illegal addresses.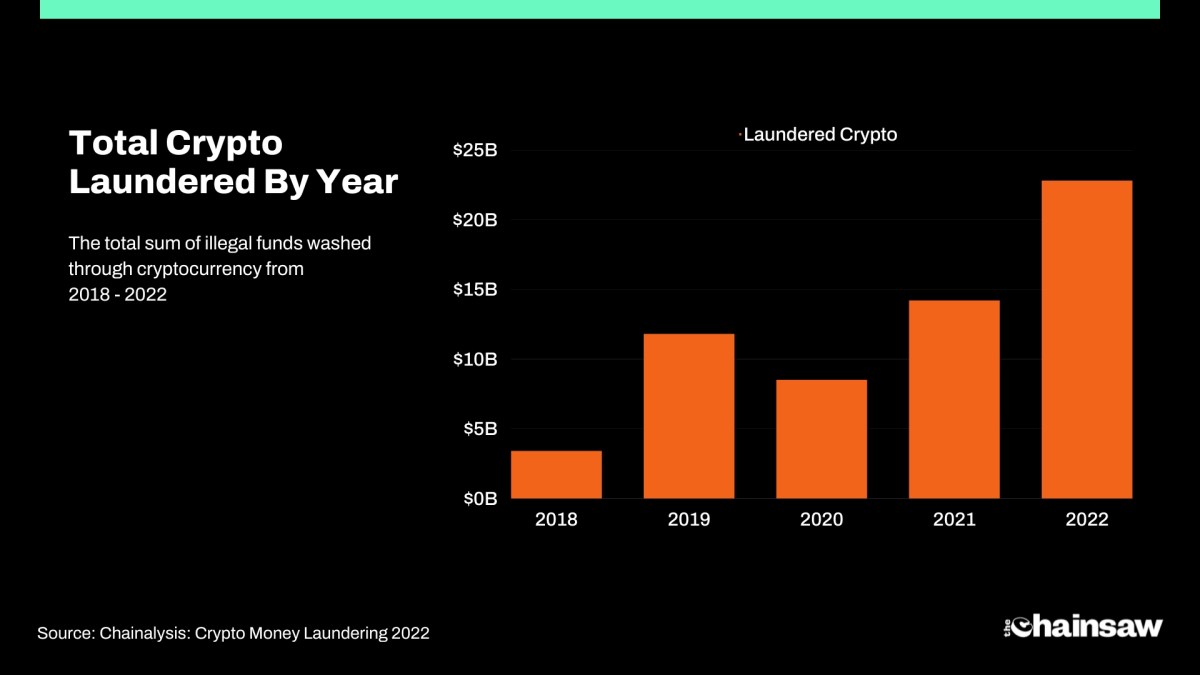 This is an interesting trend because most large centralised exchanges like Coinbase and Binance typically have a number of compliance measures in place to report these types of activity and generally take action against the users in question.
Centralised exchanges also act as "off-ramps" for criminals, allowing them to convert their illicit crypto into cash. Once crypto is converted to cash it can no longer be traced by blockchain security analysts.
How much crypto moved through 'mixers' and the darkweb?
Surprisingly, only 8% of all illegal funds were washed through mixing services like Ethereum's Tornado Cash and Bitcoin's Blendar. Mixers work by taking cryptocurrency from multiple users, and as the name suggests, mixing it all together, and then sending each user a new amount that's equal to what they initially put in.
In August last year, the US Treasury Department made the controversial move to sanction the popular Ethereum mixer Tornado Cash, rendering it illegal to use for all US citizens.
With 2022 being the largest year on record for crypto hackers, it should come as no surprise that a staggering 57% of all the illicit funds — roughly US$13.2 billion — were stolen from decentralised finance (DeFi) protocols.
Apart from hackers moving stuff around in the wild and highly technical world of DeFi, crypto criminals sent the majority of their funds to centralized exchanges. However, there were some noteworthy exceptions. For example, a number of darkweb marketplaces sent their funds to other darkweb firms like the now-defunct deepweb marketplace Hydra Market.
However, a number of Darkweb marketplaces also sent a large share of their dirty cash to high-risk exchanges like Bitzlato, a little known Hong-Kong based exchange that was shut down earlier this month for money laundering crimes.
Bitcoin and crypto really aren't the best for money laundering
It's also worth pointing out, while Bitcoin (BTC) and the crypto industry more broadly enjoys a certain notoriety for illicit activity, the US$22.8 billion laundered in 2022 pales in comparison to the amount that gets washed through the traditional financial system. In fact the total amount of crypto laundered in 2022 is only a little more than 1% of the estimated US$2 trillion in fiat currency that gets laundered every year though banks from offline crimes such as drug trafficking.
However, unlike Bitcoin and other cryptocurrencies, which keep a permanent record of all transactions, a reliable assessment of the amount of the total fiat laundered is far more difficult to determine.
"The biggest difference between fiat and cryptocurrency-based money laundering is that, due to the inherent transparency of blockchains, we can more easily trace how criminals move cryptocurrency between wallets and services in their efforts to convert their funds into cash."

Chainalysis Crypto Crime Report 2021
All of this money laundering occurred while the cryptocurrency market suffered through 2022. As global inflation surged, the appetite for risky assets like cryptocurrencies crumbled. This was worsened by the collapse of a number of major crypto firms and exchanges such as the Terra Money ecosystem, Celsius, BlockFi and most recently, FTX.
Things have changed rapidly for crypto since the beginning of 2023, with prices surging as investors regain interest in digital assets. At the time of writing, more than US$200 billion has flowed back into the broader crypto ecosystem.