On August 8, the crypto community watched on in alarm as the US Treasury Department announced it would be blacklisting the popular crypto 'mixing service' Tornado Cash.
The department placed Tornado Cash and a list of 44 related Ethereum wallet addresses on the Specially Designated Nationals list, immediately banning all American citizens from using the tool or transacting with any of the addresses.
The decision to crack down on the protocol has sparked protests among crypto users and opened a major can of worms for legislators, as they struggle to wrap their heads around how one begins to regulate an open-source code that nobody really owns. 
What is Tornado Cash?
Tornado Cash is a protocol designed to obscure transaction data on the Ethereum blockchain. Ostensibly a tool for financial privacy, mixers like Tornado Cash are frequented by hackers and nefarious actors as a way of laundering money earned from conducting illegal activities. 
However, many significant figures in the cryptosphere see Tornado Cash as an important tool for privacy. Ethereum co-founder Vitalik Buterin 'outed himself' for being one of the many people that used the mixing service to make anonymous donations. 
Why was Tornado Cash sanctioned?
The US Treasury Department stated that the Office of Foreign Assets Control (OFAC) decided to sanction the Tornado Cash protocol because it had "been used to launder more than $7 billion worth of virtual currency since its creation in 2019."  
The US government has been stepping up its crackdowns on money laundering by major North Korean hacker groups. Unfortunately for crypto users, the US included the Tornado Cash protocol because of its status as a popular laundering tool for the notorious Lazarus Group. 
The department gave specific mention to the Lazarus group and its recent use of the mixer service in laundering $7.8 million during the Nomad Bridge hack. The Lazarus Group has previously used Tornado Cash to launder funds following the recent slew of cross-chain bridge hacks, most notably the $625 million Ronin attack and the $320 million Wormhole exploit.
"Welcome to the war on code"
Days later, on August 12, news broke that the Dutch Fiscal Information and Investigation Service (FIOD) had arrested Alexey Pertsev, the developer responsible for writing Tornado Cash's code.
In the days following Pertsev's arrest, crypto degenerates, privacy advocates and elected government officials all came together to express their concern over the chilling precedent set by these crackdowns.
Key figures from Crypto Twitter began sporting the protocol's logo, a light-green cartoon tornado, as their PFP in a display of solidarity for Alex and digital privacy.
In a letter shared on Twitter, Republican Congressman Tom Emmer asked Secretary Treasurer Janet Yellen to fully explain the departments decision to sanction Tornado Cash.
"The sanctioning of neutral, open-source, decentralized technology presents a series of new questions…which impact not only our national security, but the right to privacy of every American citizen," declared Emmer.
In another tweet, prominent crypto investor Ryan Sean argued that Alexey Pertsev did a public service by writing open-source privacy code and that it was merely "a few bad guys" that ruined it for everyone.
Following the arrest of Pertsev, the governing body of the protocol, the Tornado Cash DAO, was promptly shut down and its multi-sig wallet deleted according to a report first published by CryptoSlate. The report quoted an anonymous Tornado Cash team member who said the decision to shut down the DAO was made to "avoid legal issues and keep contributors safe.
Untethered 
More recently, on August 25, the world's largest stablecoin issuer, Tether, told the Washington Post that while it is yet to receive a request to freeze any assets, it most likely won't be complying with the US Treasury Departments sanctions. 
Tether's Chief Technology Officer, Paolo Ardoino, further clarified that Tether "normally complies with requests from U.S. authorities" and "considers" US Treasury Department sanctions as part of its "world-class compliance program".
What's next for Tornado Cash?
Aside from the legislative maelstrom this new 'war on code' unleashes into the policy-making space, the future is definitely hazy for those looking to retain their privacy online, with a growing number of privacy-oriented protocols witnessing backlash.

On August 20, privacy-focused protocol Aztec Network was blocked by major FTX, signalling the potential beginning of an  industry-wide hesitancy to allow the use of services that purposely obscure transaction data.
From an investment perspective, the outlook for Tornado Cash's native token, 'TORN', is definitely what you could describe as gloomy.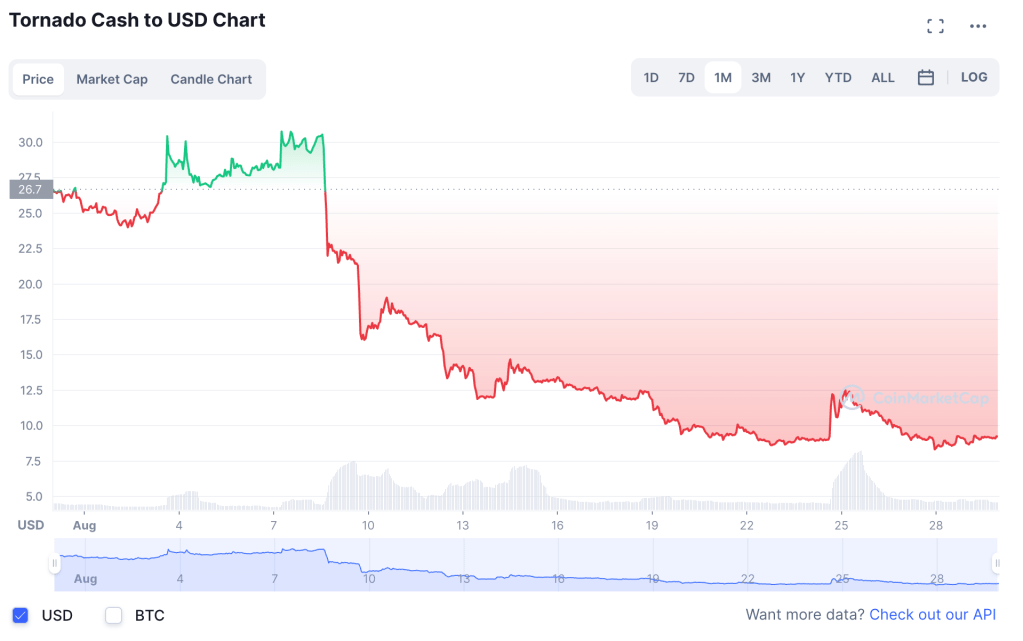 With the DAO being shut down and the protocol's multi-sig wallet being deleted, TORN's role as a governance token is essentially null. Unless the protocol comes back online, any substantial price action from here is entirely separate from internal ecosystem activity and can be ruled as pure degen speculation.