After a more than a year of tanking crypto prices, the first two weeks of 2023 have gifted crypto investors with some fresh wind in their sails. Right now, the price of Bitcoin (BTC) is rapidly approaching US$19,000 and is enjoying its longest, uninterrupted gaining streak since February of last year. All of this has led a number of investors to conclude that the fabled crypto bull market has finally returned.
Bitcoin began 2023 trading for just $16,500 and is currently changing hands for US$18,790 up a very healthy 12.9% for the year. Ethereum (ETH) has also been enjoying the boon of the newfound crypto rally, posting a 17% gain from the start of 2023. The total market capitalisation of the entire crypto industry currently stands at US$940 billion, up roughly 5% in the last 24 hours.
While investors are abuzz with newfound excitement and some much-needed green appears across the charts, one question hangs heavy in the air: is the crypto bull market really back?
Why are crypto markets up right now?
The recent crypto rally seems to be fuelled largely by better-than-expected economic data coming out of the US combined with the nation's Federal Reserve temporarily chilling out on its long-running policy of consistent interest rate hikes.
While these are the prevailing reason behind this year's crypto bull run, others have also pointed to El Salvador' recent decision to pass "landmark" legislation that will see it use Bitcoin-backed 'Volcano bonds' to raise more than US$1 billion to pay for the construction of its Volcano-nestled crypto utopia, Bitcoin city.
Putting all the bullish reasons for the recent crypto pump to the side for a second, the question still stands: is this the beginning of 2023's bull market? Or is it just a temporary upward price blip that will soon disappoint hopped-up investors?
Speaking to Mark Monfort, the founder of the Australian DeFi Association and Web3 Venture Studio 'Not Centralised' said that despite consistently soaring prices in crypto assets over the past few weeks there's still plenty of good reasons to be careful before jumping head first into the crypto market right now.
"Even with the rising prices of crypto we've seen recently, it's still time to be cautious when it comes to these sorts of market movements."

Mark Monfort
"What we can see from the data is that major cryptocurrencies like Ethereum are much more highly correlated with technology stocks than they ever have been before. When we take look at 2017 to 2020 correlations versus 2020 to 2022 we see that ETH traded more strongly in line with major US and global technology ETFs".
With all of that in mind, Monfort adds that this upward swing may not the "turning point" that many people think it is.
"I'd be cautious for anyone thinking this is the turning point. Like traditional technology stocks, crypto is far more affected by global macro trends like CPI prints, interest rate announcements and conflict. It means we're maturing but with maturity comes a new set of problems and challenges."
The technical indicators are "still bearish" for crypto
Echoing Monfort's comments was Bryan Ventura, a senior lawyer specialising in Web3 and the chair of BlockchainNZ, who also leaned towards a healthy dose of wariness.
"Since the crypto markets has never existed in a high inflation environment, it's even harder to look at past performance to predict future price action. The technical indicators still suggest bearish, and buying volumes are relatively low. I think we're likely seeing a bull trap unfortunately," he said.
Still, Ventura wasn't fully decided on the matter, saying that Bitcoin's lowest price might have already been set in December last year.
"That said, during the last bear market, Bitcoin bottomed in December 2018, or around 30 months after the 2016 Bitcoin halvening. If this bull run follows the last one, Bitcoin could have already bottomed," Ventura added.
While Monfort & Ventura erred more on the side of caution Carlos Gomez, the Chief Investment Officer at Belobaba Crypto Asset Fund provided The Chainsaw with a slightly more positive bullish take on the price of Bitcoin heading into the coming weeks.
"There are opposing forces clashing against each other when it comes to the direction of Bitcoin, Ethereum and the rest of the crypto market over the next few weeks. Overall, they are mostly skewed to the positive side," Gomez explained.
"On one hand, we have Washington sending mixed signals towards the actions of SBF, FTX and the Alameda crew. They are heavily investigating their involvement in the collapse of the Terra/Luna protocol, but it appears they are not too interested in digging into the FTX matter, which is causing a lot of regulatory uncertainty," he said. 
Gomez also pointed to the growing adoption of Bitcoin in Brazil and Latin America, saying that the increase in demand from these "very important markets" should also help drive prices up.
"On-chain data is also giving us a very interesting signal. The MVRV Z-Score is entering the green zone that historically precedes huge spikes. Based on that, I believe we are not far from the bottom," Gomez added. 
Fears of a 'bull trap' loom
Despite many crypto investors being understandably psyched at the price action, prominent pseudonymous crypto trader 'CryptoCapo' ominously tweeted that the price action is "one of the biggest bull traps" he'd seen. A 'bull trap' is investment parlance for when prices rally quickly before dumping again, catching hyped-up investors unaware.
Asking Crypto Twitter directly whether or not the bull market is actually 'back on', crypto trader Michael Van De Poppe put his finger on the pulse of the general consensus, with only 36% of approximately 9,400 respondents replying 'yes'. The majority (64%) of respondents to the impromptu poll replied 'no' to the idea of the bull market having returned.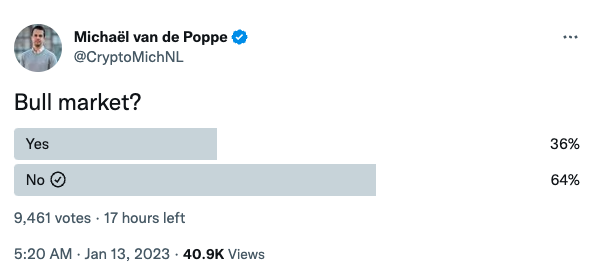 Overall, whether or not the crypto bull market is truly back and here to stay is anyone's guess. Because cryptocurrencies are far more tied to the movements in the broader stock market than many tend to think, if the US Federal Reserve continue to scale back interest rate hikes as inflation cools, then it seems quite plausible that crypto asset prices may continue to increase.
If not however, and inflation continues to spiral out of control, then we can reasonably expect some more red on the charts in the coming weeks.