Celsius leak: It was the start of a mucky week. As always, a bunch of shit happened in the Web3 trenches this week — let's dive in.
Former Celsius CEO Alex Machinsky landed himself in hot water after it was revealed that he withdrew approximately US$10 million from the crypto lending platform weeks before the now beleaguered Celsius froze customer funds and declared bankruptcy. Despite a spokesperson claiming the withdrawal was to "pay taxes", it has raised questions about Machinsky's knowledge of the platform's financial health in the weeks leading into it going belly up.
This morning, Gizmodo leaked a 14,000 page document published by Celsius that included every user's full name, linked to exact time stamps of on-chain transaction data, causing an enormous outcry over the nature of data on centralised exchanges. The Celsius leak comes at an inopportune time.
Celsius leak: On to Coinbase
While the heat was turned up on Celsius as it limped its way through bankruptcy proceedings, Coinbase officially landed on Australian shores and announced their expansion into the Aussie crypto market with a special focus on first time crypto users and large institutions.
In celebrity news: The SEC slapped Kim Kardashian with a US$1.26 million fine after she was found breaching "securities law" for shilling the Ethereum Max (EMAX) token on her Instagram last year. The decision called into question how the SEC is looking to regulate crypto by forcing 'crypto influencers' to settle for fines and brute-forcing the definition of cryptocurrencies as "securities" by way of the courts.
The very next day Ol' Musky did a backflip on the Twitter deal (TWTR), deciding to go ahead and purchase the platform for the initial price tag of US$44 billion (US$54.20 per share) even though TWTR shares were going for just US$42 apiece at the time the deal was re-kindled. Immediately following Musk's re-engagement, TWTR shares spiked 20% and currently trade for US$49.20.
In some much needed good news for crypto adoption, McDonalds in Lugano Switzerland will be accepting Bitcoin (BTC) and Tether (USDT) as payment ahead of the Plan B Bitcoin Conference scheduled for later this month.
Binance Smart Chain
Oh yeah, the Binance Smart Chain got put on "pause" this morning after a hacker managed to exploit the Binance Bridge for roughly 2 million BNB (US$566 million).
This reignited debate around the security of cross-chain bridges, which are currently one of the weakest links in blockchain security. This BNB hack brings the total tally for bridge-related exploits to a little over US$2.5 billion for the year.
Oh, and the EU announced a ban against Russian crypto assets and services.
Unfortunately for crypto investors, this week continued the now months-long 'sideways and down' performance of digital assets. In spite of this, there was still a fair sum of dollarydoos sloshing around in the world of crypto.
Dollar dollar bills y'all
In the depths of crypto winter there remains a group of deep-pocketed folks with conviction in the sector. These are the stories making a serious splash:
Evidently, when you zoom out from all of the noise and market pessimism, there is a lot of activity taking place under the hood.
Markets did some stuff this week
This week offered up a little bit of excitement even though price action for crypto's number one asset Bitcoin (BTC) hovered flat around the US$20k mark for the last seven days straight.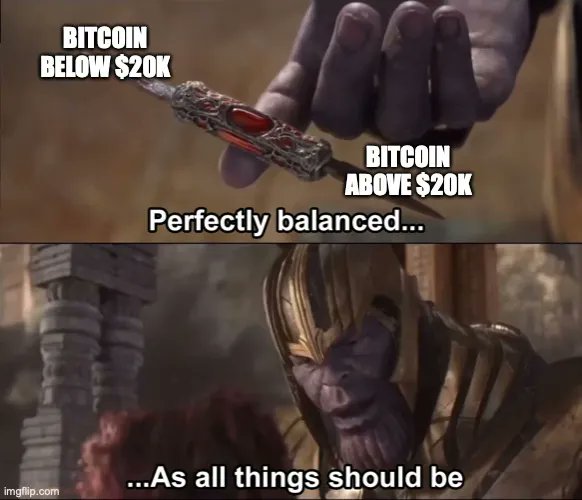 Bitcoin, which is usually heavily correlated with the S&P 500, broke its correlation slightly by outpacing traditional markets this week and sparked new discussions around the "great decoupling" among fans of the asset on Twitter.
Bitcoin dominance, a measurement of BTC's market cap relative to the market cap for all other cryptocurrencies, has increased to 42% since hitting a yearly low of 39% on September 10. The recent uptick in BTC dominance highlights a shift in overall investment towards Bitcoin.
The second largest digital asset by market cap Ethereum (ETH), continued to underperform its blue chip peers, only up 1.6% for the week. ETH's current price is wavering just between its 10 and 20 day moving average.
Winners & Losers
The largest gainer in the top 50 crypto assets this week was Elrond (EGLD) which witnessed a 14.3% surge in value since last Friday. This was followed in second place by UniSwap (UNI) which saw a 11% gain from this time last week. Third was Polygon (MATIC) which came in with an overall uptick of 8.4%
The biggest losers were Chiliz token (CHLZ) which dropped a nasty 9.6%, closely followed by UNUS LEO (LEO) which saw a similarly tough 9.4% fall as well.
Impact Corner
This week, we saw the World Economic Forum launch a Crypto Sustainability Coalition comprising of 30 different companies, institutions and educational organisations including the Stellar Foundation, Avalanche, Solana, Ripple, Circle and NEAR Foundation. The coalition will examine how to leverage Web3 technologies to collaborate on fighting climate change.
Public Nouns, a new radical impact fundraising experiment from the decentralised teams of MolochDAO, DAOHaus, MetaGov, Gitcoin, Radicle, Gnosis, Ethereum and more raised US$100,000, or 72 ETH, in its first week with 100% of the funds going towards initiatives for public goods. The protocol releases one NFT every 12 hours and bidders across the world raced to snap up their own Public Noun that will grant them the power to decide the direction of the public goods fundraising.
And Thallo, a Web3 climate marketplace for high-quality voluntary carbon credits partnered with Ripple, Climate Collective and another 21 partners to help drive capital to the carbon market, making it easier for buyers and sellers to find each other and for companies to achieve their sustainability goals in a transparent and verifiable manner.
This week in memes
Anyways, we can forget the Celsius leak. Here's some memes about renegade TerraLabs founder Do Kwon, who for some reason is still finding the time to shitpost on Twitter despite leading South Korean authorities on an international manhunt:
Despite a Celsius leak, as always, have a great weekend from the crew here at The Chainsaw.