Kim Kardashian has been slapped with a US$1.26 million fine for failing to disclose that she was paid US$250,000 to promote a token called EthereumMax (EMAX) on her Instagram account.
On June 14 last year, Kardashian posted a carefully worded Instagram story, saying that her "friends" had just told her about a token called EthereumMax, complete with the hashtags #ad and #disrupthistory.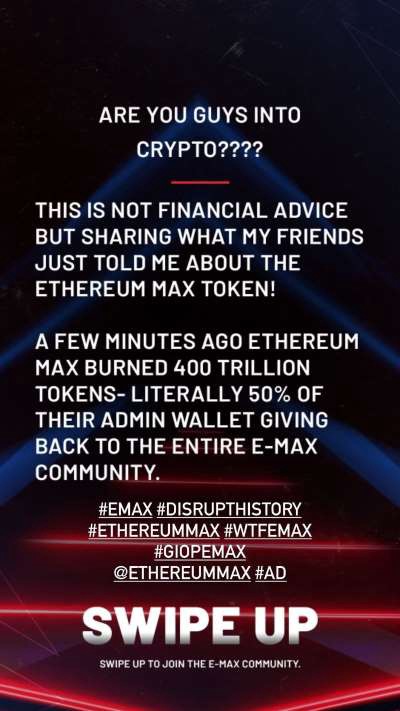 That same day the price of EMAX surged nearly 800% in response.. Unsurprisingly in the weeks that followed, it did exactly what all 'pump and dump' tokens inevitably end up doing – its price cratered over 98% and stayed there.
Kardashian hot water
Despite Kardashian including the information that it was in fact an advertisement, the Securities and Exchange Commission (SEC) declared that she failed to report that she was paid US$250,000 by EthereumMax. The reason that she needed to include how much she was paid is because — according to the SEC — Kardashian was actually promoting a "security".
"This case is a reminder that, when celebrities or influencers endorse investment opportunities, including crypto asset securities, it doesn't mean that those investment products are right for all investors," said SEC chair Gary Gensler in a statement.
Kardashian was ordered to pay a total of US$1.26 million in fines, with US$260,000 representing her promotional payment plus interest, and an additional US$1 million penalty. Kardashian also agreed to not promote any crypto assets for another three years.
In a statement to BBC News, Kardashian's lawyer said: "Kardashian fully cooperated with the SEC from the very beginning and she remains willing to do whatever she can to assist the SEC in this matter."
Sued for "misleading" investors
Kardashian wasn't the only celebrity to endorse the EMAX token. Boxing legend Floyd Mayweather and former NBA star Paul Pierce also posted advertisements in various forms for the EMAX token. All three celebrities, as well as the creators of EMAX were sued by investors in January for operating a 'pump and dump' scheme. The plaintiffs alleged that the EMAX creators collaborated with the celebrities to "misleadingly promote and sell" the cryptocurrency.
Notably, the EthereumMax token has literally no relation to Ethereum (ETH) whatsoever. The creators of EMAX simply used a bigger name to mooch credibility and brand recognition at a glance — a common tactic used by predatory actors in the branding world.
This move by the SEC carries some significance in the crypto space and is undoubtedly sending shivers down the spines of numerous influencers and celebrities who have been receiving payment to shill tokens.
Other prominent celebrity shillers include Logan Paul, who was slammed last year for promoting an entirely useless token called 'Dink Doink'.
It's not just Kim Kardashian
Who else wants a fine? Most recently, Lark Davis, a Kiwi crypto influencer came under fire after it was revealed that he promoted certain small, low volume tokens to his 1 million followers, and shortly thereafter, would sell them following the inevitable price inflation caused by those same posts.
Despite Lark denying the allegations, the evidence of foul play is damning.