In an altruistic fork of the highly successful Nouns NFT project, Public Nouns, by a new team of DAOxperts spanning across MolochDAO, DAOHaus, Logos, DXdao, MetaGov, Gitcoin, Radicle, SporkDAO, Gnosis, Ethereum and more, have launched a radical new experiment focused specifically on funding 'public goods'.
Public Nouns is leveraging the extremely effective fundraising model from the original Nouns project that has raised more than 40,000 ETH to help channel money towards the funding of social goods.
In a yarn with The Chainsaw, founding contributors of the Public Nouns team shared further insight into the goals of the Public Nouns project. Originally some of the contributors discussed spending a large amount of ETH to buy a Noun and start the Public Nouns project before deciding to simply start from scratch. Within the first 24-hours, the project's value reached 8 ETH.
Goals
The crew's goal is to encourage more discourse and engagement around the discussion of public goods, including truly open-source software.
"If you want public goods you need to find ways to fund them, and this is a really interesting experiment of norms-based funding of truly public goods," said Michael Zargham of MetaGov. "The auto-ethnography and reference implementation of Public Nouns itself is a public good."
"Nouns is a mechanism that became popular, and Public Nouns is now a mechanism for the public goods space to fund things like itself — and new ideas to benefit those goods and anyone trying to do good shit in the public space. "

Sky Minert, DXdao.
"We [the Ethereum community] made public goods such a meme that we attribute it to things that aren't actually public goods," added Zargham.
"So, hopefully Public Nouns can get some awareness and get people engaged in talking about the ultimately somewhat subjective judgement of what is or is not a public good through the governance of the Public Nouns project," he added.
This references comments made by Ethereum co-founder Vitalik Buterin earlier this year, where he took aim at members of the Bored Ape Yacht Club for not using their wealth more altruistically.
"I don't hate Apes, I just want them to fund public goods."

Vitalik Buterin, Ethereum co-founder
"Ultimately the goal of crypto is not to play games with million-dollar pictures of monkeys, it's to do things that accomplish meaningful effects in the real world," said Vitalik in an interview with TIME Magazine.
Public Nouns uniqueness
Currently, each Public Noun NFT comes with a unique head that represents some element of the Web3 space, with a Chilli head representing Web3 funding collective MetaCartel, and an Opossum depicting the mascot of Ethereum scaling-solution Optimism.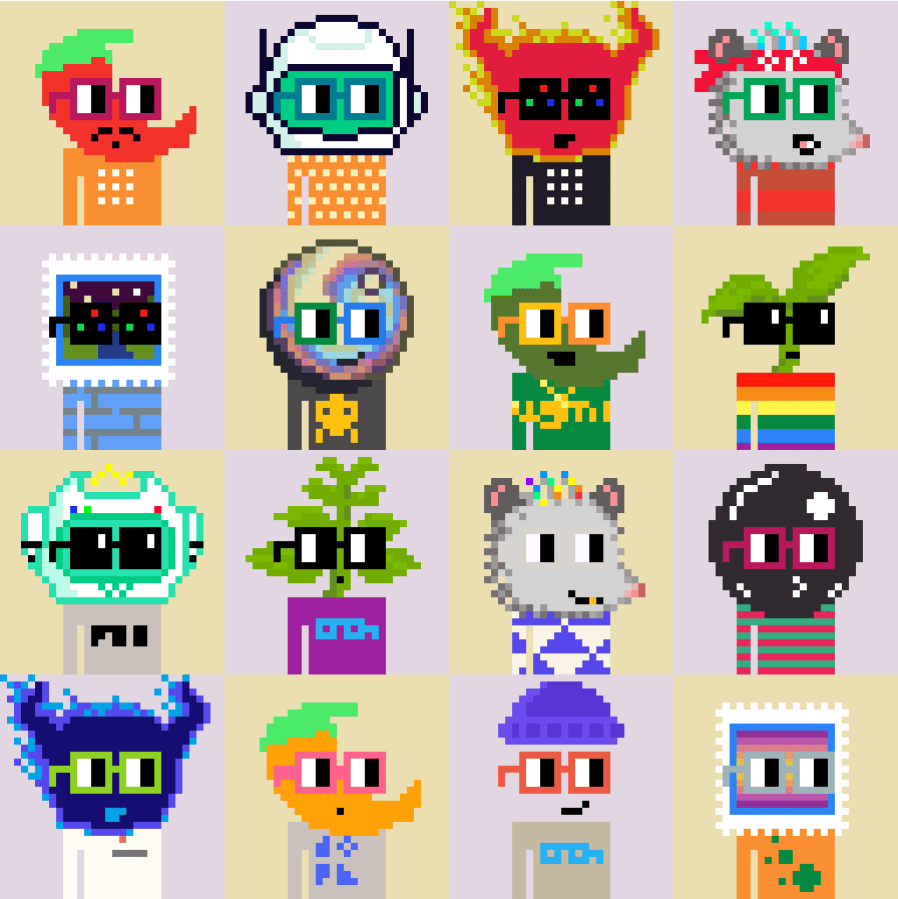 Public Nouns will be accessible every 12 hours — which was an intentional development to ensure that anyone across the world, in any region, can participate.
The incubation of the project stemmed from an event that took place at the DAO Palace in Germany — a two-week residency to evaluate the strongest ways to build expansive project models that make an impact in driving fundraising towards important needs in the digital and physical world.
Wait… WTF is a Noun?
The Nouns project represents an impressive step forward in how NFT communities elect to govern themselves and the funds raised from minting.
Instead of dropping thousands of NFTs onto the market like most other collections, the Nouns project chose to tread quite a different path. Everyday Nouns mints just one NFT in the form of a little pixelated character and auctions it off to the highest bidder.
The typical sale price of a single Noun NFT fluctuates anywhere between 60 and 100 ETH (US$80,000 – US$132,000).
The next substantial element that makes Nouns entirely unique from other blue-chip NFT projects is where the money from each NFT sale goes: straight into the NounsDAO treasury.
Each Noun NFT someone owns acts as a single vote for what to do with the funds in the treasury, meaning that every owner plays an active, ongoing role in the Nouns project. At the time of writing an impressive 29,866 ETH (US$39,670,709) sits in the NounsDAO treasury.
Make public goods great again
Public Nouns have taken this model and applied it to raising funds and awareness for the concept of public goods, which are described in their manifesto as being products that are non-excludable and non-rivalrous.
Non-excludable means that the products or services that cannot exclude anyone from using them and non-rivalrous means that when products or services are consumed it doesn't affect the remaining supply for others.
Owing to the project being less than 24-hours-old, Zargham said that the initial impact is going to be felt through increased awareness and further clarification of the idea in the Web3 development space.
"Right now, the most valuable thing is that we've forced a conversation about what a public good is," he said.
Public Nouns perspectives
Adding to this was team member Ven of MolochDAO, MetaCartel and DAOHaus saying that the initial directions of funding would most likely go towards projects that come from "a set of diverse perspectives, funding impactful experiments, and giving money to whoever needs it."
To the team, this will likely go to supporting the furthering of open source code through funding rounds, hackathons and other development-oriented projects to inspire new models of fundraising for social good.
Essentially Public Nouns will act as a code-based, perpetual motion machine for development towards public goods, where funds from the Public Noun DAO go increasingly towards impact projects within the Web3 space.
"We could definitely go and give some money to a straight public good, that's fine. But what's even more interesting is giving money to teams and small projects that are doing crazy, cool experiments in the public good space," added Minert.