As Kim Kardashian and Justin Bieber are finding out, promoting crypto and Non-Fungible Tokens (NFTs) can get you in a whole lot of trouble.
Cryptocurrencies are a relatively new phenomenon. And so is the idea of celebrities being paid obscene amounts of money to advertise them.
Of course, celebrities have been using their influential platforms to promote many things in Web3. Celebrities have even got themselves in trouble with the law for pushing cryptocurrencies and NFTs (sometimes without even understanding what they are promoting). Here are the cringiest examples so far.
Kim Kardashian
This is probably the most famous case of celeb crypto cringe. Kim Kardashian was asked to promote a crypto called EthereumMax.

EthereumMax has nothing to do with Ethereum, which is the second-largest cryptocurrency by value and market capitalization (the biggest is Bitcoin).
In fact, EthereumMax is what people in the crypto industry call a "shitcoin" — a crypto with no real use other than to get people to buy it and make the creators rich.
Kim Kardashian was paid by the EthereumMax creators to promote the cryptocurrency. Crypto people call this "shilling" — that is, 'talking up' a cryptocurrency for money, without having a real interest in the project or even understanding it.
Kim placed this post on her Instagram account (followed by millions of people).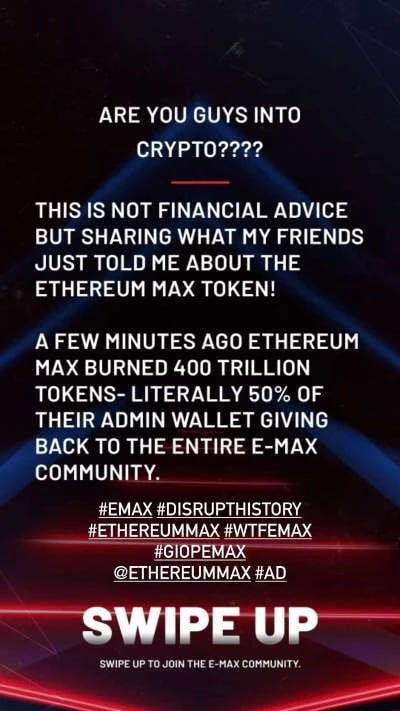 After this, the EthereumMax price jumped. The price of the shitcoins went from $0.000000000735496 on May 26, 2021 (the day of Kim's post), to an all-time high of $0.000000597636 by May 31. That's a jump of 81,156%.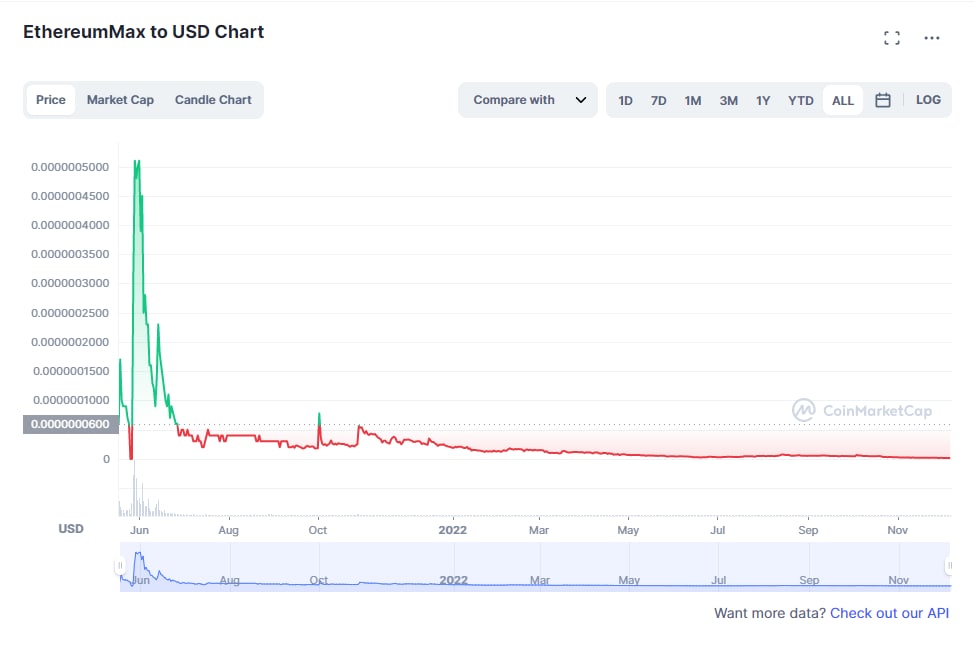 But as to be expected, after Kim's hype wore off, the coin went to the wall. When this happened, Kim garnered the attention of regulatory bodies in the US.
Kim Kardashian and her fine
Kimmy was fined US$1.26m by the US Securities and Exchange Commission (SEC) for shilling by the shitcoins. This was a big price to pay considering her payment for promoting the coin was a mere $250,000.
The SEC said that Kim had not told her audience that she was advertising for EthereumMax, and banned her from promoting any type of crypto for three years.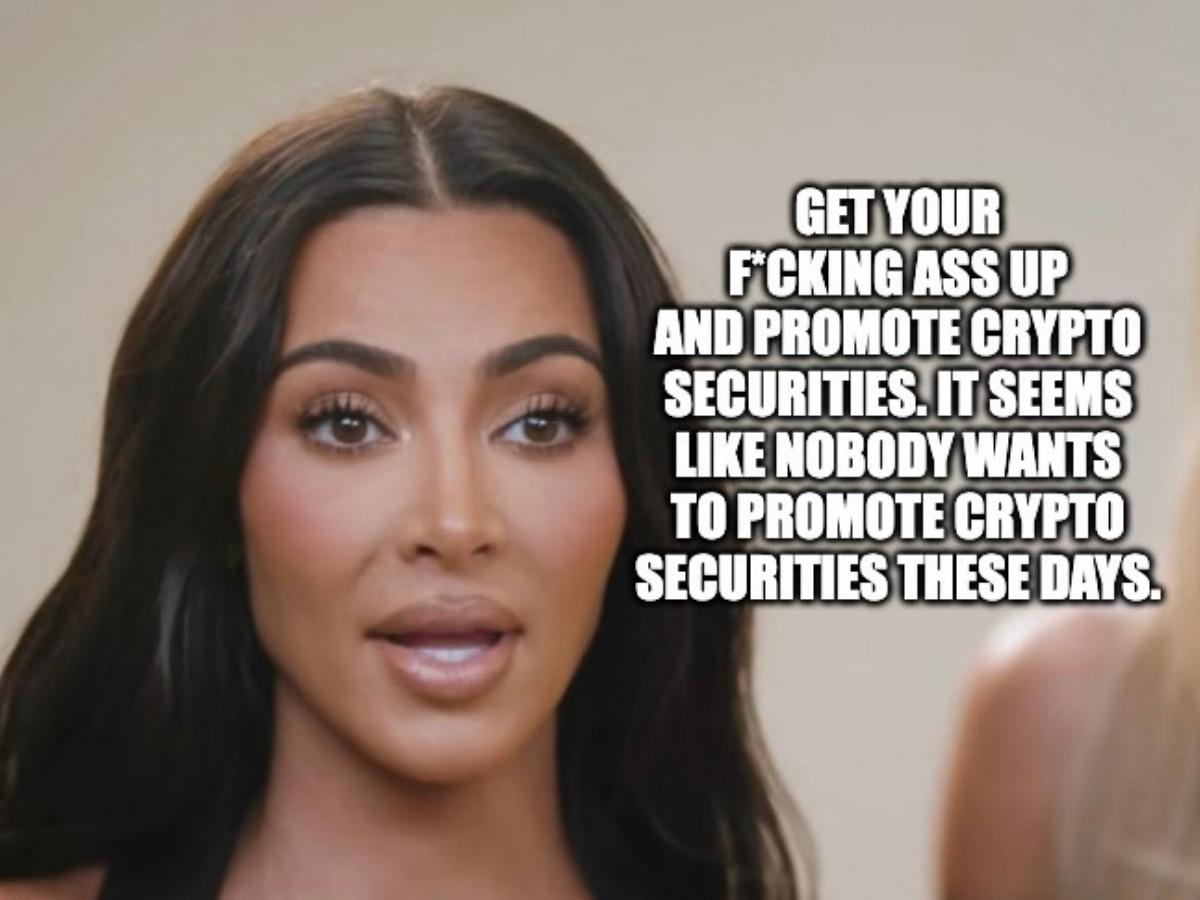 Since then, Kimmy K has stayed away from cryptocurrencies altogether. Crypto already has an image problem, it doesn't need Kim K's help.
Boxer Floyd Mayweather was also fined by the SEC for promoting EthereumMax. Mayweather mentioned the token as he plugged his fight with Logan Paul. As well as being talked up by Mayweather, EthereumMax could be used to buy tickets for the boxing match. Mayweather also wore EthereumMax-branded clothing in the event.
Reese Witherspoon
It's not just cryptocurrencies that are under the microscope. Celebs shilling NFTs are also feeling the heat. TINA.org is an organisation promoting Truth In Advertising. In August, they sent notification letters to celebs promoting NFTs on social media.
Reese Witherspoon was one of the celebs who got a letter. According to TINA.org, Witherspoon was not declaring how much she was paid from a partnership with the World of Women NFT collection.
Witherspoon's lawyers denied the actress was paid for her involvement, saying her reason for promoting the NFT collection was to "support female artists and creators in numerous industries, including the emerging technology space where women are underrepresented."
TINA.org still thinks that there was a payment involved and said, "Disclosures of her material connection to the NFT company are still lacking from her promotional posts."
Other celebs on TINA.org's NFT hit list include Gwyneth Paltrow, Eva Longoria, Floyd Mayweather, Tom Brady, DJ Khaled and Paris Hilton. The letter informed them "that if they have a material connection to the NFT companies they are promoting, that connection needs to be clearly and conspicuously disclosed in the endorsement as required by FTC law."
Justin Bieber
The Biebs is also in hot water for flogging NFT collections on his social media. TINA.org thinks that Bieber has not declared payment he has received for promoting an NFT collection called The Inbetweeners.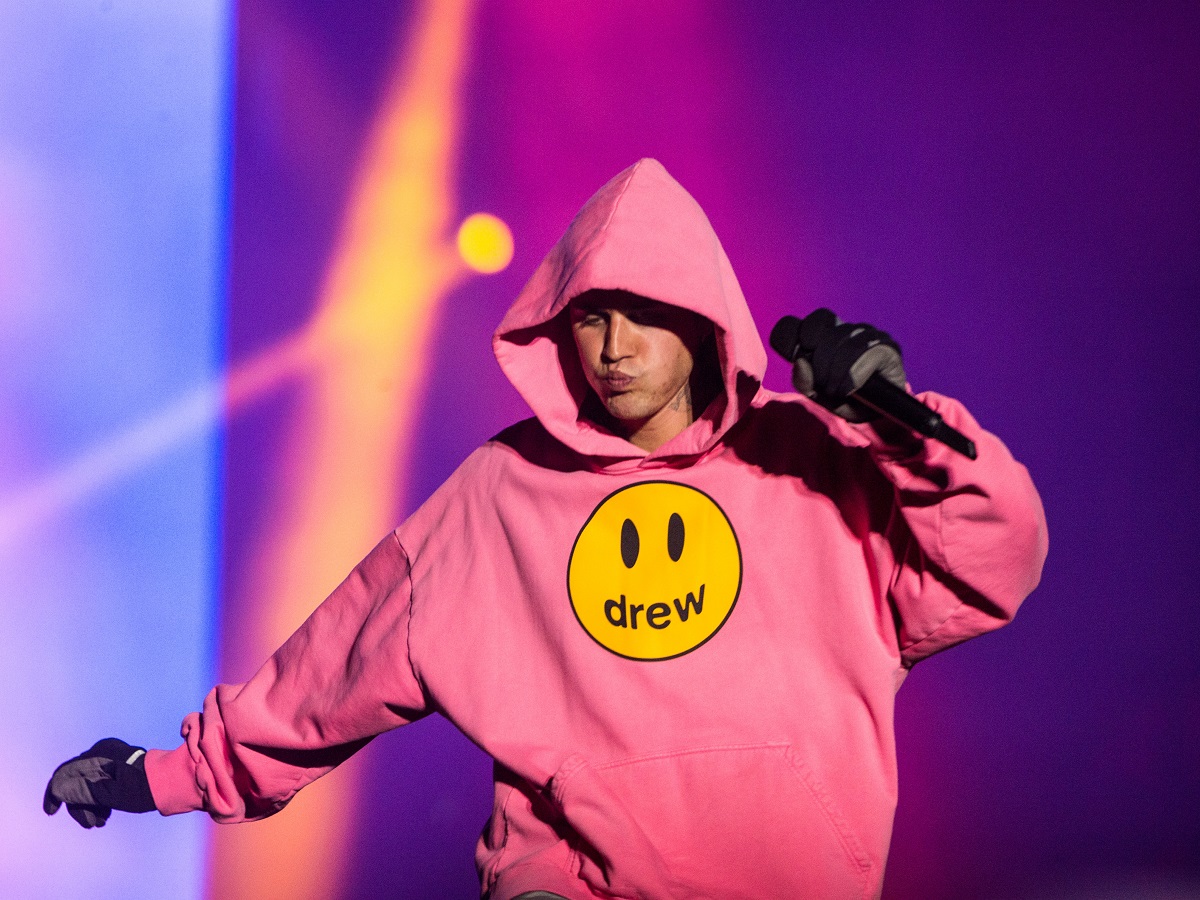 They say, "In Bieber's case, inBetweeners lists the singer as a 'partner' on its website."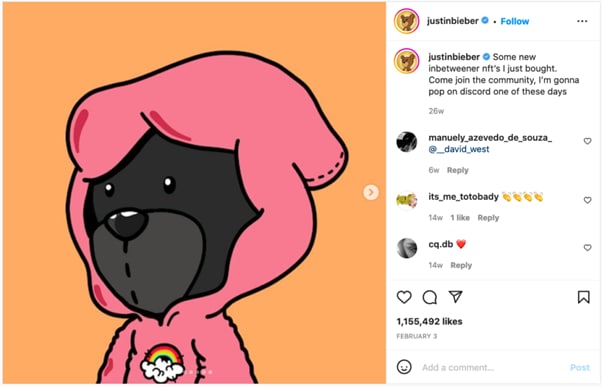 However, Bieber doesn't declare the same thing on his platforms. TINA.org is insisting that Bieber needs to declare how he is benefitting from promoting the NFTs, something that he has failed to do so far.
Lindsay Lohan
The red-headed actress caught the spotlight when a confidential document from an influencer agency was leaked.
It showed what influencers were paid to shill NFTs and crypto, and in the case of Lindsey Lohan, she was on the payroll.
As Motherboard reports, Lohan charged US$25,000 for every handcrafted "shill tweet." She also charged $20,000 per retweet, and billed $35,000 for "package deals".
Lohan also has her own NFTs, which fetched some decent prices at the peak of the NFT hype in 2021.

Steven Seagal
80s movie star Steven Seagal is one of those celebrities that often makes the news for the wrong reasons. So his appearance in this list should not be too much of a surprise.
In 2020, the actor was charged by the SEC for "failing to disclose payments he received for promoting an investment in an initial coin offering (ICO) conducted by Bitcoiin2Gen (B2G)."
While Bitcoiin2Gen was launched as a better alternative to Bitcoin, it yet again was another shitcoin that rode on the name of an established cryptocurrency, Bitcoin.
The cringey press release about Seagal's partnership with the shitcoins is still on the internet.
Seagal ended up getting whacked with a $157,000 fine, plus he was banned from promoting any other cryptocurrency for three years. Seagal however, has not yet paid the fine.
Instead, he moved to Russia and became a Russian citizen. Perhaps he can pay for things in Bitcoiin2Gen there.
Tom Brady
Tom Brady, as brand ambassador of the now-collapsed exchange FTX, is also sweating it out. Brady is a six-time Super Bowl champion, and he endorsed FTX along with ex-wife Gisele Bündchen. The ad in question had the tagline: "Crypto. FTX. You in?"
Now, however, things have changed. Brady and a host of other celebs who appeared in the ads have lawsuits to deal with, for their role in the FTX implosion.
The class-action lawsuit names many celebs for failing to disclose the nature, scope, and amount of compensation of the advertising.
According to Truth In Advertising, "Tom Brady, Gisele Bundchen, David Ortiz, Stephen Curry, Shaquille O'Neal, Trevor Lawrence, Shohei Ohtani, Naomi Osaka, and Larry David received funds in exchange for promoting the FTX platform, in violation of Florida state securities laws."
TINA say that part of the scheme employed by FTX involved using some of the biggest names in sports and entertainment to drive consumers "to invest in crypto, pouring billions of dollars into the deceptive FTX platform to keep the whole scheme afloat."
Paris Hilton
The hotel chain heiress another celeb suspected of being paid to shill. This time, Hilton was pushing a collection of NFTs called the Bored Ape Yacht Club (BAYC).
Hilton has a reputation as a keen shiller of many other crypto projects. The peak of cringe shilling was on the "Tonight Show". The episode features Hilton talking to host Jimmy Fallon about his own Bored Ape NFT. It seems very forced, and this could be the most cringe celeb moment of all.


Maybe the day will come when we can expect celebrities to only endorse products that they've researched and actually believe in. For now, most should keep their lid shut.