Trump NFTs: Former President of the US, Donald Trump, announced the launch of his personal NFT collection and the internet is losing it.
In previous days, Trump had teased a "MAJOR ANNOUNCEMENT" to his followers on Truth Social, which is a social media platform owned by the ex-president.
At the same time of the big announcement (that he would run for president again) many were surprised by Trump's NFT announcement alongside it.
Trump announced the collection's launch in a video on the platform's website.
He said, "Hello everyone, this is Donald Trump. Hopefully, your favourite president of all time —better than Lincoln, — better than Washington — with an important announcement to make. I'm doing my first official Donald J. Trump NFT collection right here and right now. They're called Trump digital trading cards. These cards feature some of the really incredible artwork pertaining to my life and my career. It's been very exciting."
Trump goes on to explain that fans can collect them just like a baseball card, or other collectibles.
"Each card comes with an automatic chance to win amazing prizes like dinner with me."
Trump is also doing "zoom calls, a one-on-one meeting, autographing memorabilia, and so much more."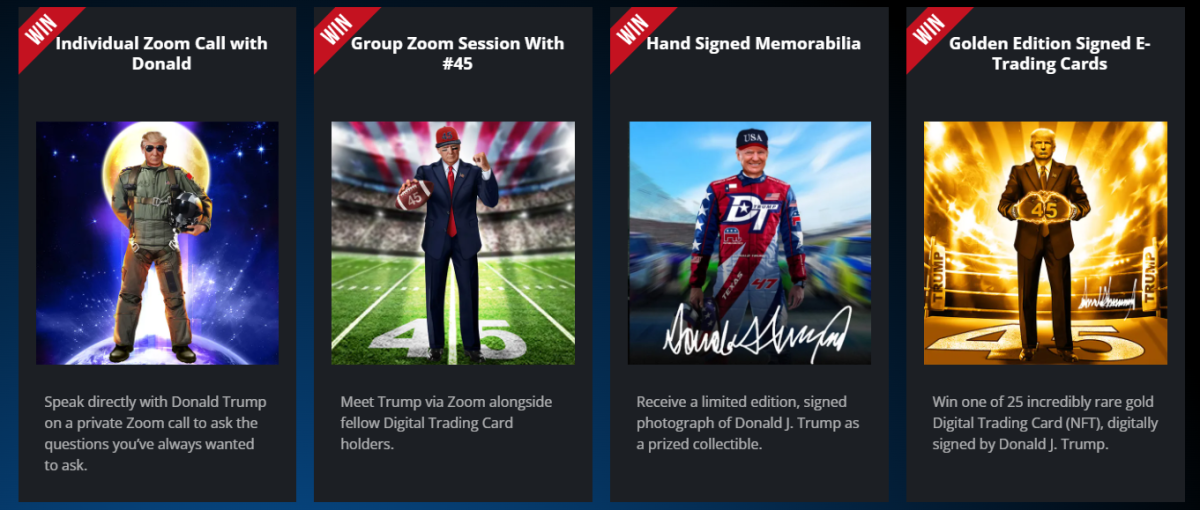 Utility Trump Card
In terms of NFT utility, compared to other NFT offerings, this seems better than a myriad of other collections.
Trump's NFT collection features versions of the businessman in various poses of glorification.
Not unlike Putin's real-life photos of shirtless horseriding, Trump's NFT poses include the entrepreneur looking suited and booted for a campaign fundraising event, but also in other heroic poses, such as in an astronaut's spacesuit, surround by Trump-branded gold bars, and looking Brokeback Mountainish on a savannah.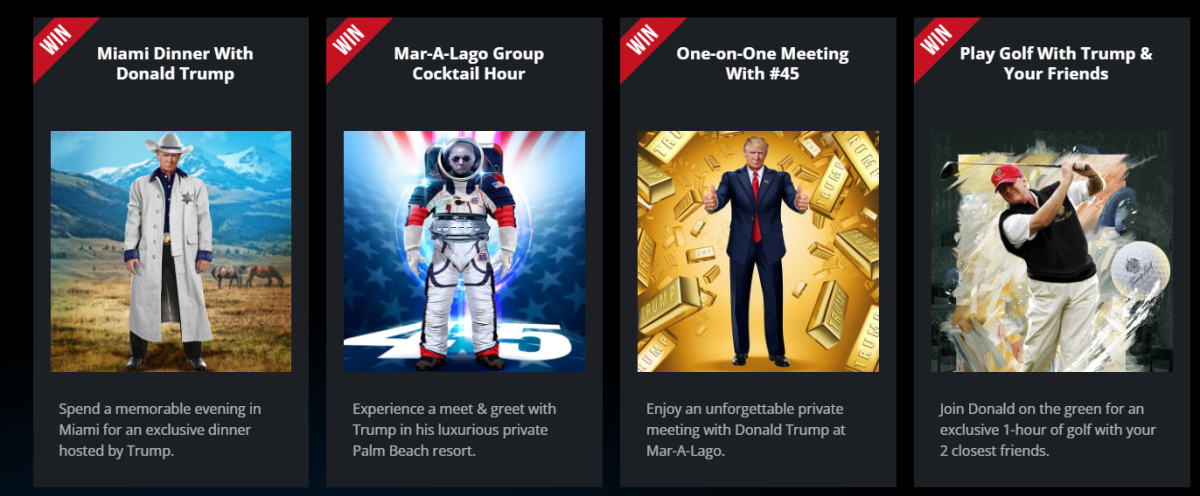 They can be found here.
Trump NFTs: Raising funds for…
According to the NFT website, these NFTs are not to raise funds for charity or an election campaign. So… perhaps the launch of this collection is to ensure Mr Trump's retirement funds are secure.
Trump has previously been a vocal critic of all things crypto. The Don has previously said, "I am not a fan of Bitcoin and other cryptocurrencies, which are not money, and whose value is highly volatile and based on thin air. Unregulated Crypto Assets can facilitate unlawful behaviour, including drug trade and other illegal activity."
However, it seems that Trump does seem to have shifted his views on this, in light of the potential for personal profit.
The NFTs are "only $99" each. With 45,000 NFTs for sale, this will net the Donald nearly US$4.5 million if they all sell out.
Social Media reaction came swiftly.
Despite all of the criticism, it seems that the NFT collection is doing well. With these experiential collectables being predicted to sell out, the crypto winter seems to be thawing quite nicely. The real story here is that NFTs are certainly going nowhere.