Web3 games: A new survey from the Blockchain Gaming Alliance has found that the number one concern for Web3 games moving into 2023 is surprise, surprise … making them actually fun to play.
The blockchain gaming industry — which, to be fair, is still very much in its early days — has been dominated by complaints of repetitive and oftentimes tedious 'gameplay' that's more focused on earning cryptocurrency than it is about an immersive gaming experience. As a result, its been hard to get gamers to stick around, especially with the price of crypto assets falling for the majority of last year.
So, when the Blockchain Gaming Alliance (BGA) surveyed hundreds of people actually working on the blockchain games themselves, it should come as no surprise that 56% of all respondents found that "improving gameplay" was one of the top priorities.
Speaking to this point was the founder of Horizon Blockchain Games, Michael Sanders, who said that "fun" stands as the most essential part of the future of Web3 gaming.
"By creating games and applications that are fun and user-friendly, we can welcome the masses to Web3, where both users and creators can share in the value generated by the networks they participate in."

Michael Sanders, Founder Horizon Blockchain Games
Just as a heads up, the terms; 'blockchain games', 'Web3 games', 'NFT games' and 'GameFi' are all just words for games that include some level of cryptocurrency integration. While industry insiders love to nitpick over terminology, they all pretty much mean the same thing.
Web3 games: The biggest drivers of blockchain gaming adoption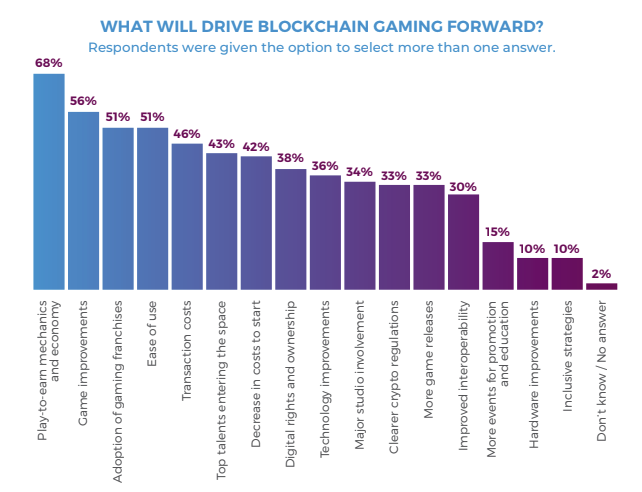 Of those gameplay improvements, 68% of all the surveyed members at the BGA agreed that figuring out how to work out some of the kinks in the economic models of Play-to-Earn (P2E) games was also a top priority. Play-to-Earn games have become somewhat controversial, especially following the meteoric rise, and subsequent tumble of Axie Infinity, a P2E game that become insanely popular in the Phillipines in November 2021.
In terms of the next-most pressing industry hurdle, more than half (51%) of all those surveyed agreed that onboarding new players and creating a user-friendly experience remains the biggest issue in blockchain gaming. This comes from the oftentimes steep learning curve for new players that aren't familiar with some of the more technical aspects of blockchain games, such as setting up a wallet and transferring cryptocurrency.
Sebastien Borget, the President of the BGA and co-founder of popular metaverse game Sandbox said that while crypto assets declined in price, 2022 was a great year for blockchain games, especially since more than 70% of all new crypto investors in the last year were onboarded into the space by Web3 games.
"Looking back, 2022 was a year of growth — not just in terms of funding, titles and headlines, but also in terms of active participation,"he said.
"Even with an influx of new entrants to the space, the core benefits of blockchain to the industry have not changed significantly since last year. Asset ownership for players, new player rewards and new revenue models remain the top three," Borget continued.
"On top of this, our industry is committed to improving the overall experience of blockchain games, from better gameplay to ease of onboarding. This tells me that we are putting players first in our quest to revolutionize our industry through the application of blockchain and NFTs."

Sebastien Borget