Gm. Here's the top Web3 news you need to know this morning.
American rapper Saweetie to perform in a Roblox pre-Super Bowl concert.
Coinbase stock soars 20% following securities lawsuit dismissal.
CEO of Hong Kong crypto exchange Bitzlato arrested in Spain, among two execs.
Crypto markets are slightly up, but these tokens are soaring.
NFL Going Virtual
The NFL is seeking to expand its presence beyond the physical field to the virtual world after penning a partnership deal with multiplayer online game Roblox and Warner Music Group
The collab will see American rapper Saweetie take to the virtual stage for the first time, performing a free concert on February 10th in front of thousands of dancing pixelated characters.
And if the first time wasn't fun enough, the gig will be looped on a stream no short of 31 times until the Super Bowl kicks off on February 12th between the Philadelphia Eagles and Kansas City Chiefs.
As of Q3 2022, users statistics reveal that Roblox attracts more than 58.8 million daily active players. Rhythm City, the virtual location of the concert, is scheduled to open its doors on February 4th.
"As an artist, innovator, and football fan, to be able to perform during Super Bowl LVII weekend in this new world – Rhythm City on Roblox – is something I never imagined that I would be involved in."

Saweetie
The NFL initially forged a partnership with Roblox last year to launch NFL Tycoon, a virtual experience which enables fans to build their own NFL-themed world, as well as participate in "virtual live events and activations that coincide with the NFL calendar.
Web3 News: Coinbase lawsuit dismissed
A lawsuit levelled against crypto exchange Coinbase in the US District Court for the Southern District of New York alleging that the company sold unregistered securities has been dismissed by a federal judge.
The 2021 Coinbase class-action lawsuit in the accused the cryptocurrency exchange of facilitaing the sale of unregistered securities.
The case's plaintiffs claimed that Coinbase played a role in promoting and selling 79 digital asset tokens without proper registration on their platforms Coinbase and Coinbase Pro – an action which they believed violated federal securities laws.
Following Judge Paul Engelmayer verdict that Coinbase served as an intermediary rather than the direct seller of assets, the Coinbase Nasdaq-listing stock (COIN) soared 20% on the daily, taking yearly gains above 180%.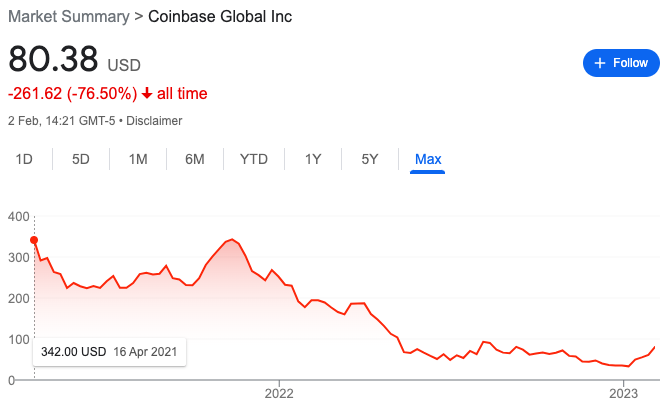 This isn't Coinbase's appearance in the court house. In 2018, they became embroiled in a class-action lawsuit in the US District Court for the Northern District of California which alleged that they engaged in insider trading and market manipulation related to its listing of Bitcoin Cash in December 2017.
In this case, the plaintiffs argued that Coinbase employees and insiders utilised their knowledge of the company's plans to purchase large amounts of Bitcoin Cash prior to its listing, leading to an artificial inflation of the crypto's price.
The case was ultimately settled in 2021, with Coinbase agreeing to pay a $6.5 million fine and implement measures to prevent similar incidents in the future.
Bitzlato CEO in cuffs
Spanish authorities have apprehended the CEO, sales executive and marketing director of Hong Kong cryptocurrency exchange Bitzlato under charges of money laundering.
The authority reported seizing US$19.8 million in a multitude of assets, include crypto tokens, luxury cars and cash, among other valuable items.
Despite being founded in 2018, Bitzlato arrived on most crypto fanatics radar last month after the US Justice Department (DoJ) announced they had shut down the exchange.
But most people asked the question, what the hell is Bitzlato? Here's your full lowdown.
Web3 News Crypto… todays' top performers
Biggest gainers
ETHW, the unofficial token forked during the Ethereum merge is up 25%.
OP, the token of layer-2 Ethereum scaling solution Optimism is up 17%.
CVX, the native token of DeFi protocol Convex Finance is up 13%.
Biggest losers
DYDX, the governance token of layer-2 protocol dYdX is down 4%.
XMR, the token of privacy project Monero is down 1%.
ATOM, the native token of the Cosmos ecosystem is down 1%.
And that's all the Web3 news you need to know before you start your day.