According to a new study by NFTGators, the crypto crowd on Twitter is as yet unconvinced by Threads as a place for the crypto conversation.
Threads is the new social media platform that mimics Twitter. It was created by Meta's Mark Zuckerberg, perhaps in a bid to steal people away from Elon Musk's Twitter 2.0.
Despite Twitter saying that usage is at an all-time high, Threads is crushing it.
Threads does have the advantage of an existing user base (users need to have Instagram first to use threads, and can bring their followers over) but it is no guarantee that people will actually engage with the platform after adoption. Uptake has been keen however, and it does seem that this could be the "Twitter killer" everyone has been talking about.
Australian exchanges
So how are Australian crypto exchanges going on Threads? CoinSpot is the largest exchange in Australia. Ray Osthmuller is Head of Marketing at the exchange, and he says they made a Threads account.
"Our focus is always on engaging with our community in as many ways as we can, so that's why CoinSpot made a Threads account. We can't speak on behalf of all crypto people, however we've noticed our audience are taking to the platform. As exciting as new social media apps are, it can always take time to build into an existing space. We are seeing 10% of our Instagram followers at this time, with that increasing daily."
Swyftx's chief marketing officer, Chris Vanek, said, "Although we've found threads is less feature-rich than Twitter, it's showing promise. Despite its smaller audience compared to mainstream social channels, we've seen generally higher engagement levels in crypto. It'll be interesting to see if this sustains or if it's just new user excitement."
CoinJar is another Australian exchange that went ahead and got a Threads account. However, it seems interest has somewhat waned. Dominic Gluchowski from CoinJar said that the exchange created a Threads account following their standard practice of reserving social media handles on emerging platforms.

"As a leading cryptocurrency company, we recognise the value of establishing a presence across various social networks to maintain consistent brand representation. Threads, the fastest-growing social media network, shares similarities with Twitter, which is highly popular among crypto enthusiasts. By securing our brand name on Threads, we ensure control over our online identity and remain prepared for potential shifts in user behaviour. Despite initial interest, recent data from Google Trends indicates a significant decline in interest towards Threads."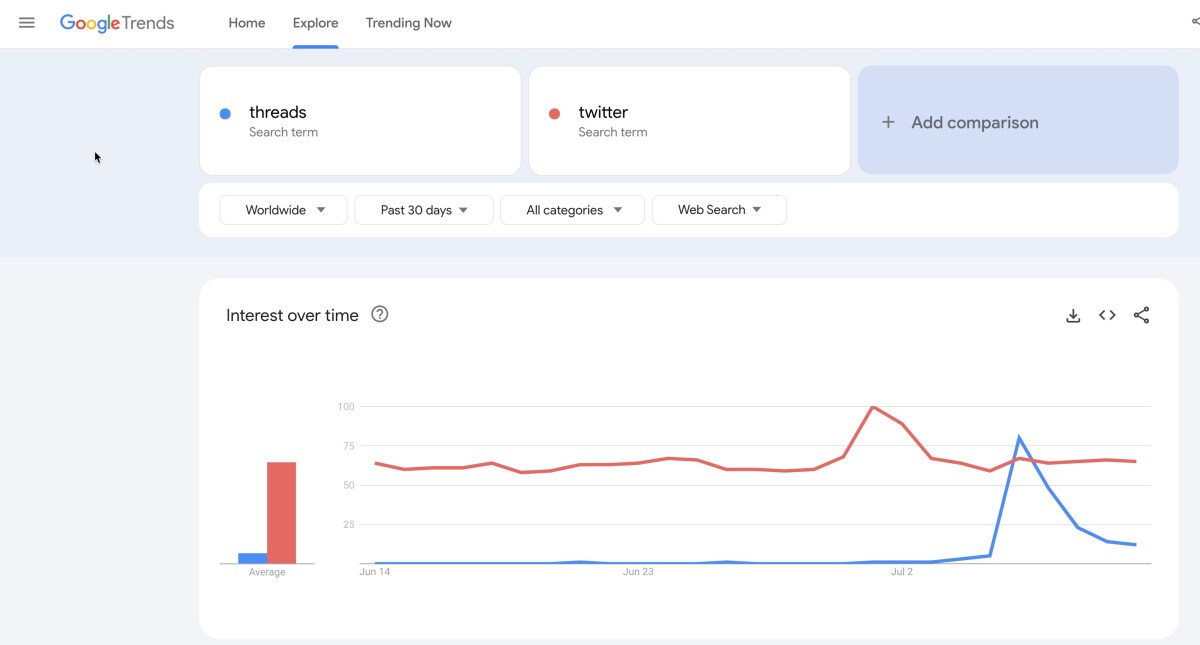 Crypto crowd not that impressed
While Threads seems to be sucking up users, not everyone is quite ready to blast out a mutiny against Twitter and heads for Zuckerberg's new platform. The crypto crowd, it seems, ain't going nowhere.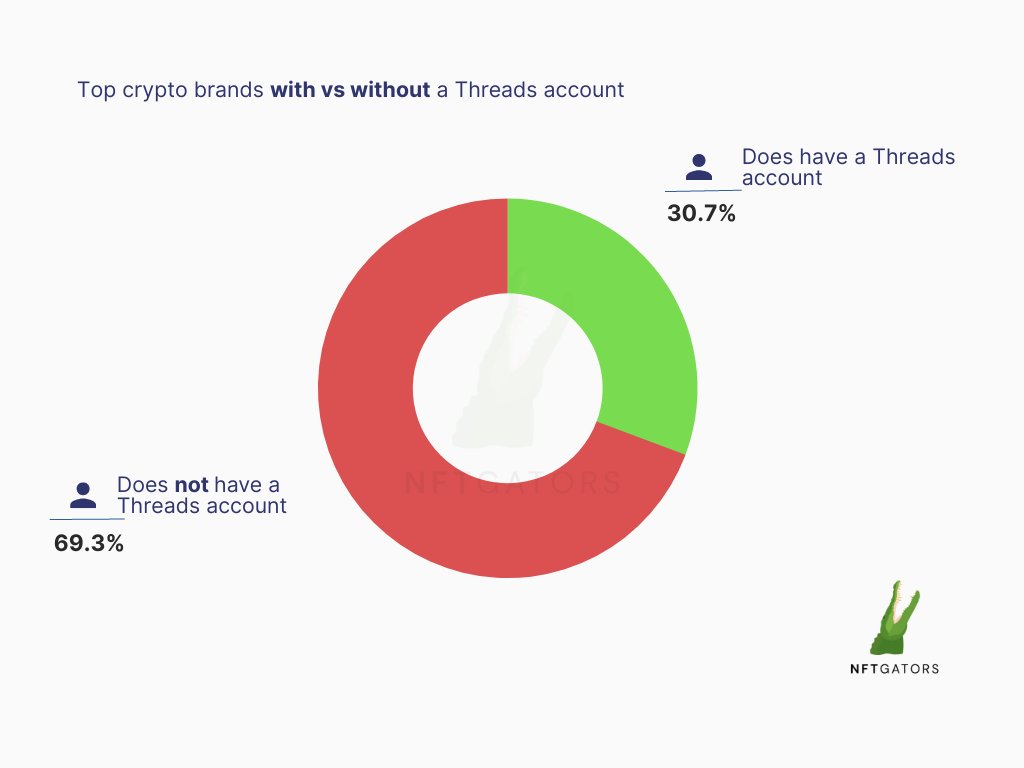 According to the NFTGators study, 69.3% out of 117 of the big crypto industry brands haven't meandered over to Threads yet. Big fish Binance did however, make its way over and brought 335k followers with it. Strangely, Binance invested US$500m in Twitter when Musk took over in 2022.
NFTGators said, "We looked at cryptocurrency exchanges like Binance, Kucoin, Gate.io, and Crypto.com, as well as top cryptocurrencies by market cap, like Ethereum (ETH), Tether (USDT), Ripple (XRP), Cardano (ADA) and more. So far, out of 117 top crypto brands, nearly 70% have yet to open a Threads account."
Of the crypto brands that did go over to Threads, NFTGators say that they found that engagement was low.
Threads: Same problems, different platform
The problems of random or incorrect censorship have been a big complaint of users Facebook and Instagram over the years. Many people have claimed that perfectly innocent posts have been deleted. It seems the same algorithm problems are occurring in Threads, and people are already posting about it.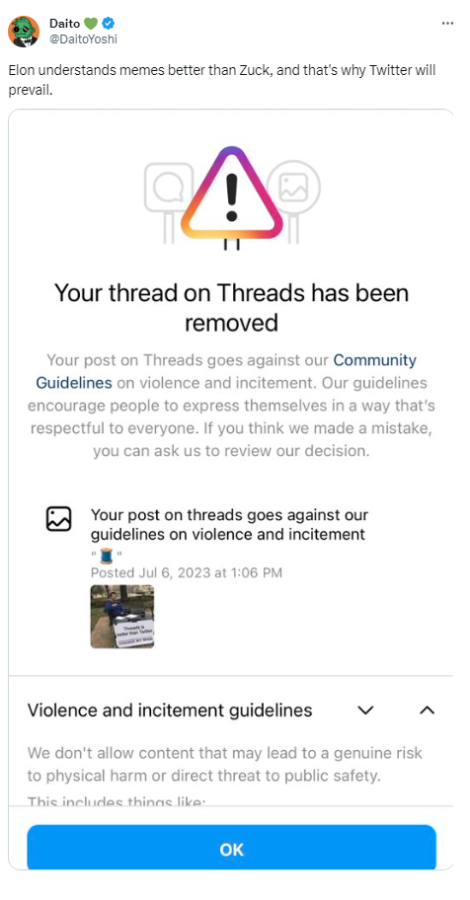 Elon Musk's Twitter markets itself as the platform of "free speech." Will this be enough to keep crypto enthusiasts faithful to the platform? It might be a case of "wait and see".