An Australian man who moved to El Salvador for a year says living in the South American country has "changed" his view about Bitcoin, and is attempting to debunk mainstream media narratives surrounding the cryptocurrency's legitimacy.
Luke Mikic, a Bitcoin enthusiast and content creator, shared a YouTube video detailing his lived experience in El Salvador, and claims that the country's massive Bitcoin project has not "failed."
El Salvador and Bitcoin
In June 2021, El Salvador became the first country in the world to make Bitcoin legal tender. Since then, to onboard its citizens, the El Salvadoran government has rolled out a crypto wallet called 'Chivo'. Children in El Salvador are even taught lessons about Bitcoin in school so they can go home and impart their crypto knowledge to their parents.
President Nayib Bukele is a known Bitcoin maximalist and in November 2022 had vowed to purchase one Bitcoin every day. He is even in the middle of constructing a 'Bitcoin City' whose economy will operate solely on Bitcoin.
However, El Salvador's move has received strong criticism from the media for being a risky and costly experiment for one of the poorest nations in the world. The International Monetary Fund (IMF) even urged El Salvador to stop using Bitcoin as legal tender, given the volatility of the cryptocurrency.
One year on, Bitcoin adoption in the country is reportedly as low as 20%, meaning that locals can't be bothered to use the crypto and the Chivo wallet. Most downloaded it just to claim the US$30 (AU$45) reward. A survey by El Salvador's Finance Ministry also showed that only 14% of businesses were transacting using Bitcoin.
It's not that bad, apparently
Mikic, however, has a different story to tell. He says that the El Salvadoran government's introduction of the Chivo wallet "has actually made a difference." Not in terms of Bitcoin adoption, but in terms of basic access to banking services.
In his first six months in El Salvador, Mikic says that he has used Bitcoin to pay for goods over 500 times, attempting to debunk the narrative of low adoption. He says that he's spent Bitcoin "every single day, sometimes twice a day."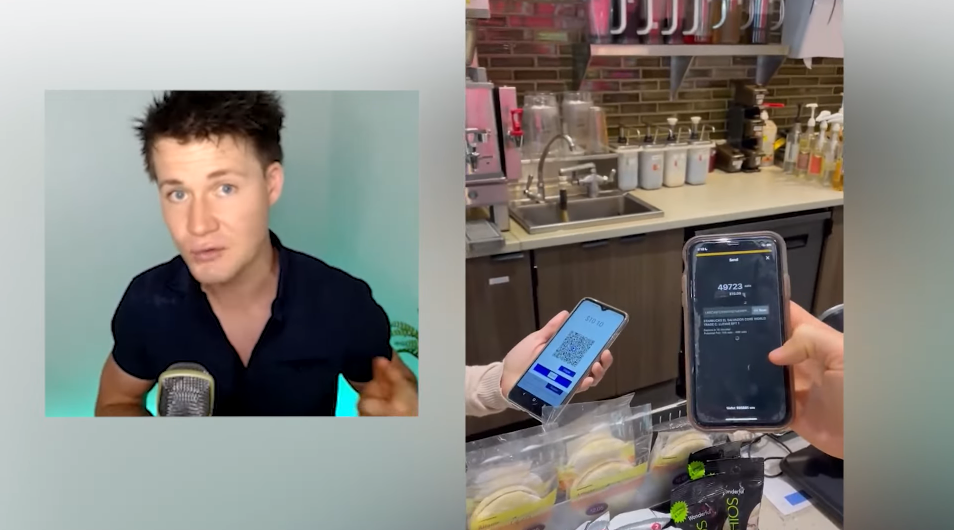 "You can actually spend it everywhere you want to go… all the major coffee shops like Starbucks, all your major franchises, fast food restaurants, but more importantly, all the major grocery stores [like Super Selectos] all accept Bitcoin," he says.
The Bitcoin enthusiast adds that in the country's capital city of San Salvador, Bitcoin adoption among locals aligns with a US government survey of adoption rates being around 5% to 15%. However, if one ventures further to the 'Bitcoin Beach' at El Zonte, Bitcoin adoption is around 15% to 25%.
Mikic adds that at one Bitcoin party at El Zonte in September 2022, Bitcoin adoption reached a high of 80% to 90%. However, it was not specified in the video the number of people who attended the party, and if the partygoers were mostly "orange-pilled" locals or Bitcoin maximalists.
El Salvador's locals are easy to "orange-pill"
… that's according to Mikic, at least. He claims that compared to other countries like Australia, the US, Mexico, Peru, and Colombia, "El Salvador is the easiest place to "orange-pill a new person on Bitcoin."
When someone is "orange-pilled", it means that they have been convinced of Bitcoin's purported brilliance, and now believes in the cryptocurrency's validity as an alternative monetary system. "Orange-pilling" is usually carried out by an individual who is already a believer in Bitcoin.
"They're just more aware of what is going on with the world and they're more comfortable with an alternative form of money. I was actually even able to pay a portion of my rent for a little shack [in El Zonte] in Bitcoin," Mikic explains.
"When you actually see Bitcoin working in real time, I think that's a very good 'orange-pilling' opportunity because people don't realise just how quickly you can make a Bitcoin transaction without a financial intermediary," Mikic says.
Mikic's claims stand in contrast to existing media claims that El Salvadorans aren't enthusiastic about Bitcoin and cryptocurrency. Interviews with locals by technology publication Rest of World in May 2022 showed local citizens expressing dislike for the Chivo wallet: thousands of user identities were stolen after they downloaded the app.
"Massive Bitcoin celebration"
Luke Mikic further shared that he also visited an education centre called 'Mi Primer Bitcoin' that – you guessed it – offered a course about Bitcoin.
According to what is shown by Mikic, the eight-week course saw Bitcoiners teaching curious locals all about the cryptocurrency, and the graduation ended with a party.
"All the kids in El Salvador wanted to get a photo with my big ugly head, that's right, all of the students there apparently don't see many gringos… it was a little bit unexpected, but it was an absolute ball," he says.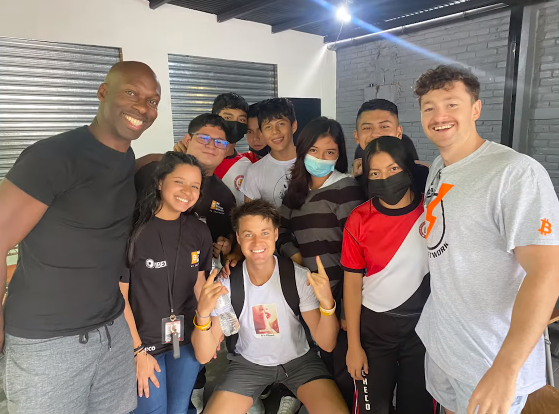 He describes his experience at the education centre as a "massive Bitcoin celebration", and shared that students at the school performed a dance routine for him and other visitors at the end of an event.
While Mikic admits that transforming El Salvador with Bitcoin still has a long way to go, he maintains that the country's Bitcoin project has not yet 'flopped'.
"Nayib Bukele is not only trying to revolutionise and transform his country in the realm of economics, he is also focusing on many other policies that [are] bringing these 'sovereign individuals' from all around the world to move to El Salvador," he explains.

Looks like the "world's coolest dictator" still has fans no matter what he does.