SXSW in Austin, Texas in March 2022 was all about crypto, NFTs and the metaverse. Crypto had entered the mainstream. Someone even wrote a guide on how to avoid running into a crypto bro.
In the time since, FTX has collapsed, and ChatGPT has become mainstream. The crypto world, meanwhile, has become much, much quieter.
With Caroline Ellison currently on trial, regulators cracking down hard on crypto, and AI's emergence into the mainstream thanks to ChatGPT – it seems at times that the crypto industry is stuck in eternal winter.
Ahead of SXSW in Sydney this week, crypto and NFTs' most loyal Australian proponents told The Chainsaw they're still optimistic about the industry as a whole.
Michelle Grey is the founder of creative agency Culture Vault, which helps onboard Australian artists into Web3. She says FTX's collapse hasn't really affected NFT artists in Australia. Instead, she says, the NFT art scene remains vibrant, and Aussie digital artists are still globetrotting to exhibitions around the world.
"In terms of NFT sales, things have slowed down, but I think it's important [for readers to know] that NFTs is not the medium. Digital art is the medium," Grey said.
"NFTs have a bad reputation because so many of them are scams. If you're playing in the digital art space, [make sure] you're going for reputable digital artists or artists that you love. An NFT is proof of provenance for an artwork, and blockchain technology allows them to do it more fluidly." 
FTX is not crypto
Joan Westenberg, Web3 and technology consultant, says VC funding for Web3 has "slowed down" post-FTX. However, she says FTX's fall was largely related to the fact that the crypto exchange was a centralised corporation where power rested in the hands of a single person. This structure, in itself, goes against the very principle of decentralisation in crypto.
"The collapse of FTX has been a major financial blow to a lot of crypto projects, ecosystems, and a lot of individuals, but at the same time, it also served as a key example of why we need a verifiable public ledger," Westenberg said.
Web3: Where do we go from here?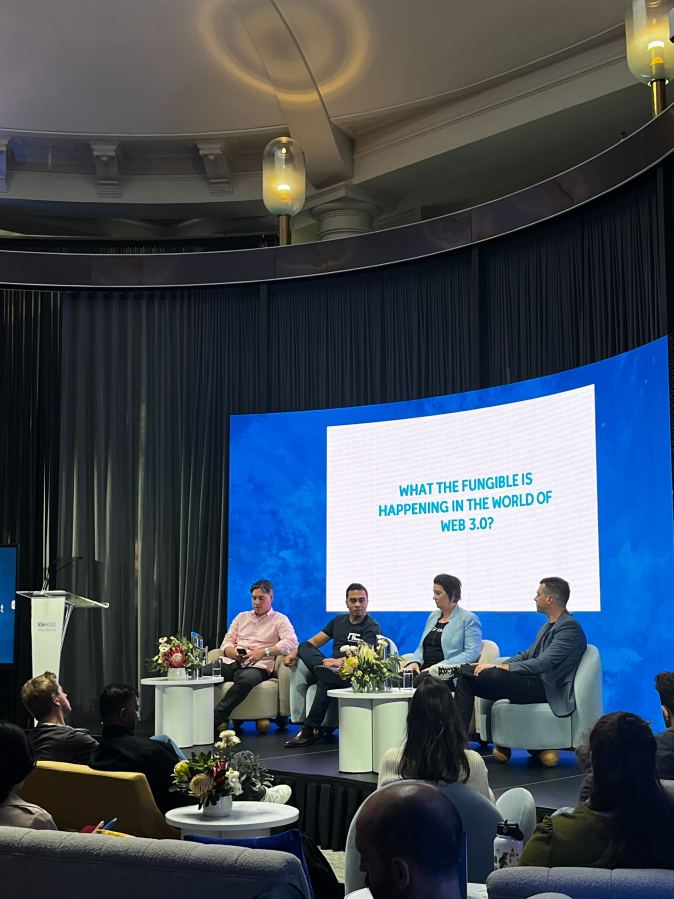 At SXSW in Austin, Texas in March 2022, there were 33 panel discussions about Web3, crypto or NFTs. At SXSW Sydney this year, there are just nine.
In a SXSW panel on Web3, Mark Monfort, co-founder of AusDeFi Association, stressed the importance of blockchain as a technology that "lowers the barrier for entry to previously high-cost business models".
"Decentralisation is what we should focus on [in the future], and the blockchain allows that," he said.
He said that post-FTX, amid crypto's extended bear market, much of the noise and hype surrounding crypto and NFTs had dispersed – allowing legitimate, scalable Web3 businesses to shine through.
"[The attention towards Web3] will go to more realistic, pragmatic use cases where users might not even know that there's blockchain behind a certain business or project," Monfort told The Chainsaw.
In a separate 'Web3 Built For Women, By Women' panel, Geena Dune, founder of NFT collection Honey Badges, notes that throughout history, any new technology has always been met with resistance, "and we're seeing the same rinse and repeat cycle with Web3".
"Web3 has changed the rules of community engagement… and in time, Web3 projects with real-world use cases are the ones that will survive in the long run," Dune adds.