Stablecoins, the crypto known for being a 'safe harbour' for investors to park their assets, aren't so stable after all. According to the latest analysis by bond credit rating giant Moody's, the largest fiat-backed stablecoins 'depegged' as many as 609 times so far in 2023.
Moody's Analytics' Digital Asset Monitor ("DAM") tracked the price performance of 25 popular stablecoins with a large market cap including Tether, USDC, and PayPal Coin. These 25 stablecoins represented 92 percent of the total stablecoin market, and the tracker monitored the number of 'depegging events' that occurred among these top stablecoins.
For purposes of this report, Moody's DAM qualifies a depeg when "the price of stablecoins fluctuating by more than three percent in a day against their fiat currency peg."
In the end, Moody's DAM found that as of September 2023, a whopping 1,914 'depegs' took place this year, and nearly a third of those 'depegs' – 609, to be exact – were from our most beloved stablecoins Tether, USDC, PayPal Coin, and so on.
Stablecoins and 'depegging'
In the crypto space, stablecoins are crypto coins whose values were tied to another asset. Typically, the asset would be a real world currency or commodity.
The most popular kinds of stablecoins were those that are backed 1:1 with the US dollar, like Tether. This means that for each Tether stablecoin in circulation, there exists a US$1 (AU$1.56) to guarantee its value.
A stablecoin 'depegs' when its 1:1 value sees fluctuations, and its price deviates substantially.
For example, when Silicon Valley Bank went bankrupt in March 2023, stablecoin provider Circle came under intense scrutiny as US$3.3 billion (AU$5.15 billion) of its reserves were held in the fallen company. It was around that time when Circle's USD-backed stablecoin, USDC, depegged and dipped to US$0.96 (AU$1.50).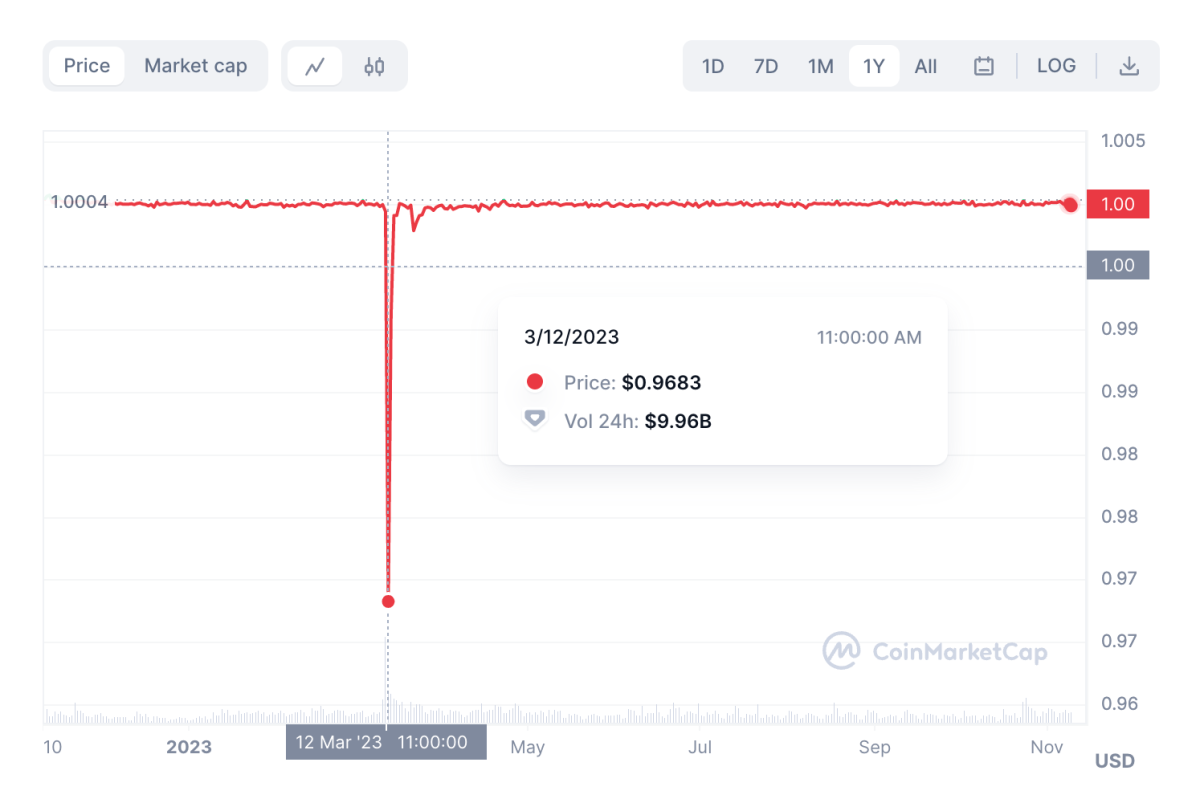 Un-stable-coins
Although the total number of depegs this year dropped 32 percent from 2,847 in 2022, the fact that such depegging events remained in the thousands once again highlights what most crypto investors knew by now: that crypto was notoriously volatile.  
Moody's DAM report described such depegs as "extremely common" in the crypto space: "The high number of depegs provides context to headline volatility seen in the sector," the company wrote.
"There is a certain irony that crypto was supposed to be about removing the need for trust in banks or governments. But stablecoins require trust they do have the 1:1 backing in safe assets which they promise," Dr. John Hawkins, Senior Lecturer in the School of Politics, Economics, and Society at the University of Canberra tells The Chainsaw.
"If holders of stablecoins are not confident that they are actually 100% backed by reserves, they can suffer the equivalent of a 'bank run'. Knowing that the first to withdraw their funds will be paid in full but latecomers may not, there is an incentive to rush out of the stablecoins when doubts arise about their backing. So, they can collapse very quickly," he adds.