The crypto industry is facing yet another crisis after Silicon Valley Bank (SVB) collapsed last week.
SVB was known for serving innovation-focused companies in Silicon Valley. Tech startups and venture capital firms used the bank for everyday services, as did a number of cryptocurrency and Web3 companies.
The SVB implosion doesn't just affect the tech and crypto industries. Gaming companies like Roblox are also up against it. Roblox confirmed that they have US$150 million trapped in SVB.
The Silicon Valley Bank collapse timeline
Thursday March 16
Silicon Valley Bank staff were paid bonuses hours before bank was seized
In another twist to the SVB saga, news broke last night that employees still received their annual bonuses. These windfalls appeared in staff bank accounts just hours before the bank was seized by regulators due to its financial struggles. The bonuses were reportedly for work done in 2022.
The sources, who preferred to remain anonymous when discussing the awards, stated that the bank has historically paid its employee bonuses on the second Friday of March.
The size of the payouts has not been confirmed, but according to Glassdoor.com, SVB bonuses range from around $12,000 for associates to $140,000 for managing directors.
SVB was the highest-paying publicly traded bank in 2018; staff received an average of $250,683 per annum, according to Bloomberg.
The bonus payouts raise questions about corporate governance and accountability of all banks.
Bank contagion fears deepen
The US government is planning to sell Silicon Valley Bank to another bank, most likely in a bid to stop it from being broken up. This means that the future of Silicon Valley Bank is still uncertain.
Investors across the world were on edge yesterday as concerns over the banking industry led to a fall in the stock markets in the US and Europe.
The latest drama causing market turmoil is questions around Swiss bank Credit Suisse. The bank's shares dropped 24 percent, hitting a new all-time low.
Credit Suisse's troubles are not connected to the failure of three U.S. banks last week, spooking the markets that there is a wider problem at play.
Credit Suisse's biggest shareholder, Saudi National Bank, said it would not provide money to help a fellow bank out. However, the Swiss National Bank stated that it would provide financial support if pressed.
Wednesday March 8 — The Beginning
SVB panic starts
SVB announced it sold some securities at a loss, and that it would need to raise funds. As word trickled out across Silicon Valley, companies with money in SVB tried to extract their funds, which started a classic bank run.
A sudden bank run is when multiple customers try to take their money out of a bank at the same time. This creates a capital crisis, whereby the bank doesn't have enough money to keep lending to people or even to keep operating.
A bank run can happen to both big and small banks. SVB was one of the top 20 American commercial banks, founded in 1983.
Thursday March 9, 2023
By Thursday, the bank's stock price was in freefall, and was dragging the price of other banks' stock price down, which started to feel like market contagion.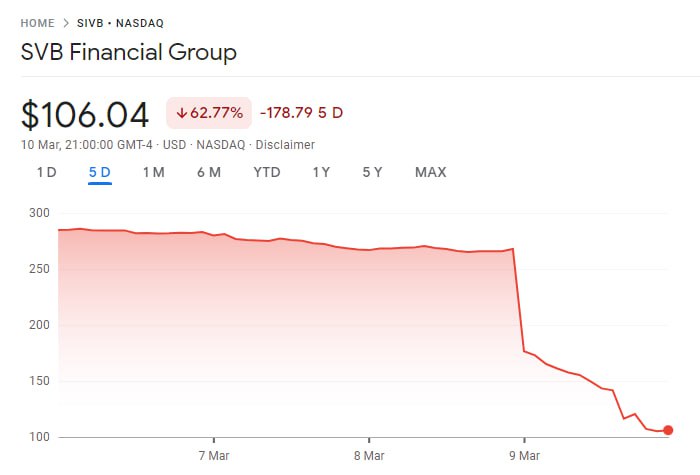 Friday March 10, 2023
SVB is shut down
The Federal Deposit Insurance Corporation (FDIC) announced that it had closed SVB. The FDIC is a government agency in the US that was designed to protect people's money in banks. It does this by insuring bank deposits. If a bank fails, the FDIC will refund depositors' money back, up to a point.
The FDIC was created in the 1930s during the Great Depression when multiple banks failed and citizens lost their savings.
Trading in SVB shares is halted.
The bank's stock had fallen so much that it didn't have enough money to continue operating, so it had to shut down.
Saturday March 11, 2023
Companies Announced Their Exposure (or Not)
Crypto companies like Circle had exposure to the failed bank. Circle is the company behind the sixth-biggest cryptocurrency in the world by market cap, called the USD Coin.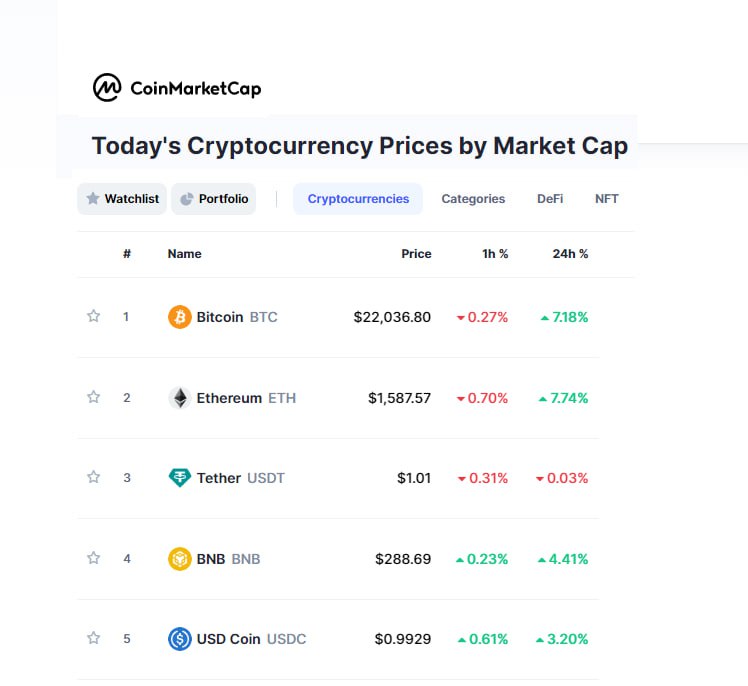 Circle said via a tweet that they had $3.3 billion of their $40 billion of reserves trapped in SVB.
Stablecoins are designed to stay stable because they have matching amounts of value in reserve, for example, in US dollars or gold. However, if the reserve amount of money can't be accessed, the stablecoin value could potentially go into freefall.
Meanwhile, the largest stablecoin by market cap, Tether, announced that they had no exposure to SVB. Tether Chief Technology Officer Paolo Ardoino tweeted that the largest stablecoin was not at risk.
Changpeng Zhao, the overlord of crypto exchange Binance, also said that they have no exposure to SVB.
Sunday March 12, 2023
Companies continue to announce their exposure to SBV
Ripple, who own the cryptocurrency XRP, announced they had exposure to SVB. CEO Brad Garlinghouse posted on Twitter that "Ripple had some exposure to SVB — it was a banking partner, and had some of our cash balance."
However, Ripple expects "no disruption to our day-to-day business."
Blockchain platform Avalanche also took to Twitter to announce it has some exposure.
NFT platform Proof Collective seems to have taken a big hit from the collapse. The Web3 project is behind the well-known NFT collection Moonbirds.
They confirmed they did have funds in SVB, but they had also "diversified assets across ETH, stablecoins, as well as fiat."
Monday March 13, 2023
Customers will get their money back from SBV
Federal Reserve (the central bank of the US) said that all customers will get their money back in full. This is even those that had in excess of the insured amount of $250,000 in their accounts.
The bank will reopen today under the Deposit Insurance National Bank of Santa Clara. This is despite Treasury Secretary Janet Yellen initially saying that there would be no federal bailout.
This pivot seems to reflect worries that banking industry contagion might take hold across the entire banking industry in the US.
Australian companies affected by SBV collapse
Canva, one of Australia's tech success stories, is also among the grim alumni of companies struggling to claw back money deposited with SBV.
A Canva spokesman said to the Australian Financial Review, "We're in the fortunate position of having the majority of our cash outside their banking system and have safety nets in place to ensure our operations aren't compromised."
SVB had made inroads into Australia over the past two years, attracting Aussie companies such as semiconductor maker Morse Micro, and Crimson Education, an educational platform.
It is assumed that like their American counterparts, Canva and the other Australian companies caught up in the drama will see their funds returned.

Crimson Education CEO Jamie Beaton told the Australian Financial Review they saw a news article on Friday about the SVB meltdown. "… we read between the lines and ripped out all our funds 30 minutes before the wires started getting blocked."
Why the SVB closure is a problem for crypto
The SVB closure comes after the shutdown of Silvergate Bank and yesterday, Signature Bank. These shutdowns are raising serious concerns in the crypto industry – there is now a lack of options to allow customers to use normal fiat currency to buy crypto, and then exchange crypto back to fiat currencies again.
While crypto is touted as largely independent from traditional banking, it still relies on the traditional financial system for many key functions, including institutions like Signature Bank.
The closure of banks like Silvergate, Silicon Valley Bank, and Signature Bank could create bottlenecks that hamper the growth of the industry.
Tuesday March 14, 2023
The Fallout
President Joe Biden took to his podium and reassured the public that the banking system will remain strong and that the taxpayer would not pay for the rescue. It wasn't clear how many people were convinced by this, and if it will stop the contagion.
While there was talk of systemic risk in the US, other countries were quick to deny their own banking systems were in trouble.
UK Prime Minister Rishi Sunak posted on his LinkedIn profile, saying that he had "worked urgently over the weekend, listening to stakeholders and developing an appropriate solution to provide Silicon Valley Bank UK customers with confidence and security."
The resolution he said, was that Silicon Valley Bank was sold to HSBC.
Japanese Chief Cabinet Secretary Hirokazu Matsuno said that "Japan's financial institutions have sufficient liquidity, capital base overall."
In the cryptocurrency industry, there was the reiteration that decentralised monetary systems are the way around the banking problems. This is while Bitcoin and Ethereum, the two largest cryptocurrencies by market cap saw their prices increase by 20% as authorities stepped in.
Update: Wednesday March 15, 2023
Crypto trading is disrupted
Cryptocurrency has almost always been traded on a 24/7 basis. That, however, is no longer a certainty due to the on-going crisis with crypto-adjacent banks.

The closure of SVB, Signature Bank, and Silvergate Bank have all contributed to this, as these banks were known for being friendly towards cryptocurrency and providing payment systems that operated round-the-clock.
Unfortunately, with their closures, some of those payment systems have disappeared.
This has caused problems for some crypto exchanges. Okcoin, for example, relied on Signature Bank for U.S. dollar deposits. They have temporarily halted USD deposits by wire, crypto transactions by credit card and other services.
Please give back the money
Meanwhile, the new CEO of the Silicon Valley Bridge Bank, Tim Mayopoulos, pleaded with customers to keep their money at the bank, or return them if they had ripped them out.
"I'm not asking you to do this as an act of charity. There is no safer place for those deposits."
Media entity Buzzfeed also reported that a huge slice of their US$56 million cash stash was trapped in SVB.
If the US government had not stepped in, it's not hard to imagine what would have happened to the company, particularly since the company experienced a sharp drop in their ad revenue last quarter.
Increasing criticism of Becker
Former CEO of Silicon Valley Bank, Greg Becker, is taking a lot of heat for his management of the bank during its demise. A video was widely circulated, showing Becker asking employees to support each other, while wearing a jacket from a luxury golf club in Scotland and knowing he had sold his shares in the bank two weeks prior.
Other employees of the bank have also faced harsh criticism, include head of Risk in Europe, Jay Ersapah.
The future
The collapse of SVB is a significant blow to the tech industry, and it does have implications for the already embattled crypto industry. Will it trigger widespread banking contagion? The subsequent collapse of Signature Bank may seem like it has already started.
The implosion of SVB could be a cautionary tale of what is to come, or how to solve a banking crisis. We will probably find out either much sooner than we want to.