Calling former FTX overlord Sam Bankman-Fried (SBF) a door knob doesn't even come close to covering it, and even that is an insult to door knobs, which are at least useful. But yet again SBF has impressed us with his ability to shift blame onto other people. This time, his ex Caroline Ellison got hit with the blame stick. And why wouldn't he blame others? That is how he was allegedly brought up. 
The trial of SBF is currently underway in the US, and if you are new to the wild and corrupt adventure, you can read the backstory here. 
It is a little hard to keep up with the trial as it is not being shown live anywhere, however, you can follow it via the X gossip accounts.
The latest tea 
The warmest tea in the FTX saga is that SBF blames the collapse of FTX on his ex-girlfriend Caroline Ellison. SBF placed Ellison in a position way beyond her skills, because … she was his girlfriend. Sounds like a problem of your own making, sir.
This has entered the conversation thanks to a Google document that SBF wrote to his male colleagues, which has seen the light of day thanks to court proceedings. According to The Daily Mail, SBF penned a note to his FTX bros saying Ellison is "not a natural leader and probably never will be".
SBF dated Ellison for a short period and appointed her CEO of the now-collapsed Alameda Research. Alameda Research was a quantitative cryptocurrency trading firm founded by Bankman-Fried and Gary Wang. It was considered a "sister company" to failed crypto exchange FTX.
Alameda participated in highly risky trades, under Ellison's watch, and lost billions of dollars. This eventually led SBF to use FTX customer funds (without the customers' knowledge) to shore up holes at Alameda Research. 
Of course, it all went wrong. So very wrong. As the crypto bear market hit in 2021, the whole FTX empire began to fall.
According to court documents, SBF whined that Ellison made a "critical" mistake by refusing to make a risky investment that SBF had told her to. SBF also hurled out some other nuggets of blame. He said that Ellison was "unhappy" and only worked there because she thought it was "important".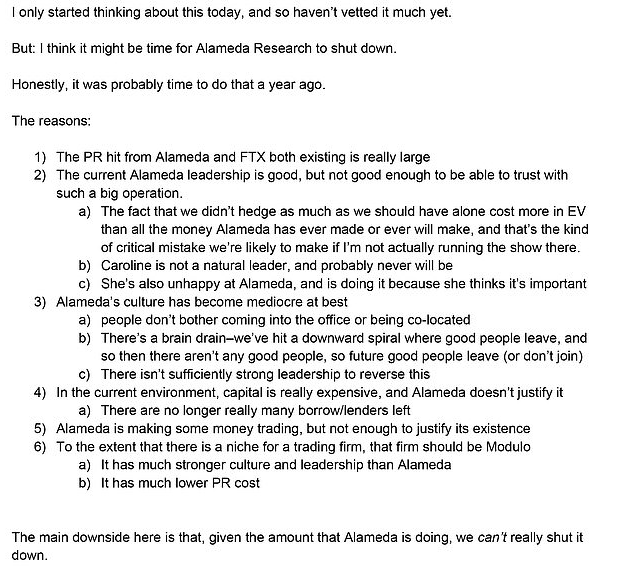 SBF also said that critical mistakes were occurring because he "wasn't actually running the show there".
This SBF thought-vomit document surfaced yesterday, just a day before Ellison was booked to testify against her former flame and boss, SBF.
What is Modulo?
Bankman-Fried's Google doc also mentions Modulo, which is a hedge fund based in the Bahamas. It benefitted from a robust culture and leadership, and got a seed-fund investment of $475 million from Alameda.
Intriguingly, Modulo was under the management of a woman named Lily, with whom Bankman-Fried was reportedly involved romantically for a period, as the court proceedings have revealed. What? Who are these women who fancy SBF? Ew.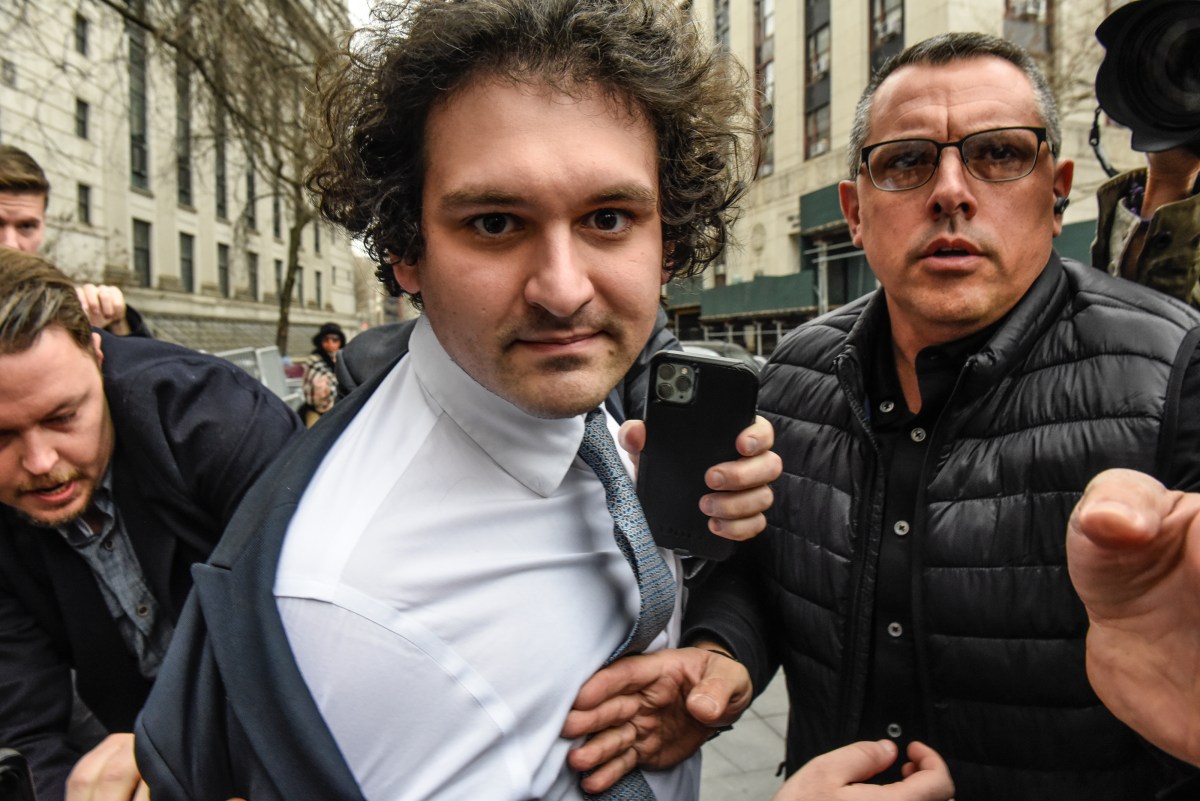 SBF is allegedly lying as per allegedly usual
While SBF sprays blame at everyone but his damn self, co-founder Gary Wang's testimony presented a contrasting picture, suggesting that SBF remained considerably engaged with Alameda.
According to Wang, SBF consistently had the Alameda balance sheet displayed on a screen at his desk and maintained a majority ownership stake in both companies. Furthermore, Wang emphasised that pivotal decisions ultimately rested with Bankman-Fried, underscoring his central role in the organisations. 
Previous reports have indicated disparities in compensation between Ellison and other high-ranking FTX executives, with Ellison possibly unaware of these wage discrepancies.
For example, FTX paid out $6m (AU$9.35m) to Ellison during her tenure. However, Nishad Singh, the former director of engineering, picked up US$587m (AU$913m), and former co-founder Gary Wang pocketed US$246m (AU$383m). A mind-boggling US$2.2 billion (AU$3.43b) went hot into the pocket of SBF.
The FTX trial continues
As more galling tea spills, it's crucial to remember that there are no clear winners here. The crypto community and investors in FTX trusted the platform to deliver on its promises. The collapse of FTX and the ensuing legal battles are shaking the faith in the cryptocurrency industry as a whole.
Caroline Ellison is not guilt free. However, she is co-operating with authorities and has admitted her part in the scheme.
But let's just say it. The buck stops with SBF. He happily paid himself billions of dollars while scooping out customer funds and blaming an ex-girlfriend that he jilted.
Let's keep watching this cracked teapot spill its tea across the table.