Caroline Ellison: It is becoming evidently clearer that collapsed crypto exchange FTX was run by a ring of (allegedly) super-horny mathletes. But this isn't your usual buff-sex gossip extravaganza. This sex cabal look like they rolled out of a grunge bar on tropical night. And we're here for it.
Quick backstory
We'll keep it simple. Sam Bankman-Fried (SBF) started FTX, a crypto exchange. He also started Alameda Research. The two were closely connected until SBF legally filed to keep them separate — but it appears this was only on paper, not the bedroom.
Alameda Research got punished in the bear market, took some massive risks, lost, and the company started collapsing. SBF allegedly stole funds from FTX to prop-up Alameda Research, before it all went Pete Tong and both organisations imploded.
Caroline Ellison was the CEO of Alameda Research while these ships were plunging to the ocean floor. She knew that crypto investments on FTX were being used unethically to fund Alameda Research, making an "emotional tear-jerking" statement this week about it in the New York Times.
SBF and Caroline were seemingly in poly relationships with each other and other members of staff.
The alleged poly sex
Despite looking like he hadn't bathed in three days, it seems that SBF may have got quite a bit of action in his heady days as the overlord of the poly mansion. However, he ain't the star.
The focus of all of this spilled tea is Caroline Ellison. So who is this highly aroused minx and why do we care about her getting her orifices filled? Because she was part of a massive scam that led to many people losing all of their crypto and more. So don't feel bad for her – we don't.
The other members of the cabal
There are others in the poly-sex cabal. It seems to be a circle jerk of old friends and old roomies swapping partners. Let's hope no one got pregnant because that kid will end up having a really weird name – like Altruism Starchild. And that's just cruel.
Sweet Caroline and drugs
Caroline was active online with her views on sex and drugs (but not rock and roll, because that would make her cool). Her views on illicit substances matched those of SBF. That is, drugs made them superior to the unwashed masses who went without them.
These opinions could be the fallout from a generation of American kids who bathed in Adderall to achieve high academic standards. Who knows. They did all share a therapist, however, according to a now-deleted article. He doesn't seem to have done a good job. The layers in this story are just like the pastry in a Sara-Lee apple flan – many and fruity.
In a tweet last year, Caroline pontificated that there was "nothing like regular amphetamine use to make you appreciate how dumb a lot of normal, non-medicated human experience is."
Okay love.
Sweet Caroline Ellison and the sex
Caroline, SBF and the other mathletes all lived together in a ridiculous mansion in the Bahamas. The move was to likely avoid paying taxes (which doesn't really align with their whole altruism life mantra).
Caroline was very interested in being with multiple partners and fighting it out to be top dog. Or to be WITH the top dog. Or something.
Using her Tumblr account called 'worldoptimization' she says,
"When I first started my foray into poly, I thought of it as a radical break from my trad past, but tbh, I've come to decide the only acceptable style of poly is best characterized as something like 'Imperial Chinese harem'.
None of this non-hierarchical bullshit. Everyone should have a ranking of their partners, people should know where they fall on the ranking, and there should be vicious power struggles for the higher ranks."
Okay then. Sounds more than a bit complicated and like a massive distraction to minding people's hard-earned funds.
In another outburst on Tumblr, Caroline, using the handle worldoptimization, says,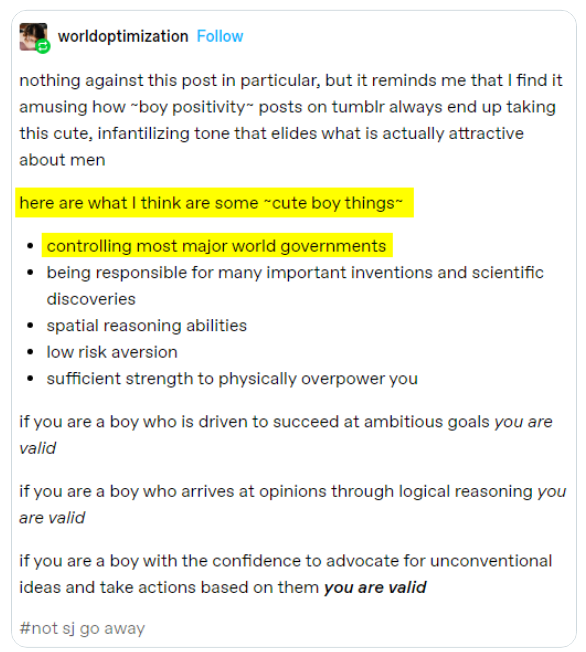 This Tumblr account was linked to Caroline in an epic thread by Twitter account @AutismCapital.
This speel on Tumblr may be nothing more than a love note to SBF. They both thought that he controlled world governments — the poor lambs.
Caroline Ellison and the sex tape rumour
The best cup of spilled tea in relation to this whole saga is that there is a possible sex tape floating around with a claim that Caroline is giving a decent lip service to SBF.

While this would be a great bonanza if it was true, it seems a lot hoaxy, so calm down. Until we all see the tape, it's not real. But, this is what you get when you upset a lot of people by stealing their crypto and giving it to real estate agents.
Also, due to extremely bad hair decisions, and poor clothing choices, do we really want to see these nerdy crims going to wonderland? That's a hard no from most of the crypto community, but thanks for asking.
While we are pretty sure there's no sex tape, if there was, we all know what happens. It becomes epic.
I guess this group of FTX mathletes will have a new project soon: how to get out of jail. They are probably smart enough to do it. Good luck, kids!