NFT bots: In December last year a Twitter thread from an account called 'LittleShapesNFT' went viral.
The December 28 thread read the following, "Hey Little Shapes fam, this might sound crazy but I got into a car accident 5 months ago and just got out of a huge coma," he wrote. "I don't know what's been going on since then but we're coming back harder than ever."
The story was widely covered, making it to the front page of Reddit's largest crypto forum r/cryptocurrency as well popular Instagram pages like Metav3rse, with LittleShapes even providing a detailed exclusive interview about all of it to The Chainsaw as well.
Unfortunately, it turns out that the entire story was a lie.
While one might think that the deception was a long-term marketing ploy designed to feed hype into his own Little Shapes NFT project, it turns out the founder actually had a noble goal. The man behind the 'LittleShapesNFT' — now revealed to be another pseudonymous Twitter user AttoNFT — told The Chainsaw that he made everything up as part of a "long con" to bring more attention to the ways in which a secretive cabal of influencers have been wreaking havoc on the NFT market through the use of 'botting'.
Blowing the lid on NFTs bot problem
In a new Twitter thread published today, LittleShapes (Atto) published a 158-page document outlining how more than 250 NFT projects used bots to inflate numbers and falsify interest in their respective projects allegedly funnelling more than US$200 million out of the overall NFT ecosystem in the process.
Atto alleges that this circle of insiders, including a number of prominent NFT influencers and projects such as @ryandcrypto, @OttoSuwenNFT, @BentoBoiNFT, @MaisonGhost, @AmeerHussainn, @DonteCrypto, @KevinSusanto, used a "secret network of bots" to create create the facade of interest in their projects and make sales.
While Atto lied for months about his original story to drum up press, he claims that the long document with a string of wide-ranging and oftentimes lofty allegations is legit.
NFT bots: Gripes
Without delving too far into the minutia — of which there is plenty — Atto's main gripe is with something called Dmister, a website that produces something called 'NFT Panels' that supposedly work to "help NFT projects grow on Twitter, Discord and more".
Atto's research leads him to conclude that "Dmister uses his bot network to sell engagement to NFT projects and help them look hyped, for $100 per 1k likes/retweets/replies."
He also reveals that he paid a user at Dmister US$100 for a post to show people what a promoted (botted) post looks like, pictured below.
Research
Despite all of this research, Atto is still unable to name exactly who is responsible for what he calls the "biggest organised NFT pump and dump or market manipulation scheme in history."
Instead, Atto places the entirety of the blame on a small group of unknown "insiders" who have allegedly all been using the bot network together in secret.
"The NFT Market over the past year has been criminally manipulated by the small group of insiders with access to these bots – and our most hyped projects and biggest influencers are aware of it, using it, and potentially behind it, and have never let you known about it.

AttoNFT
Atto proceeds to claim that the involvement from this secretive and allegedly illegal bot network even reached as far as implicating official NFT projects from companies like Audi and McLaren.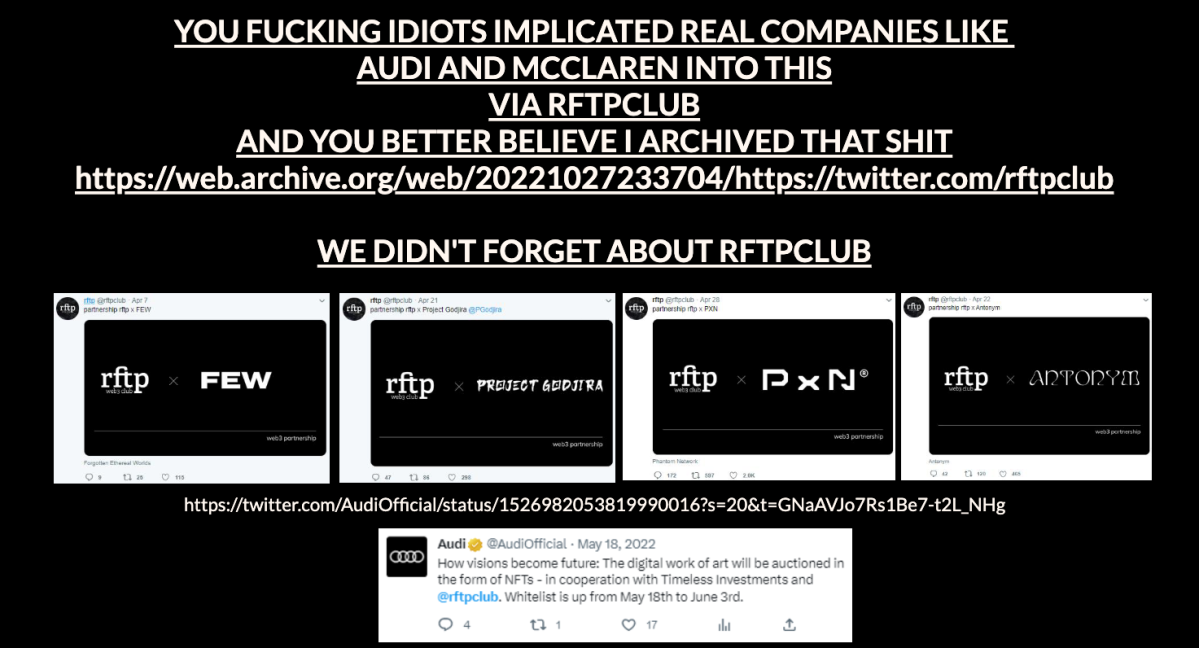 Ultimately, Atto's case rests on the fact that the artificial inflation of the numbers on these NFT promotions is akin to securities fraud. He makes reference to a December 14 case from the United States where eight men were indicted for a US$114 million "pump and dump" scheme orchestrated through social media platforms like Discord and Twitter.
As of right now, NFTs aren't legally viewed as 'securities' in the eyes of regulators anywhere around the world. However, if in the future they are deemed to be something akin to securities, then founders that used networks of bots to artificially prop up their prices and scrape profit from unsuspecting users could stand to face legal troubles in the future.
Charges
It remains very unclear as to how many of the founders named by Otto could potentially face criminal charges.
Additionally, Atto claims to have reached out to a number of authorities including the US Department of Justice (DOH), the FBI, the SEC and Australian financial watchdogs AUSTRAC and ASIC.
"I didn't just start either. Twitter has been subpoenaed by 2 of those agencies already, same as the Discord accounts you guys use your same IPs to log into. The sheer lack of OPSEC and brazen confidence in carrying this all out as if it wasn't financial crime to a huge degree is insane. You people are fucking idiots," he concludes.
Shan of Project Godjira pushes back on the allegations
Atto's allegations are extremely wide-ranging and indict a number of popular NFT influencers in the including an Australian founder of Project Godjira, Shan Kumar.
I reached to Shan for some clarification on what Atto's accusations mean.
"I obviously do know that botting exists, but it's bullshit to claim that I bot," Shan said.
When asked about how the rest of Atto's claims of wide-spread botting hold up under scrutiny Shan said, "there is some truth in it, but it's impossible to prove who botted."
Shan made the additional point that it's hard to claim giveaways as being a type of criminal activity or to think that all 'botted' Twitter posts are automatically "a paid gig" run by some secret cabal of insiders. Regarding Atto's claims that Shan used bots to promote an NFT project called Star Symphony, Shan pushed back, saying that he only made one tweet about the project and even provided proof of the contract he signed with the Star Symphony team.
"He keeps pointing at me promoting Star Symphony. I made one tweet after they reached 50k and I directly approached the team asking for White List (WL) for my community. I even signed a contract and I don't mind sharing it."
"Lol this is all it is. Not some super villain syndicate".

Shan Kumar