Almost half a billion people in the world own some form of cryptocurrency, according to a latest industry study by K33 Research. 
Over a decade after Bitcoin came into existence, the cryptocurrency industry has been nothing short of tumultuous and unpredictable. So, after FTX's catastrophic explosion, where does the industry currently stand?
Pulling data from 10,000 crypto firms worldwide via Crunchbase, as well as using AI-assisted web searches, K33 Research found that over 420 million people own crypto globally. Within that figure, crypto owners mostly reside in the Americas (54 million) and the Asia-Pacific region (262 million). This illustrates the global reach of crypto, as well as the degree of its penetration in the world's most populous continent.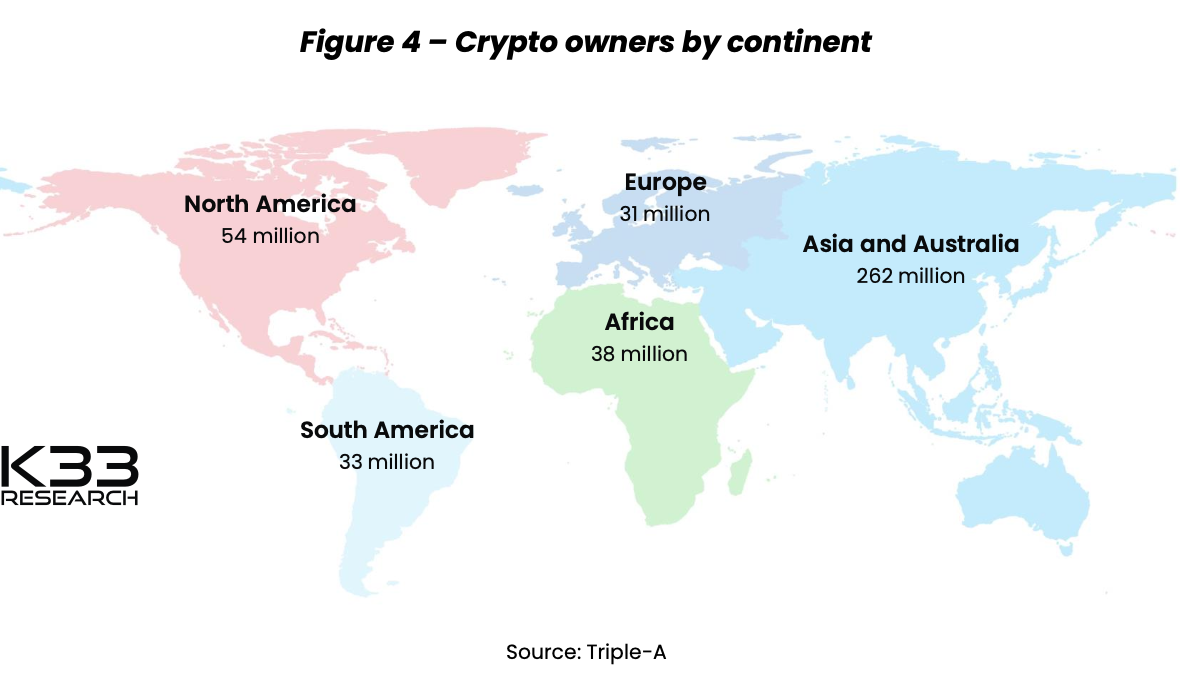 Cryptocurrency remains a trillion-dollar market
The ups and downs that crypto has endured in the past decade, especially with the FTX saga, has undoubtedly dented its market capitalisation. As of June 2023, crypto records a total market cap of US$1.3 trillion (AU$1.94 trillion), down over 50% from over US$3 trillion (AU$4.5 trillion) in 2022.
Nonetheless, its growth compared to ten years ago "has propelled cryptocurrencies from the fringes of the financial world into relevancy," notes the report.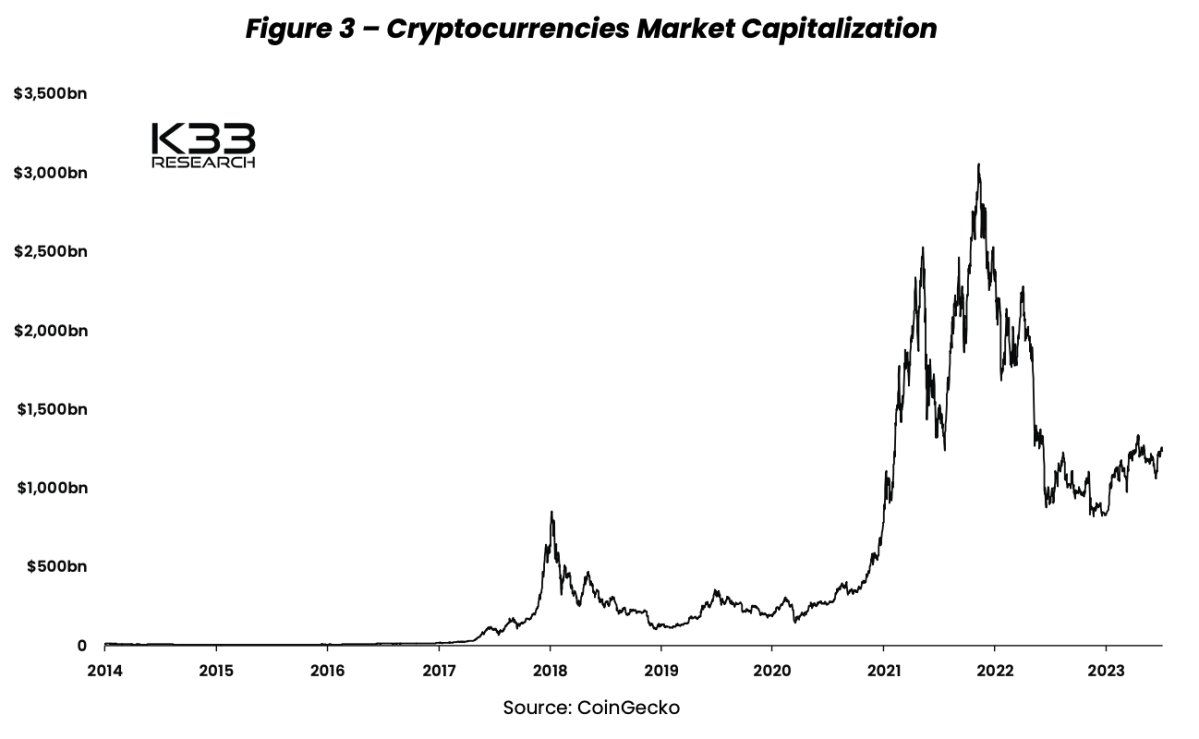 Crypto is all about money
As the US continues its crackdown on crypto, it is no surprise that crypto organisations are slowly shifting their operations elsewhere. For context, the major crypto exchanges including Binance and Coinbase have been hit with lawsuits by the SEC for allegedly offering "unregistered securities".
As of June 2023, approximately 187,500 people worldwide work in the crypto industry, down from 211,200 two years prior during crypto's bull run. The report also highlighted that for crypto, remote work is "prevalent", as it is "well in line with the borderless ethos of crypto."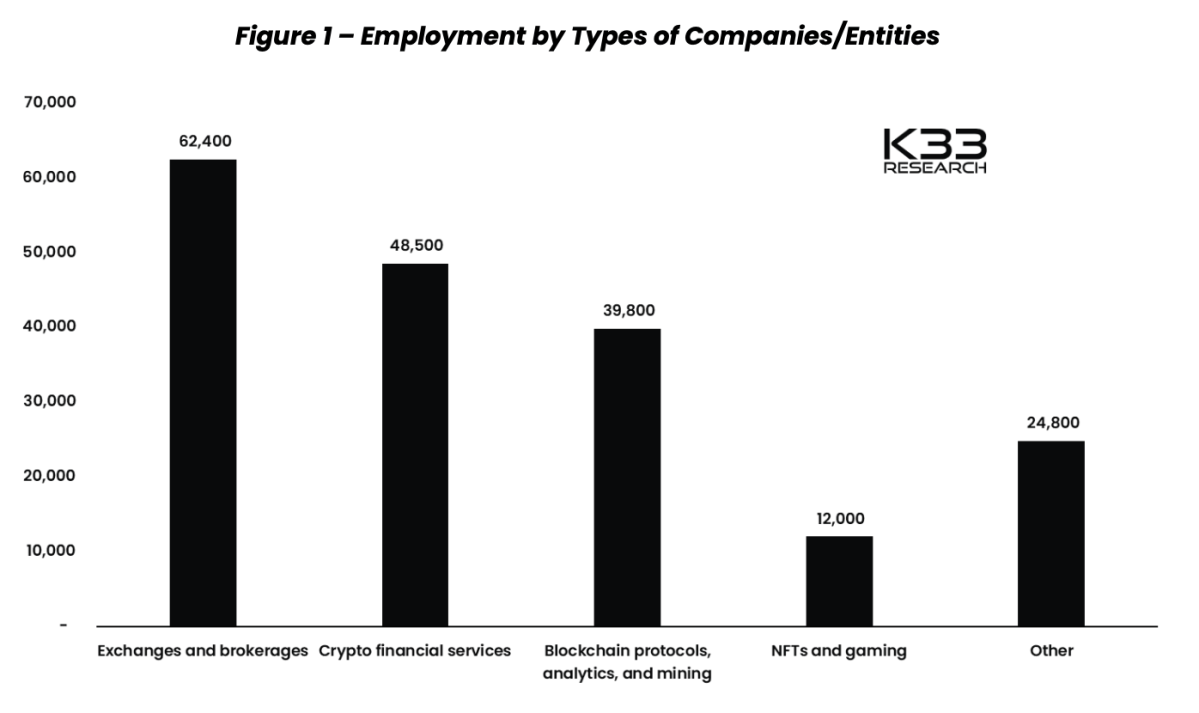 Some are in crypto for NFT art, which utilises blockchain technology. Some are in for the technology. But regardless of what they are here for, the majority of crypto jobs exist to facilitate money-making, according to K33.
According to its report, most crypto jobs are related to investment and trading, with 62,400 or 62% of crypto employees working for exchanges or brokerages. This is followed by 48,500 or 38% of individuals who work in crypto financial services. This refers to services like credit or lending companies, payment solutions, crypto custody services, and so on.
The least number of people employed in crypto are working on NFTs and gaming. Only 12,000 or 6.4% of employees in the crypto industry are in that sector.
The Asia-Pacific is the world's crypto hub
With the US increasingly sidelining itself from crypto, it is not surprising that major crypto organisations are shifting their operations elsewhere. With clear regulation, low taxes, and their existing status as international financial hubs, Singapore and Hong Kong are Asia's premier crypto hubs. 
Binance, OKX, and Crypto.com are the largest crypto space employers in the region. The "dominating role" of domestic exchanges in their respective Asian markets have also contributed to high crypto employment in the Asia-Pacific.
As of June 2023, India has also overtaken China as Asia's top crypto employer.