A recent analysis of the cryptocurrency XRP has come to the conclusion that the digital currency should be worth much, more more than its current price. As much as 42,000 times its current market price, in fact.
The claims have been made in a new whitepaper, entitled A Comprehensive Approach to Determine the Fair Market Value of XRP, which can be downloaded here. And the chief reason behind the price stall? Our dear friends at the SEC.
The study
XRP, a digital currency, has been greatly affected by a legal dispute between the crypto's owner, Ripple Labs, and the US Securities and Exchange Commission (SEC).
The new report on the XRP price makes the claim that if the SEC hadn't brought legal action against Ripple, XRP's price would be much, much higher.
Jimmy Vallee and Molly Elmore from Valhil Capital conducted an extensive two-year research study. It was to determine the fair market value of XRP. That is, what the price of XRP would have been had the legal action against them not been taken.
Their findings claim that XRP's fair value ranges from US$3.5K to US$22K (AU$5.2k to AU$32K). A far cry from the crypto's current (at the time of writing) trading price of US$0.52 (AU$0.77). That gap represents a price differential of 4,230,669%. Which is a cartoonishly ridiculous number.
The XRP & SEC backstory
Many commentators in the crypto community claim that the SEC has overstepped its boundaries in going after multiple crypto ventures.
The SEC vs Ripple case itself has dragged on for years, seriously hindering the progress of the cryptocurrency and Ripple Labs' mission to make currency exchange across the world seamless and instant.
The case has had a negative effect on both XRP and the cryptocurrency industry in the US. For example, it's worth noting that Coinbase has dropped XRP from trading on their platform, despite XRP having one of the highest market caps in the world. Coinbase say this is because of the pending SEC case against Ripple Labs.
SEC is not well liked
Other countries have not had to face such huge regulation hurdles as have crypto ventures in the US. The SEC has received harsh criticism for its policy to prosecute multiple crypto ventures without producing a legal framework for them to adhere to.
The main criticism of the SEC in the US is that it is killing innovation, whereas other countries have already been regulating crypto businesses successfully.
The thing to remember here is that there is a good chance that the SEC won't win their case against Ripple Labs. If Ripple Labs do win their case, then the value of XRP is predicted to go gangbusters.
But there are some very big "ifs" in there.
Even if they lose their case, Ripple says they will simply pay local fines and move the business abroad.
The methodology
To reach their conclusion on XRP's fair market price, Vallee and Elmore used six different predictive models to evaluate XRP's true worth. These models included factors such as global transaction volume, daily transaction value, XRP circulating supply, and XRP transactions per second.
It's important to consider that Valhil Capital's research may have other, ulterior influences. That being considered, it is still safe to say that the SEC lawsuit has affected the price of XRP. When news of the lawsuit hit people's feeds, many people sold off their XRP.
Additionally, Vallee claimed that certain elements within the lawsuit raised doubts about the true intentions behind it. More or less, he claims that there is a conspiracy at play.
Other commentators have said the same thing.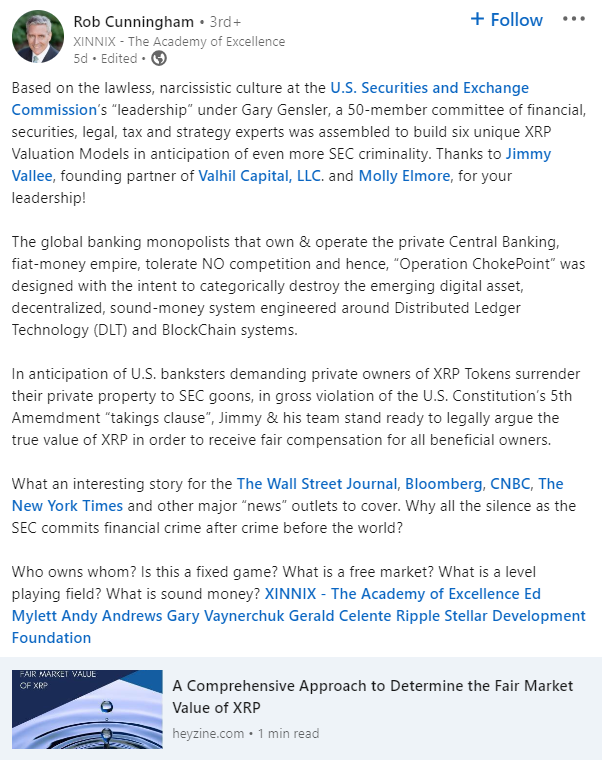 Fair market value of XRP: Consensus missing
Not everyone agrees with the figures claimed in this report, so it is important to remember that this is just one opinion.
For those who like the crypto casino, and think that Ripple will win their case against the SEC, it might be a good time to buy XRP. For those that think this is a merely propaganda for vested interests, perhaps you should keep your money in nice warm cosy bank for now.