Aussies might be sad to hear that the country has not hit the top three ranking for global adoption of Bitcoin ATMs in Australia after recent reports have surfaced across the interwebs stating a renewed ranking for the nation, but this isn't quite the case.
Australians continue to be meta frothers of both digital and IRL crypto adoption, with data showing that the country ranks 9th out of 26 countries for crypto adoption.
News shared states that Australia now has 234 crypto ATMs across the country, putting the nation in the third spot following Canada and the US, surpassing Spain and El Salvador.
But data from Coinatmradar shows crypto ATM distribution by continents and countries, and for the budding Bitcoin enthusiasts, unfortunately Spain still tops the ranks with 267 ATMs, beating Australia with 240.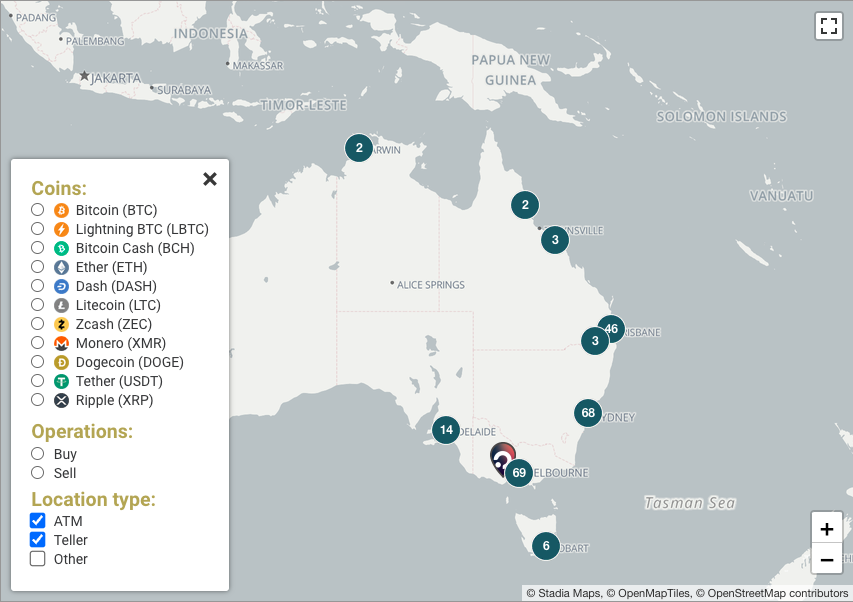 Earlier this year, Australia did surpass El Salvador, renowned for being the first country to make Bitcoin legal tender with unwavering support from the self-proclaimed 'Coolest President in the World' Nayib Bukele, who is also building a 'Bitcoin City' in the nation.
The Bitcoin loving nation garnered more BTC headlines after Miss Universe El Salvador sported a sparkly Bitcoin dress at the famous international pageant, which you're welcome to read about that one here.
El Salvador, Spain and Australia still remain significantly behind the Northern American countries of Canada and the US in Bitcoin ATM distribution, with Canada setting up 2,556 ATMs, and the US building a whopping 33,387. If you've tried to convert physical dinosaur Australian dollars into USD in the States, you'll likely find it will be easier to access an ATM that has Dogecoin rather than one that might convert your dollarydoos.
Why do people use Bitcoin ATMs in Australia?
Crypto ATMs are a way for individuals to convert their fiat currency in cryptocurrencies like Bitcoin, Ethereum and other assets. They are stand-alone electronic kiosks that allegedly make it easier than using complex digital services online with crappy user experience.
However, you still need to have a digital wallet to input your Bitcoin into when using the services, and proponents argue that Bitcoin ATM transactions offer instant transactions, sidestepping the need for intermediaries at traditional banks.
Most Bitcoin ATMs have been forced to adapt 'batch transactions', where operators must wait for other ATM networks to use machines before grouping and sending out transactions for a number of people within one bulk transaction.
In the first week of January this year, the Lightning Network landed IRL after a Lightning-enabled Bitcoin ATM in Australia was launched in the sunny town of Coolangatta at The Strand shopping centre.
The Lightning network doesn't require operators to batch funds, meaning users can receive their assets immediately.
Where are Bitcoin ATMs in Australia?
For those seeking an excuse to go outside and purchase BTC away from their computers, here's a non-exhaustive list of ATMs in Australia.
New South Wales:
Sydney City Conveniences on Elizabeth Street, Kent Street, King Street, George Street and Liverpool Street
The Metropolitan Hotel
Lucky 7 Crystal Minimart
Ezymart
IGA in Tweed Heads
Victoria:
Pran Central Shopping Centre
Chadstone Shopping Centre
South Australia:
Port Canal Shopping Centre
Supplement Warfare in Norwoord
Telechoice in Woodville Gardens
Adelaide Central Plaza in Rundle Mall.
Queensland:
BLVK Temple Tattoo
Second to None Nutrition
Chevron Renaissance in Surfers Paradise.
Western Australia:
Stanley College
Greg's Discount Chemist
Freo's Finest