Content payments from X (formerly known as Twitter) are here. Yes that's right, Twitter has started rolling out payments to content creators, in a move to seemingly steal talent from competing platforms. And the payouts seem pretty impressive if you are Tweeting for free anyway.
AI guy Paul Couvert discovered to his delight that his bank account was in the firing line of the payments. Couvert tweeted earlier this week just how much he was paid for his Twitter blatherings, which was a tidy side-gig considering that he was just doing what he loves… Tweeting/X-ing about AI.
The best thing about this payment is that Couvert says he wasn't expecting it, so it was a "nice surprise".
Couvert has 164K followers and posts lots of helpful tips about AI stuff, like nifty prompts to use with ChatGPT, or reviews of ChatBots.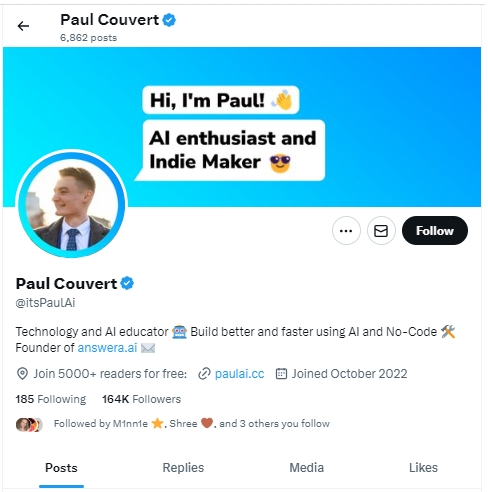 The Twitter payments are monthly, so this quite the side hustle to consider.
Now that we will all be tweeting like influencers on speed, does that mean Elon is our new overlord? He might very well be!
Twitter content payments: How to do it 
To be a content creator, you need to be a verified creator, which means you need to subscribe to Twitter Blue. After you have done that, you will have to have at least 5 million tweet impressions each month for the last 3 months.
If you are starting from scratch, there are a few things to keep in mind. There is a useful guide on the Twitter website, but in a nutshell:
-Choose something you're passionate about because you need to prattle on about it, a lot. For example, at The Chainsaw, our niche is crypto and AI. And we looove crypto and AI.
-Post high-quality content consistently: You will probably need to post at least once a day, preferably more. Your content needs to be engaging, informative and entertaining. You can use photos, videos, polls, threads, live streams or anything else that suits your subject area. 
-Use hashtags, keywords and trends: You need to make your content discoverable and relevant by using hashtags. However, don't overdo the hashtags, this could have the opposite effect of what you are going for. 
-Interact with your followers and other creators: You need to build a relationship with your audience, reply to their comments, like their tweets, follow them back, retweet them etc.
-Monitor your analytics to see what works and what doesn't. 
Good luck, and may the content creator funds rain down upon you!