Metaverse Development: This year 'The Metaverse' exploded into the public consciousness, with investors funnelling more than US$130 billion into the development of virtual worlds. 'Metaverse' also took out the number two spot in the Oxford English Dictionary's Word of the Year competition, only being beaten to the top spot by 'goblin mode'.
In a report, consulting firm McKinsey Global revealed that investors had thrown US$120 billion into the development of metaverse technology by June. The rest of the year's fundraising has tallied that up to roughly US$130 billion.
The 77-page report titled "Value Creation in the Metaverse" analysed current adoption trends and drew additional insight from two global surveys, with one gathering data from 3,104 consumers across 11 countries, while the other polled a range of executives from 448 companies across 15 industries in 10 different countries.
The report was undeniably optimistic, predicting that global spending in the metaverse could reach a whopping US$5 trillion by 2030. Another astonishing fact was that 95% of the executives surveyed in the report believe the metaverse will have a positive impact on their industry.
In an associated blog post, the lead authors of the report and McKinsey senior partners, Lareina Yee and Eric Hazan, gave additional comments on their research.
"What's exciting is that the metaverse, like the internet, is the next platform on which we can work, live, connect, and collaborate."
Speaking about the overwhelmingly positive response from executives, Yee added, "Executives often don't agree on very much, but our research shows they overwhelmingly agree on one thing: that the metaverse is good thing business."
So where is the metaverse?
One of the most frequent criticisms levied against the concept of the Metaverse boils down to a lack of a stunning physical product to go with the hundreds of billions of dollars being poured into its development. Zuckerberg's metaverse project, 'Meta Horizons' looks more like a bad take on Habbo Hotel and many of the other leading virtual worlds aren't exactly kicking goals either.
This is all fair criticism from a society that's grown accustomed to an annual iPhone and new breakthrough developments in technology occurring every couple of months. However, as a report from Gartner points out, the Metaverse is an extremely new concept and its still very, very much in the early stages of its development. Everything that we see today is what the report labels pre-metaverse as it's yet to achieve proper mass-market adoption.
Gartner strategists suggest that metaverse technology won't properly mature until 2030. However, institutions and business leaders shouldn't be sitting on their hands until then. Instead, they should be crafting a strategy for future uptake and look to the current opportunities in the space.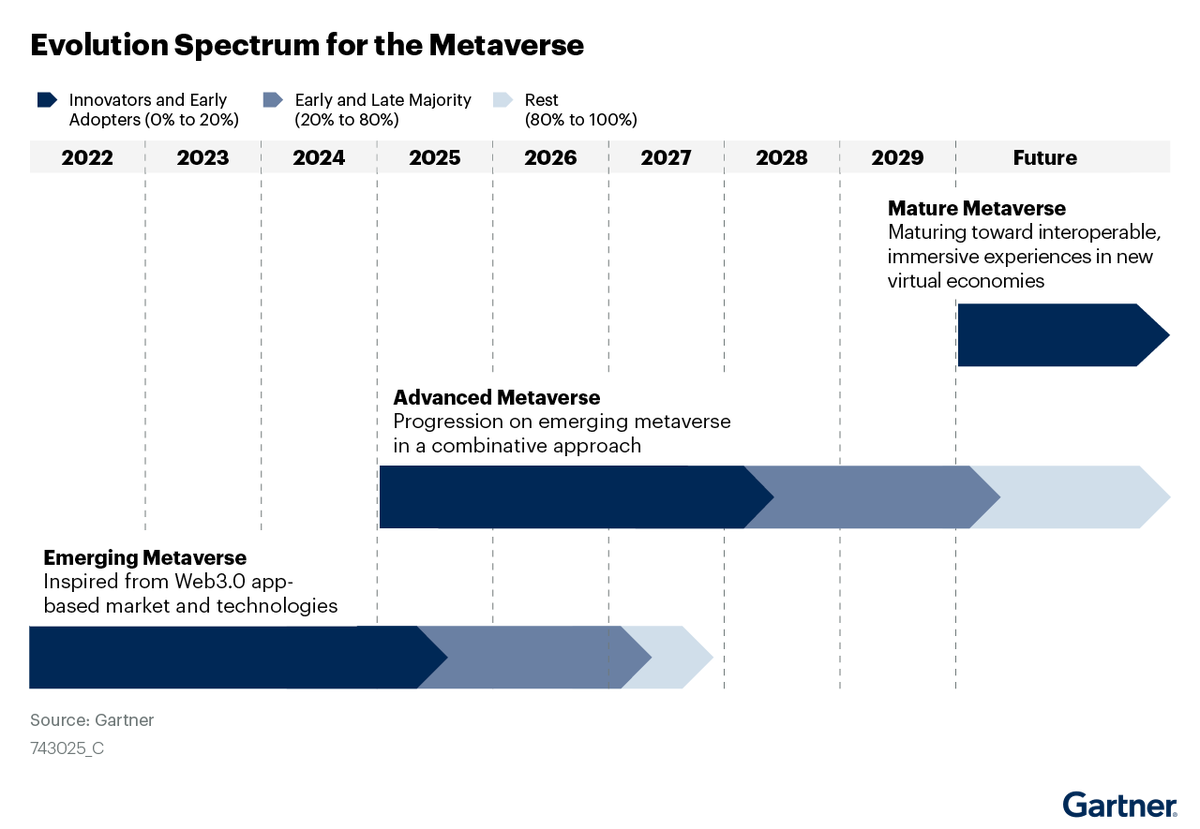 Already, a number of major forward-thinking brands are leading the charge into the nascent metaverse while naysayers are busy criticising from the sidelines. Nike has been on the biggest leaders when it comes to metaverse adoption, with the global sporting brand walking the walk of their 'just do it' approach into the virtual world.
Metaverse Development
Over the course of this year, Nike has sold more than US$185 million worth of virtual goods in the metaverse, putting it leagues ahead of its meta-competitors which include brands like Dolce and Gabanna, Gucci, Adidas and jewellery empire Tiffany & Co.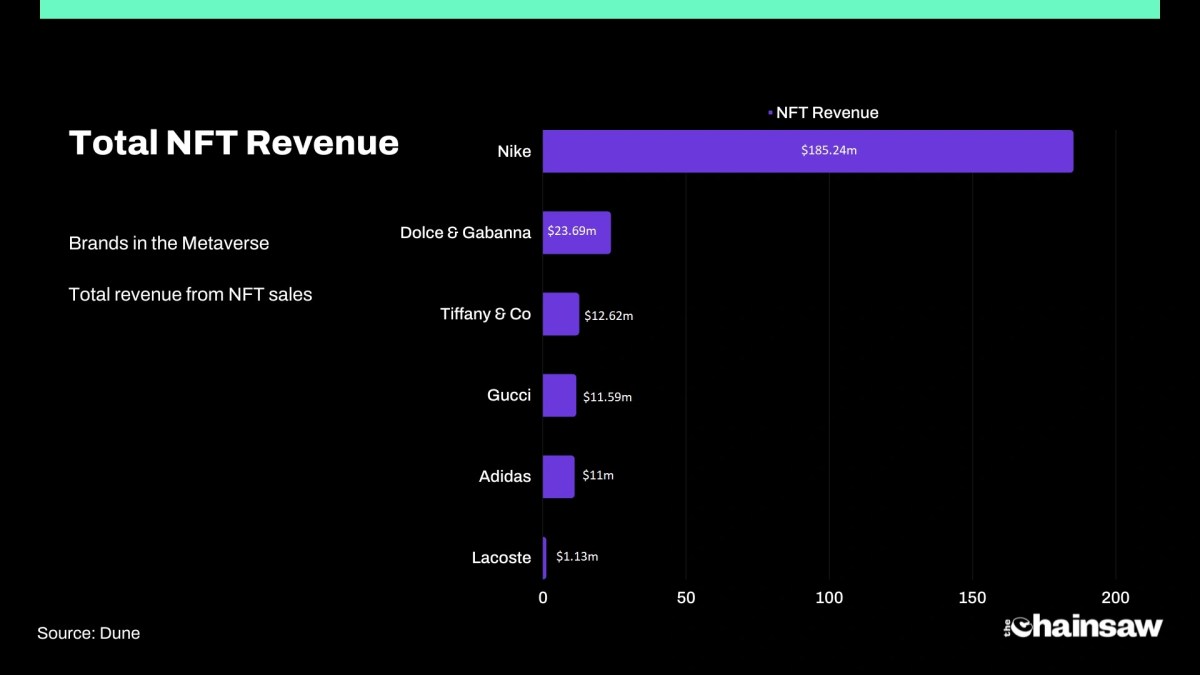 How is this possible you ask? Well it all comes down to Gen Z. The younger, digitally-native generation is at the front of the pack when it comes to socialising, working and spending money in virtual worlds. In September this year, a survey from global consultancy firm Bain & Company found that a staggering 53% of gamers under the age of 17 would prefer a to own a mansion in the metaverse than a real one in the Maldives.
While many post-Gen Z readers might turn their nose up at this or find it somewhat shocking, the preference that younger generations have for the virtual worlds goes beyond just signalling a sea change for holiday goers. To this point, 45% of the same kids surveyed said that they would prefer to attend school events in the metaverse and 50% said they already prefer hanging out with friends virtually compared to chilling in real life.
As easy as it is to criticise the nascent concept of the metaverse and it's many failed iterations, these rapidly shifting behaviours in younger people will have far reaching consequences for any industry that deals in digital experiences, and those companies that can get savvy with the proper execution of real, meaningful virtual worlds are going to lead the pack.
Yat Siu of Animoca Brands is 'all in'
Someone who understands this better than most is Yat Siu, the founder of Animoca Brands. Animoca is betting big on the metaverse. This year, they earned themselves the number one spot when it came to raising funds for metaverse development, delivering more than US$564 million in new capital to metaverse and Web3 startups in 2022.
Speaking to The Chainsaw, Siu says that the future of the metaverse depends entirely on establishing ownership rights and making that people have full control over their digital assets in virtual worlds.
"The principle of network effects begins with the underlying principle of ownership. If you have ownership, you have the ability to create more effects in a permissionless manner, and it's this that can become limitless. It either brings a lot of users, or it's a service that develops on top of these ownership assets."

Yat Siu, Animoca Brands
Additionally, Animoca just announced plans to launch an impressive US$2 billion fund to support developers in the metaverse space. According to the a recent report from the Nasdaq, investors from around the world paid closer attention to larger metaverse platforms this year. However, with more funding from late-stage market leading companies like Animoca Brands, they expect more forward-thinking investors to start seeing greater opportunity for more targeted investment undertakings in the future.