Earlier this year at NFT NYC, Reddit cofounder Alexis Ohanian made a surprise virtual announcement that his VC firm 776 would open a funding round for the Doodles NFT project.
This morning that announcement became reality, as 776 closed its funding round with Doodles securing US$54 million in funding at a valuation of US$704 million. Additionally, firms including Acrew Capital, FTX Ventures and 10T holdings participated in the round.
In the 24 hours following the 700 million dollar reveal, Doodles witnessed a 732% increase in transaction volume, with NFT data platform CryptoSlam reporting a total of $2.1 million in daily sales. The project's overall volume surged to reach an impressive monthly high of 1,109 ETH (US$1.77 million).
Wait, what the hell are Doodles?
Doodle NFTs are pastel-toned characters based on 100 visual traits that have been combined in different combinations of rarity. The project, which is now one of the largest PFP collections on the internet, features musician Pharrell Williams as its chief branding officer and Steve Aoki as one of its celebrity holders.
Most notably, the Doodles CEO is none other than Julian Holguin, a former Billboard executive who left a decades-long career in music and entertainment to work exclusively on the NFT project.
The most expensive Doodle ever sold was Doodle #6914, which features a combination of Gold Ape traits. Its current owner, eminent NFT collector Pransky 296.69 ETH (US$474,000) for the super-rare Doodle at the height of the NFT market craze in January of this year.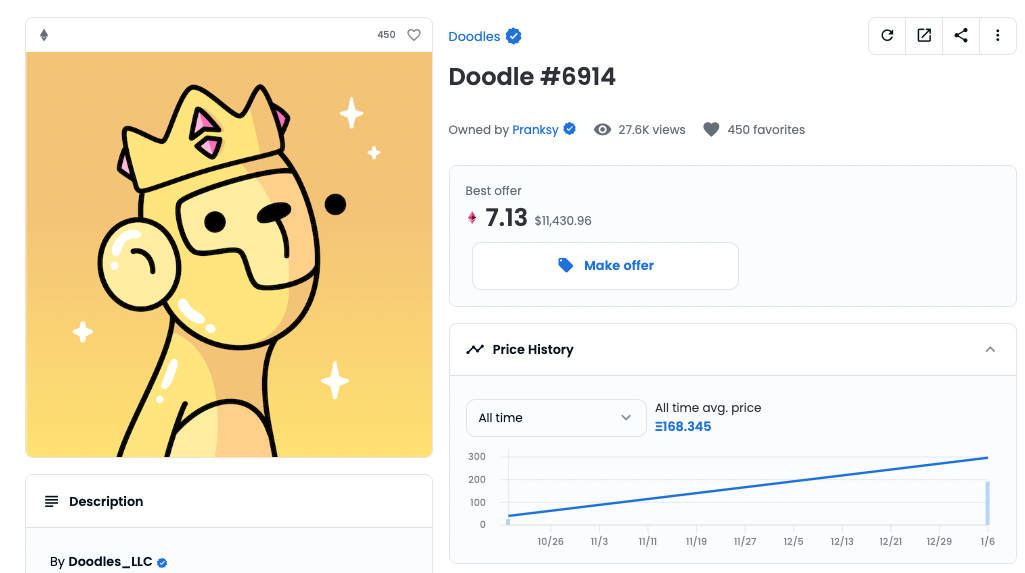 Doodles NFT holders recently expressed transparency concerns after the Doodle's Twitter account went nearly two months without making a single tweet. While Doodles didn't provide an explicit reason for the lack of Twitter activity, they acknowledged the community's concerns, tweeting:
"To our community, we hear you, we appreciate you, and we will continue to build with you."
Doodle's substantial fundraise comes at a time where the NFT market is broadly considered to be in a bear trend. Projects on the Solana blockchain have also been bucking the market decline, with SOL-based NFT mints surging more than 700% last week.
At the time of writing, Doodles are the 10th largest NFT collection in the world according to data from NFTPriceFloor. The cheapest available 'Doodle' right now will set you back a cool 7.7ETH (US$12,300).