I had less than a week at SXSW Sydney, and I wanted to make sure that I maximised my productivity. So, I set a goal to explore the entire venue, and personally experience as many tech products as possible. VR experiences were on this list.
Therefore, besides Charlie Brooker, Nicole Kidman, and Chance The Rapper, on my SXSW Sydney bucket list was the selection of fifteen virtual reality (VR) experiences as part of the tech expo that kicked off in the middle of the week-long event.
As an early-stage VR enthusiast, it pains me to say that VR games actually often give me motion sickness. The maximum number of VR experiences I had gone to so far in a single day is three. But in the spirit of journalism, I'm keen to top my own record, and this was the perfect opportunity to challenge myself.
Walk with me!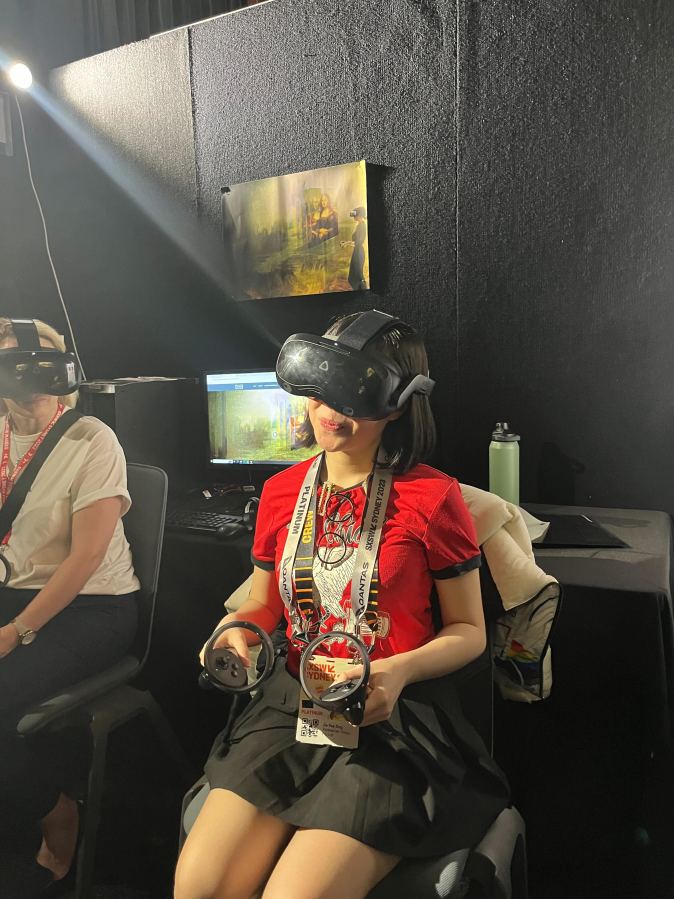 VR experience #1
Title: Mona Lisa: Beyond The Glass
Duration: 5–20 minutes
To live out my 2023 European Grand Tour that I never got to go, I decided to first drop by a booth with a VR experience that allowed me to admire the Mona Lisa up close.
The VR experience is a collaboration between the Embassy of France to Australia, the Louvre in Paris, French VR developer Emmisive, Institut Français, and Vive. The experience itself was not only immersive but also educational – Mona Lisa herself reached out to touch me, mon dieu! You just don't get that at the Louvre!
Overall, it was wonderfully low-intensity with little interaction or gameplay. I felt pretty great. Let's move on. 
VR experience #2
Title: Tomo VR
Duration: 14 minutes
I decided to turn it up a notch, so an emotional dance performance by the Atamira Dance Company in virtual reality was next on the list. This experience had zero gameplay and controllers weren't needed, however, the performers' and camera's movements took me on an exhilarating trip.
I came out of the virtual performance with an uneasy feeling that something is about to rise from my gut, which was a sign that I should probably proceed with a more relaxing VR experience next…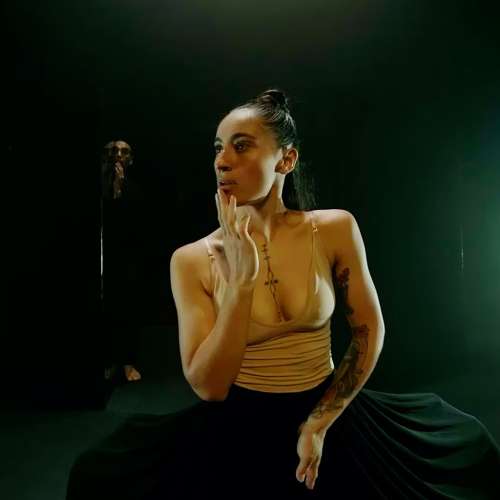 Virtual reality experience #3
Title: Pedal Rebel VR
Duration: Unlimited
… just kidding. Being in SXSW Sydney meant that I wasn't able to attend my regular yoga classes. So, to make sure I logged my daily 10,000 steps, I decided to ignore the queasiness and hopped on an exercise bike – with a Quest 2 headset on.
The goal of Pedal Rebel VR was simple: start cycling and avoid the virtual vehicles on the neon-lit highway. It reminded me of the mobile game Subway Surfers, except due to the fact that the VR game was still in beta testing mode, there was no set duration. In other words, there was no finish line, which was horrifying.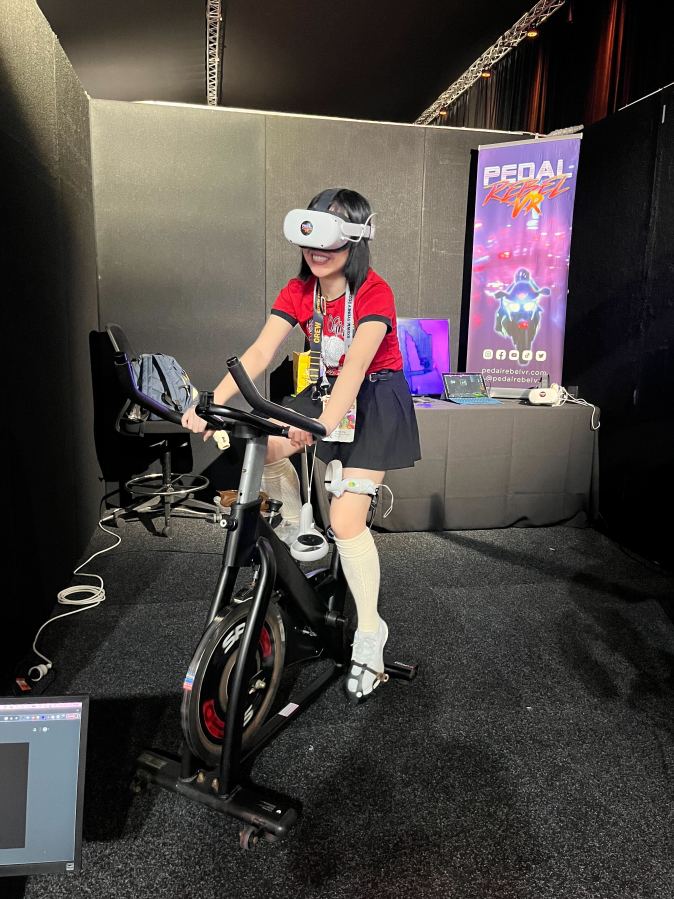 You could cycle until your legs melted into pulp – which was what I nearly did! I was no Sonic The Hedgehog, but I persisted for around 13 minutes (shoutout to yoga) until my calf muscles started to feel wobbly and beads of perspiration were forming around my temples. That was a good mini workout session where I totally did not feel dizzy towards the end – moving on!
VR experience #4
Title: Julaymba
Duration: 15 minutes
In Julaymba, viewers are invited to a journey to Queensland to take in the sights and sounds of Daintree, the oldest rainforest on earth. Narrator Richard Burchill guides us through the mountains, rainforests, waterfalls, and night sky, through which we're able to feel the importance of Earth stewardship.
Another relaxing and educational VR experience where its soothing sounds made me feel much better. I was well rested… or so I thought.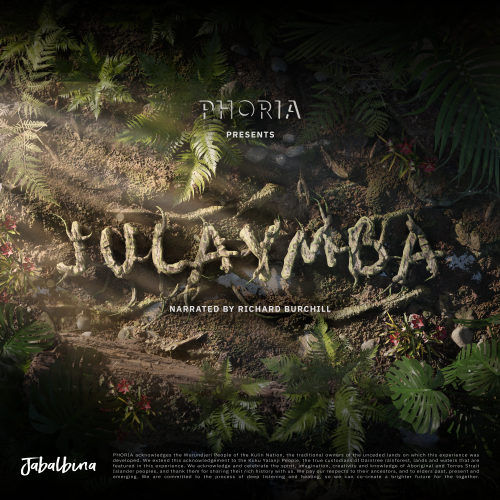 VR experience #5
Title: From The Main Square
Duration: 20 minutes
This was one of the best interactive VR films I've seen in a while. From The Main Square, a German production, bagged the Immersive Grand Jury Prize at the Venice Film Festival, and it's not hard to see why.
The premise itself is heavy: it depicts mankind's descent into chaos and unrest as society develops. The entire VR film is presented in 2D, largely black-and-white comic format, with a few striking primary colours as the film progresses.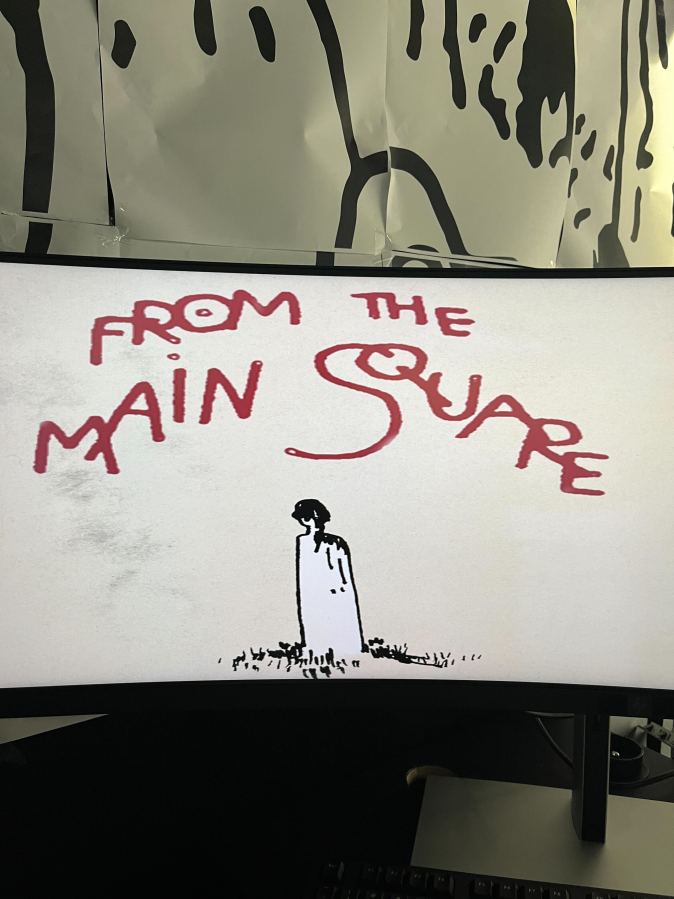 As characters in From The Main Square gradually go insane, frankly, so did I. For 20 minutes, my head(set) turned all 360 degrees to observe and digest every intricate detail by artist Daniel Eizirik's hand. And this is meant as a compliment: it was so immersive, I felt nauseous by the end of the VR film but I pushed myself to complete it because I want to know how it ends, dammit! What happens after mankind burns mother Earth to the ground with war and climate change? 
So, in a twisted way, I guess it felt a little too real 🙂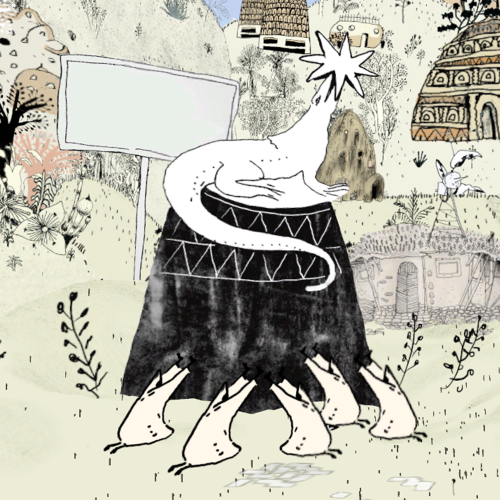 XR showcase
It's not every day you are able to access a wide range of VR experiences in a single venue. In total, I spent around 75 minutes exploring five different VR sessions back-to-back. I am also happy to report that I set a new record of going through five sessions without hurling.
SXSW Sydney's XR Showcase runs until Sunday, October 22 at Expo in ICC Sydney. Check out the full list of VR programs here.