Lilpurberry: A creator who makes NFTs with her dad is stealing the show.
Welcome to our Chain Queries series, where we share the stories behind the JPEGs and the projects that are either wild, weird, wrong or wonderful. 
Today we're sharing a dive into the story of ThaSwami, an NFT enthusiast and Degen Dad of 13-year-old Lilpurpberry, the Dad and daughter duo making NFTs. Lilpurberry recently stole the show at NFT Fest, but speaking in front of hundreds was quite a challenge for her "shy" self. Lilpurberry has launched four collections, including Axolitl Frens, PurpleBlueberry12s, Poopie G's and Blueberry x NounPunks. 
Get to know the anon duo here. 
How did you get started with NFTs?
ThaSwami: I only got into NFTs around this time last year and found that it was something I could do with my kids who both love art. We would spend time on weekends learning about different collections and deciding together on what to buy. They had no interest in watching crypto charts and reading whitepapers with me!
Lilpurpberry was immediately drawn to pixel art. She liked the simplicity, and it was a form of art she felt she could make herself. We downloaded a pixel app and learned together. At the time, she wanted us to buy a Cryptopunk or Noun; neither of which we could afford. And we didn't realise at the time that you don't need to own a Noun to be able to participate in the ecosystem. 
Lilpurpberry: Making art with my dad and learning about NFTs is something that we can do together. It's our thing and no one else knows it's us in real life. It's like our own little secret. 
What art style are your NFTs? 
Lilpurpberry: I started doing remixes of other people's profile pictures (PFPs) and sending it to them as jpegs on my Twitter account with my dad. Then I learned how to mint them as NFTs and was able to airdrop them to everyone. I made my first collection in April this year. They were versions of Nounpunks that I did in my own style and some were animated. I didn't know I was making something nounish until @toady_hawk contacted my dad and said I should apply to be a member of the Nouncil.
What are Nouns? 
ThaSwami: Nouns was founded by 10 incredibly smart and creative people as an experiment. Lilpurpbery and I are just a couple of people that are building on top of Nouns and sharing the project for anyone to be a part of.
@nouncil is a group of nounish builders and artists who represent Noun NFTs that have been delegated to the group to vote on how ETH is spent from the DAO treasury. Some Noun holders don't have time to vote or own multiple Nouns and are happy to share their voting power with others in the community.
Lilpurpberry: I joined the Nouncil in June and I get on weekly calls to learn about proposals to NounsDAO and I vote on what I think should get funded. I get a lot of support from everyone in the community. They are really patient and happy to teach me new things. I've learnt how to mint on my own contract and how to be safer online. 
I also get new ideas for my art and people in Nouns always help to share my art and sometimes they buy some too. I also was asked to join nounsau that supports nounish artists in Australia. They invited me and my dad to speak at NFT Fest and help out at our display. I only met them IRL a few days ago, but they feel like family. I miss them already.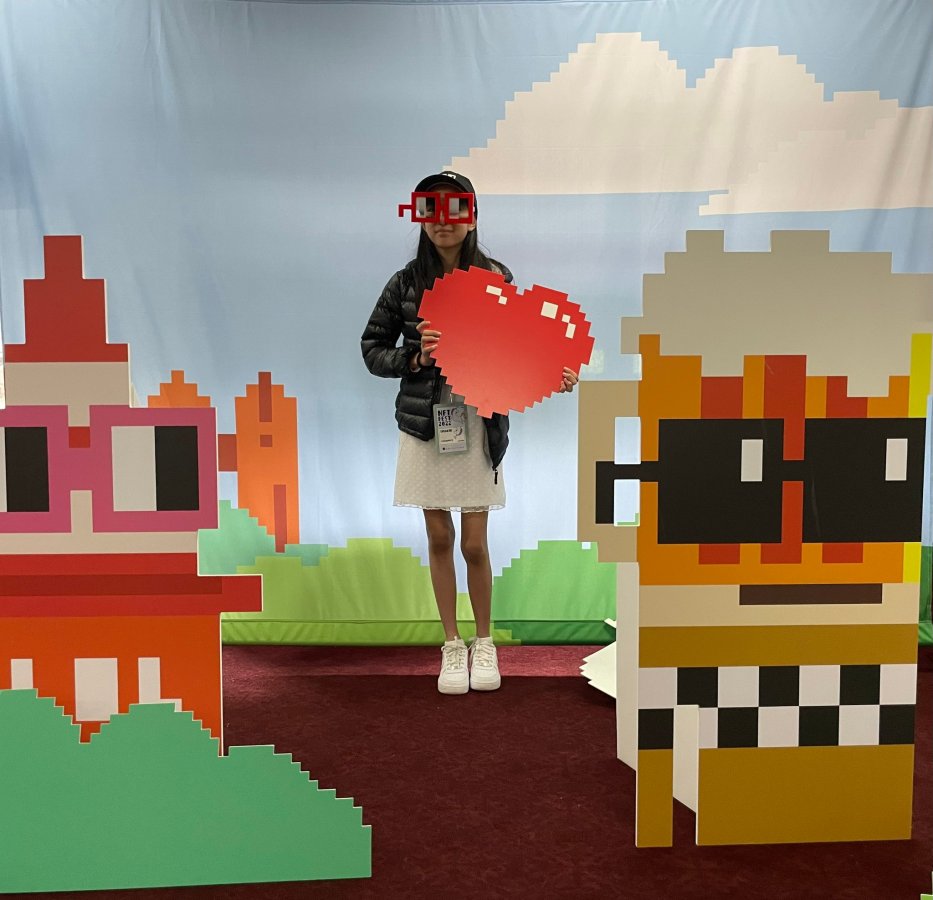 Are your NFTs selling well?
Lilpurpberry: I didn't expect to make any money when I started. I just wanted to share my art and learn. My first project got delisted from OpenSea, I think because they thought I copied Nounpunks, but it's a CC0 project so anyone can use the art. I was so sad. There was a workshop I wanted to attend with @mintfaced but it cost a bit of ETH. I asked Mintface if I could trade him some of my art for a place in the workshop. He was going to give it to me for free. He's also on the Nouncil. But dad said I need to learn how to earn my way, so I tweeted my followers to collect my art if they wanted to support me to put the ETH towards a workshop. 
So many people bought my art and I was able to attend the workshop. I learned how to mint my own contract, promote my NFTs and set up a hardware wallet. I really like it when people buy my art as well. It allows me to save some ETH and buy some NFTs that I like.
What other NFTs do you own?
Lilpurpberry: I have a few that have been given to me. @theboneys gave me a @tinydinosnft, I did an art swap with @jheeart_nft who does nounish art from South Korea and a few others. Dad gives me NFTs sometimes as a reward. I own part of Noun 472. It's the first box head noun and dad lent me the ETH. I own it with 17 other people. We're all on the Nouncil and from all over the world. They are builders, developers, lawyers, musicians, artists and really smart and creative people. 
We formed UglyDAO @uglynouns and I'm working with them to put up a proposal for a project that helps to introduce Nouns to families. And I think one day I'll get all of dad's NFTs so it's better to let him buy them all now lol. That way I can save more ETH.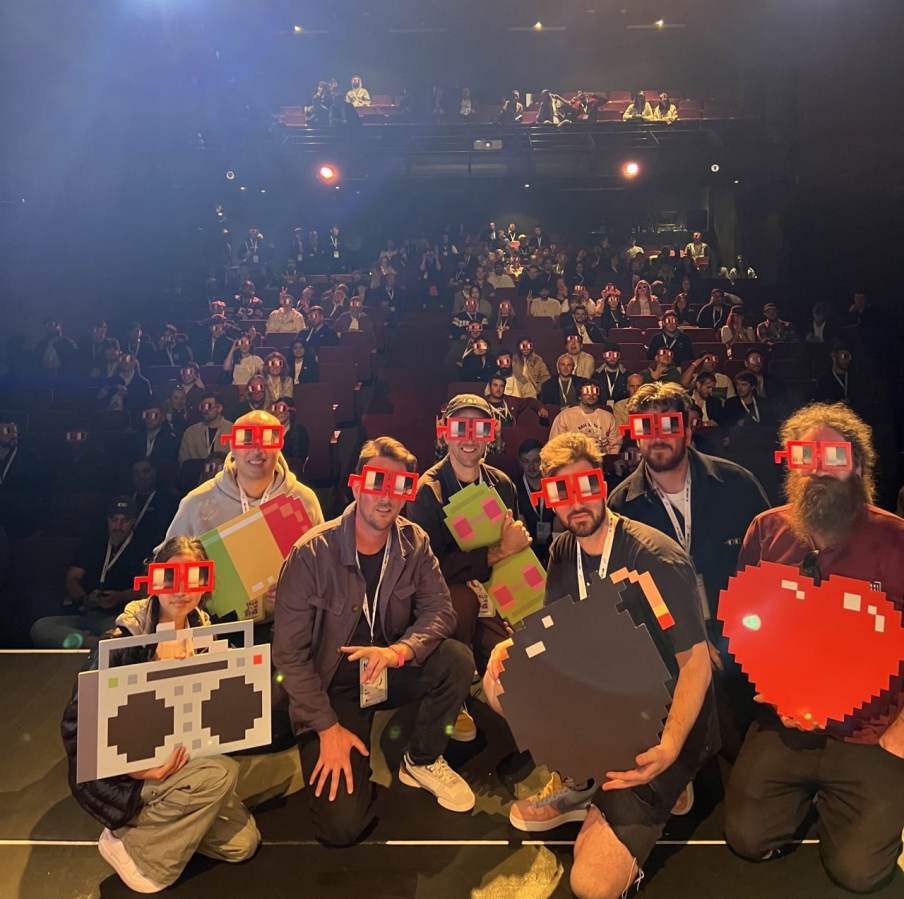 Do you usually hang out at NFT festivals? 
Lilpurpberry: I'm really shy and NFT Fest was the first time I attended an event. No one at school, even my friends, know that I'm Lilpurpberry or what I'm doing in NFTs. I was really nervous at NFT Fest because I had to speak on stage and talk to people about Nouns. But the guys from @nounsau are really protective of me and they look out for me. I had a really good time at the event and I think I'll go to more. People in NFTs are really nice.
Has the bear market affected your projects? 
Lilpurpberry: I try not to check my Ledger app because ETH is down so much. I said that at NFT Fest and everyone laughed. I hope it goes up again, but I'm not in any rush because I just enjoy doing the art. It doesn't matter if it doesn't sell. The more I do, the better I get, and I also get good feedback from people so I can improve. I think more people are getting to know about NFTs. I see a lot of big brands doing NFTs so I guess it's not going away."
Are you going to keep making NFTs with your dad?
ThaSwami: We're only just getting started. I love that this is something that we can do together. We've made some great friends in this space and there are so many ideas and projects to work on. Nouns has few barriers so it allows us to choose how we want to get involved, what we want to get involved with and who we want to be involved with.
Lilpurpberry: I definitely want to keep learning and doing cool stuff with my internet friends and those I've met IRL, including my dad.
I've been coming up with ideas for each collection. I've done 4 so far and dad helps me with the technical stuff. I know how to mint on my own contract, but he's always sitting next to me to make sure I don't make mistakes. Sometimes he helps me with the art. We're learning Procreate together at the moment. The stuff we're doing with UglyDAO we do together with other people in the group. Some of them have kids too, so it's going to be fun to do projects with other kids.
ThaSwami: I have just launched @AlpsDAO with another @nounsau member. It's a DAO that's focused on establishing long-term relationships with alpine resorts, providing perks to DAO members and using the treasury to support proposals that enhance alpine environments and experiences. It's a hard fork of the NounsDAO protocol which is all open source. I've been working in the ski industry for the past 15 years so it's something that's close to my heart. There's no Web3 footprint in the snow industry yet so this will be a fun experiment.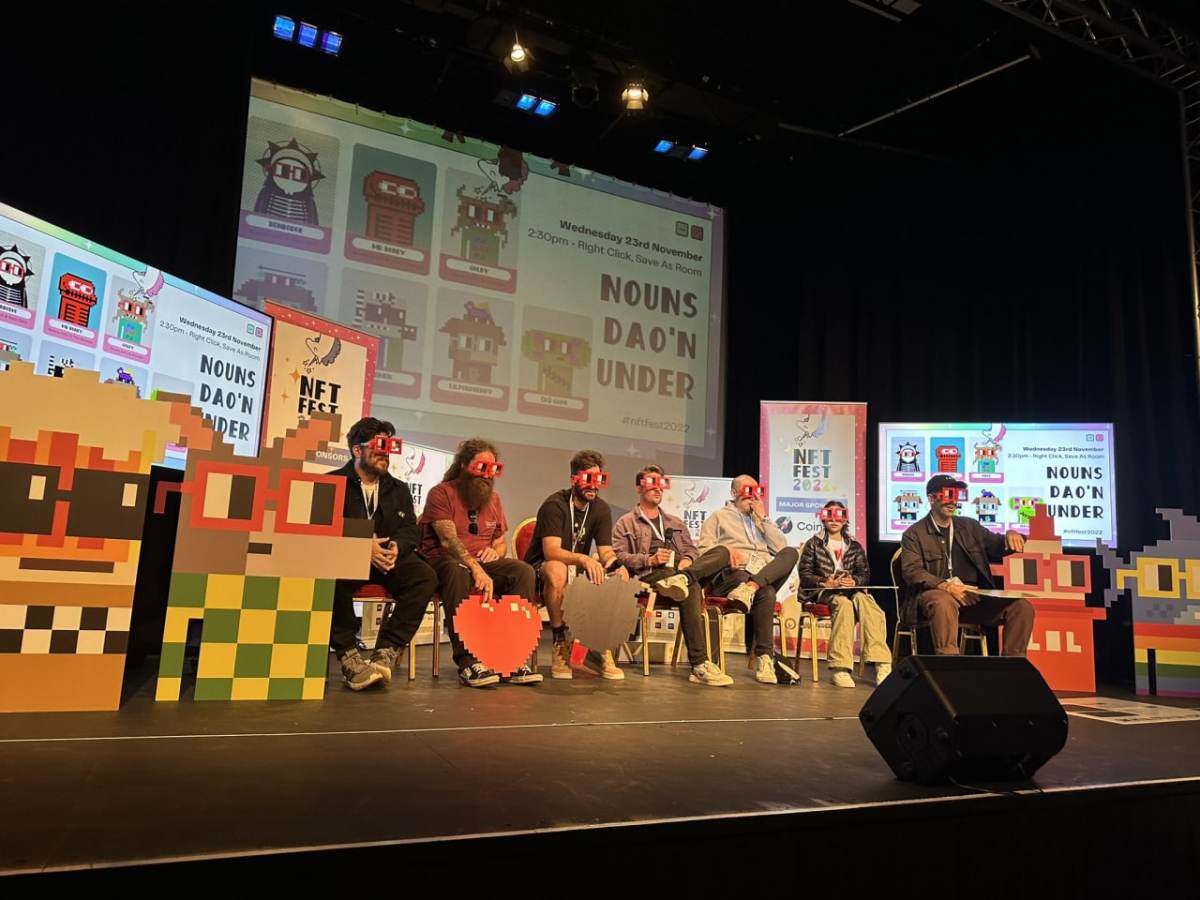 How does the charity aspect of Nouns DAO work?
ThaSwami: One noun is generated every day and auctioned over 24 hours. The highest bid wins and 100% of the sale goes to a decentralised treasury wallet. There's currently close to 30,000 ETH in the treasury and around 5,000 ETH has already been distributed to successful proposals. The project is a little over a year old. 
Anyone who owns a Noun has one voting right in the DAO. They can also delegate this to a third party. Anyone with two Nouns can put up a proposal. People without Nouns can approach Noun holders to get their proposal sponsored. 
There are three3 avenues for funding, determined by how much you're asking for. 
Votes are cast by token holders or delegates over a five-day period. If quorum is met and yes votes outweigh no votes, the transaction is executed on-chain and funds are distributed to the wallet/s of the proposer permissionlessly. There's no audit after funds are transferred. It's all trust that it's being spent according to the proposal. Obviously, people in the community keep an eye on the output and results. 
Proposals need to be Nounish. It's not defined what that is, and it really depends on who you talk to, but generally it means a proposal helps to proliferate the Nouns CC0 brand in a positive manner, support contributors in the ecosystem, innovate the protocol, and deliver public goods. Sometimes it's philanthropic like the examples you mentioned, other times it's for profit for the proposer and/or the DAO. 
You can read through all the props here. 
One other example of funding is the NFT Fest event. nounsau members put up a proposal for 22 ETH to be the optical sponsor for the event, create some displays and merch, speak on stage and proliferate Nouns to the Aussie NFT community.
What would you say to people who want to get into NFTs?
Lilpurpberry: Do something that you like, not what you think other people will like. Ask lots of questions. Be nice to everyone. Find a group of people that you get along with.