Big Tech Layoffs: Over the past few months, some of the world's biggest tech firms have apologetically culled sizeable portions of their workforces, whilst reciting a similar rationale of the precarious macroeconomic conditions they face. And the layoffs keep coming.
First it was Twitter under the ruthlessly unorthodox Elon Musk regime. 75% of employees have walked out the door since his arrival on October 26th. Let that sink in!
In November 2022, Meta announced that it would cut 11,000 employees (equivalent to 13%), citing over investment in digital technologies throughout the pandemic only for consumer demand to fall off a cliff as society returned to relative normality.
Zucks declared a necessity to shift into "high priority growth areas like our AI discovery engine, our ads and business platforms, and our long-term vision for the metaverse."
Then in January 2023, Amazon joined the trend with 18,000 staff layoffs. CEO of Amazon, Andy Jassy stated at the time that the firm must become "inventive, resourceful, and scrappy in this time" with the mantra of Invent and Simplify.
Today, CEO of Microsoft Satya Nadella announced that the tech behemoth would be scaling back its workforce by 10,000 employees by Q3 2023, proclaiming that "we're living through times of significant change."
Nadella, who was appointed as only Microsoft's third CEO in its history in February 2014, outlined that the reduction of approximately 5% of their global workforce would be conducted in a "thoughtful and transparent" manner.
In justifying his decision, Nadella cited three market factors: consumers spending less on digital products and services following a pandemic surge, organsations exercising caution due to the ongoing recession, as well as rapid advances in AI technology.
"The next major wave of computing is being born with advances in AI, as we're turning the world's most advanced models into a new computing platform."

Satya Nadella
Tech stocks down = job cuts, layoffs
The US$5 trillion fantastic-five tech force, Google, Amazon, Meta, Apple, and Microsoft (GAMAM) witnessed explosive growth throughout 2020 as consumer attention and purchasing behaviours moved exclusively to the digital realm.
However, as the market re-established a balance, tech stocks were dealt a brutal blow throughout 2022, sacrificing large portions of the gains made in the prior years.
Meta saw the largest decline in stock price, down 64% to the current price of US$133. Zucks conceded that his thesis on post-pandemic e-commerce revenue "did not play out the way I expected."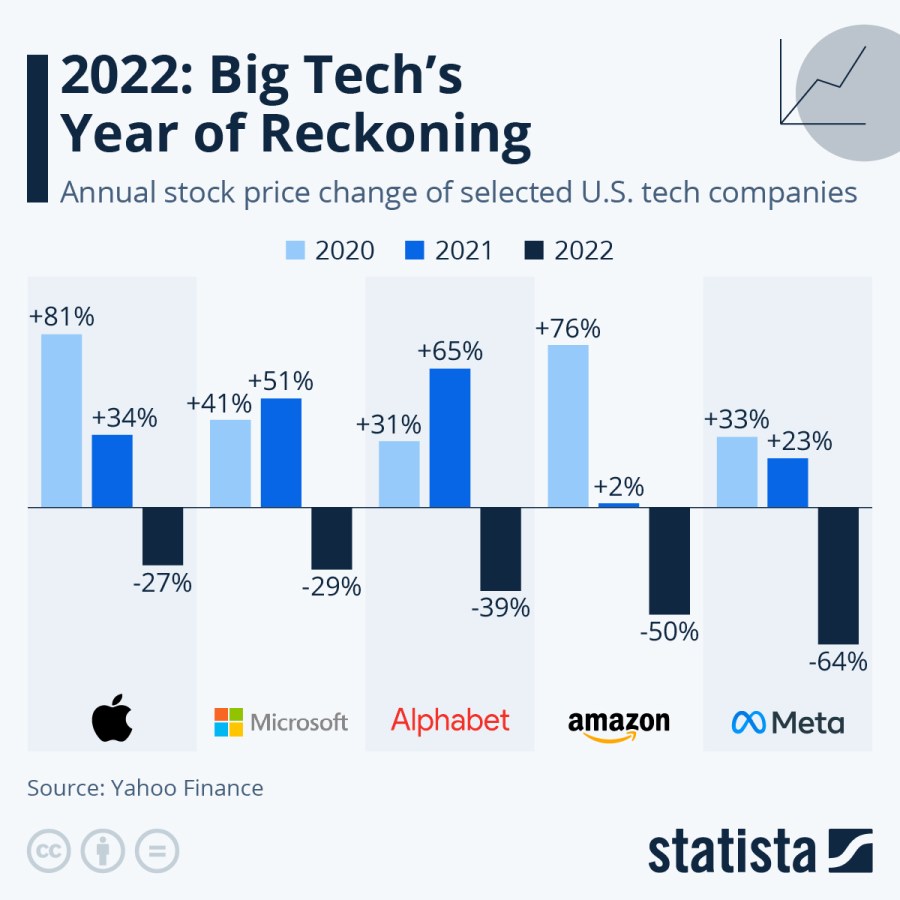 Microsoft x AI
Microsoft has been exploring the artificial intelligence space for a number of years, initially forming the Microsoft AI and Research Group in late-2016 to pursue innovation within the field.
In July 2019, Microsoft invested US$1 billion into OpenAI in a bid to enhance the capabilities of its cloud-computing platform, Azure. Earlier this month, it was reported that Microsoft intends to invest a further US $10 billion in the platform at a US$29 billion valuation.
Speaking at the World Economic Forum this week, CEO Nadella established the company's intent to implement OpenAI technologies such as ChatGPT and DALL-E 2 across its full range of products.
"Every product of Microsoft will have some of the same AI capabilities to completely transform the product", remarked Nadella.
Amidst turbulent economic cycles for the big tech firms, Nadella was keen to establish that "we need something that truly changes the productivity curve so we can have real economic growth" in reference to the potential benefits of ChatGPT.