What is the best AI music generator? Let's find out! Why? Because AI music generation is the latest way to become an original music composer. AI music generators are being used to create entirely new soundscapes. Tone deaf? No rhythm? No problem! We explore the top 5 AI music generators on the market today to help you create AI-generated music. Move over Beethoven, with these AI theme song generators you can start composing today.
Why AI Music Generators Are Popular
The rise of AI music generators can be attributed to several factors. The first is the simplicity they offer to solve time-consuming searches to create the right soundtrack for your creative endeavour. Music sets the tone for any project and can enhance or distract your viewing or listening experience. 
Spending hours combing the many royalty-free or licensed music sites to match your project with the right sound can be frustrating and exhausting. There are also copyright considerations to factor in, plus editing that might be needed if the track you have finally found is the wrong length for your video.
These AI music platforms are also popular because many of the generators that use machine learning algorithms to create brand new songs and sounds are open-source, meaning anyone can access them and begin improving on the existing technologies. 
AI music generators also offer amateur musicians an innovative and inexpensive way to enhance their creative process, while giving professional musicians a supplemental AI tool in the evolving landscape of music composition and creation.
Some professional musicians, such as American singer-songwriter Taryn Southern, have fully embraced AI technology. The "storyteller of emerging technology", Southern was the first pop artist to create an album entirely through AI tools. According to her album notes, "Taryn used a combination of tools including IBM's Watson Beat, Amper, AIVA, and Google Magenta. In all cases, AI software composed the notation, and when Amper was used, the AI also produced the instrumentation." Her 2017 single "Break Free" is widely considered the first AI-composed pop song. 
How AI is Transforming Music Composition
As with all artistic expression and AI, controversy has surrounded generated music composition. Software that can clone different composers and artists invites questions about originality and human creativity being replaced with AI. It has ignited the same debate about ownership and royalties that is facing AI art generators. Original creators argue that the references being used by AI generators in their style and composition data inputs are only possible due to their unique, human artistry and sound.
Using technology in English-speaking music composition is not new, even if using AI to generate music is. Back in 1938 the vocoder, which synthesises human voice, was patented by Homer W Dudley. In the 1960s, 70s and 80s artists from Pink Floyd to Phil Collins to Stevie Wonder used vocoders as an instrument to create fresh sounds. Coldplay and the Red Hot Chili Peppers used a vocoder for effect in recent years, and vocoders are still popular instruments used in music composition and sound mixing today.
David Bowie co-created the Verbasizer application, which was a digital version of a text-remixing approach to lyrical writing that he had been using for decades, in 1995. Called the cut-up technique, the Verbasizer rearranged words to create lyrical compositions. This is regarded as an early form of AI in music generation based on the data inputs and results it created.  
Auto-Tune
When Auto-Tune was launched in 1997, this technology reset the music industry standard for pitch correction and vocal effects. It caused huge controversy in the industry, even though it created new sound distortions that became very popular in songs by the likes of T-Pain and Cher.
Using AI in music is a global trend. In 2019, the Hindustan Times reported that Indian Professor Vinod Vidwans developed an AI system to create new music in traditional Indian styles. This AI generates a bandish, which is a distinctive type of Indian musical composition, in a given raga – an improvisational Indian melodic style. It then renders the mix in traditional classical style to create new compositions. 
China's Central Conservatory of Music in Beijing launched a music AI and information technology department in 2019. The China Daily reported that graduates recently performed at a groundbreaking Central Conservatory of Music concert that combined AI technology and human musicians, redefining the traditional concert experience. 
In addition to a live performance, audience members were given access to an AI music generator where they created their own original music within 23 seconds of inputting a range of data elements.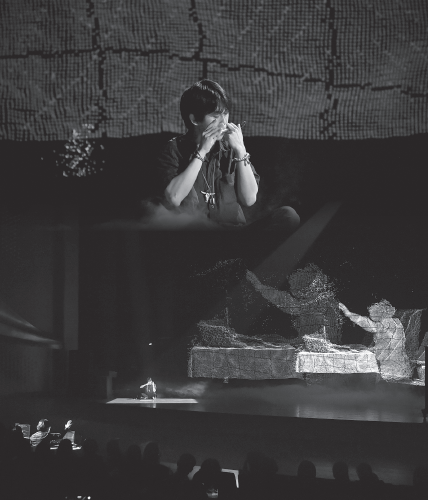 While legal and copyright issues are being examined throughout the industry and the sector navigates a way to both embrace and manage these new challenges, millions of users on the AI music generators are creating new soundscapes to accompany their podcasts, content, films, videos and any application requiring musical enhancement.
What Are AI Music Generators?
AI music generators combine elements of traditional musical composition with artificial intelligence algorithms to create new pieces of music.
Generators work by feeding the algorithm a lot of inputs such as many music tracks and thousands of instrumental sounds. The programming then identifies patterns covering a diverse set of musical styles and genres, desired emotions and particular musical elements. These elements include how musical notes relate to each other plus chords, tempo and length. AI music generation uses deep learning to combine these factors to create fresh harmonies, rhythms, melodies, sound effects and songs to exactly suit your project.
AI technology is evolving quickly to generate new music, with generative AI in the music market predicted to reach a valuation of US$2.6b by 2032 (up from a valuation of US$229m in 2022). 
According to research firm market.us, the rising number of AI music tools available in the market, supporting beginner and seasoned musicians to create their music, is driving this growth. The tools help to generate music faster and more affordably compared to traditional use, so the market is adopting generative AI music synthesisers for effective business.
AI Generated-Music Examples
One example of a composition using only AI is "On the Edge" by AIVA. AIVA is an AI platform and it originally learnt composition from renowned classical composers such as Beethoven, Mozart and Bach to create classically-inspired pieces of new music. AIVA has now evolved into rock music, using the same mathematical principles of composition.
Fictional character Miquela Sousa, or Lil Miquela, was created in 2016 as an Instagram profile by Trevor McFedries and Sara DeCou. Miquela now has over three million followers and she has released several AI generated songs, including her 2017 debut "Not Mine". Her songs have since amassed more than 15 million net streams across platforms.
Classical composition and AI generation have now combined to complete a maestro's masterpiece. When Beethoven died in 1827 he left sketches of an unfinished symphony. These sketches were used to complete Beethoven's final work through collaboration between machine learning experts and musicologists. 
Their efforts were celebrated in 2021 when the Beethoven Orchestra Bonn performed the piece for a live audience in Beethoven's hometown of Bonn, Germany.
With collaborations producing results like this, it's no wonder the benefits of AI music generation are starting to be more widely acknowledged and adopted.
Benefits of Using AI Music Generators
In addition to having the potential to transform the way we create and experience new forms of sound, AI music generators benefit musicians and creators by saving them time and effort when they create their compositions. 
This AI also allows for greater creativity by giving you access to a new range of tools and algorithms. Plus, they generate original, copyright-free music tailored to a project that you can use with confidence.  
By pushing the boundaries of conventional music composition and manipulating familiar music patterns, these generators assist artists in the creative process by providing new sources of inspiration.
AI music generators are helping to democratise music creation, offering people without formal musical training a way to create their own compositions.
AI can also now make video clips to accompany AI generated music, and re-released songs can find new audiences through AI-generated videos using AI-powered graphics engines.   
Best AI Music Generator
We've researched and compiled the list below to cover your needs and applications, outlining the costs, purpose, pros and cons and who each platform is best for.
1. Amper Music
Cost: Originally standalone, Amper Music  is now part of Shutterstock, so you need to subscribe to a one-month free trial to test the platform. The annual subscription is then AU$29/month, but has access to photo and video libraries in addition to Amper Music.
Usability: Widely regarded as one of the easiest AI music generators to use, it is a great place for people without detailed knowledge of music composition to start.
What it does: It creates musical tracks from millions of pre-recorded samples and musical instrument varieties. These are then transformed into real audio, which can be modified with music keys, tempo, individual instruments, and more.  

Pros:
-Easy to use;
-Creates actual audio, not MIDI, and you can export audio as a whole or a layer. This is a benefit depending on what you will use your music for. Digital audio is used for recording and playback of music, sound effects and voiceovers. MIDI is used for creating and controlling electronic music, such as synthesisers and drum machines. MIDI cannot store vocals, the effects are very limited and the instruments sound less realistic, however MIDI files are smaller and faster for playback;
-Wide range of genres;
-Cloud-based platform, so your work stays safely stored. 
Cons:
-Inconvenient to be part of Shutterstock if you only want access to Amper;
-Does have a lack of clarity around specifying costs of owning the music licence once you have created your composition, even within the subscription platform, so ensure you read the details; 
Best for: Content creators or individuals looking to develop soundtracks and sound for games, movies or podcasts. Suits people who like to have a lot of control over the process and mix.
2.  AIVA
Cost: AIVA can be used for free in exchange for giving credit to the generator on non-commercial projects via a link to their website. If you are a student or composing for personal use this is fine. 
For any commercial applications, costs start from €11+VAT/month, billed annually (around AU$25/month).
Usability: Aiva's versatility and user-friendly interface make it a popular choice among both professionals and amateurs.
What it does: Designed to compose emotional soundtracks for various media, including ads, video games and movies, this technology allows users to create music from scratch or produce variations of existing songs without the hassle of music licensing processes. The name AIVA is a shortening of Artificial Intelligence Virtual Artist.
Pros:
-Under the Pro Plan, you own the full copyright of any composition created with AIVA, forever;
-Create music from scratch;
-Produce variations of existing songs;
-No need to go through the music licensing process;
-Offers a range of presets and specified music formats;
-Provides the ability to edit soundtracks;
-Can upload previous work in MIDI format (explained above) as a base to generate AI tracks and music. This is an advantage if you have existing compositions created digitally as it is quicker and easier to upload MIDI tracks.  
Cons:
-Free version for non-commercial use only;
-No video upload support. Some platforms offer the ability for you to upload your video into the platform so you can edit crescendos and musical features in your compositions to coincide with points in your video, but AIVA only allows uploading of MIDI or audio files.  
Best for: People producing corporate or social media videos. It's much easier because users can eliminate the need to go through the music licensing process. It's particularly beneficial for those who want to experiment with different genres and styles and for those who wish to apply edits to current music.
3. Soundful
Cost: Soundful has a free option that gives you 10 downloads a month. The next package is for commercial users such as businesses and content creators and gives you up to 100 downloads per month for US$29.99/year (AU$44.80/year). The third package is US$59.99/year (AU$89.61/year) and gives you up to 300 downloads per month and a huge range of benefits. 
Usability: The process is intuitive and straightforward. Choose a genre, customise your inputs, and create tracks. Repeat until you find the track that is right for you.
What it does: This AI music generator uses a unique blend of simplicity and customisation to create royalty-free background music for your videos, streams, podcasts and more. The AI algorithms in Soundful have been trained alongside industry-leading producers and sound engineers. The platform offers over 50 templates across different genres to start your creativity, which gives you more granular control to adjust individual instruments and customise the music beyond what the AI has produced when you are creating. 
Pros:
-Allows customisation of beats per minute (BPM) and bass notes (C, D, E, F, G, A, B) in major or minor keys. This gives you the granular adjustment of the music speed beyond what is suggested to you by the generator, and flexibility to select many different tones and sounds, even if you don't read music;
-Uses music-theory-trained one-shot samples, so the AI will never replicate a song that already exists, or even one from its own platform. One shot samples are digital samples such as drum sounds that aren't looped; 
-Easy to render hi res files and download the stems. This means you can easily mix the individual instruments and elements of your composition on the platform, including any files you may have of your own. Stems in music are packaged groups of multiple tracks that have been layered together, so once you have mixed and rendered these ready for download on the platform, they are easy to access; 
-Eliminates the stress of copyright strikes, which are commonly encountered on Youtube when you upload a video that uses royalty-free or licence-free music. Every video uploaded to Youtube goes through a checking process where issues that may affect its visibility are assessed, including any music used. For example, even if the music you have chosen is royalty-free and licence-free, you may be prevented from using your video if the music you used breaches the copyright parameters set by the composer. This then results in you having to choose alternative music for your video and re-editing it, costing you time. Alternatively, the composer may have granted permission for their music to be used on Youtube, even if there are other copyright restrictions, and this will show in the checking process. Soundful removes this risk. 
-Currently it is affordable to acquire unique, studio-quality music tailored to your brand's needs.
Cons:
-At the time of writing there was a 50% off deal. While this is a benefit to sign up, it is uncertain how long the affordable pricing will last, but its likely that continued subscription will double in price. 
-If you unsubscribe from a paid plan, you may need to remove the music from your videos or buy the licence for that music, so ensure you read the details. 
Best for: producers who want to keep their creativity inspired and creators who want to avoid copyright issues while discovering unique, royalty-free tracks that sync perfectly with their content. Also great for brands and businesses seeking an affordable way to acquire excellent, studio-quality music tailored to their needs. 
4. Beatoven
Cost: Beatoven  has a free access option that gives you five minutes of downloads per month and requires attribution to the platform when you use it. This is a great way to get familiar with the platform.
The paid package ranges from US$3 to $20/month (AU$4.48 to $29.87/month) depending on the number of tracks you download, with a maximum download length of 60 minutes. You own all of the content.
Usability: Easy. Instructions on the site outline four steps including uploading your video/podcast or starting with a track, then choosing from eight different genres to suit your theme. You then make cuts to add to your material, followed by adding moods from 16 options to shape the content track. Then the AI generates the compositions for you.
What it does: Simplifies the process of creating original soundtracks by helping you to compose customisable, royalty-free, mood-based music based on your content. It also has a great name that encapsulates its purpose and plays on one of the world's most renowned composers – Beethoven.
Pros: 
-Combines advanced music theory and production concepts to deliver unique music;
-Customisable length, genre, mood and instruments;
-Mixing and mastering, so the output is production-ready;
-Can be used for free;
-Supports common keyboard shortcuts, using CTRL, SHIFT combinations for copying and pasting;
-Works well in all browsers.
Cons:
-While it was in beta stage some feedback said the music generated was not very useable because it sounded very overly-processed, however this seems to have been addressed in current versions;
-Limited genres;
Best for: Content creators who need unique, mood-based music for their videos or podcasts. A great tool if you want to experiment with music creation but don't have the technical knowledge or resources to do so. Caters to agencies, YouTube and podcast creators and   indie game developers.
5. Soundraw
Cost: Soundraw has a free package that allows you to generate and bookmark songs, but this doesn't allow you to download your music. The monthly plan for US$16.99, billed annually (AU$255), includes personal and commercial use and a permanent licence for the content you create. This means if your content goes viral, they won't seek additional royalties.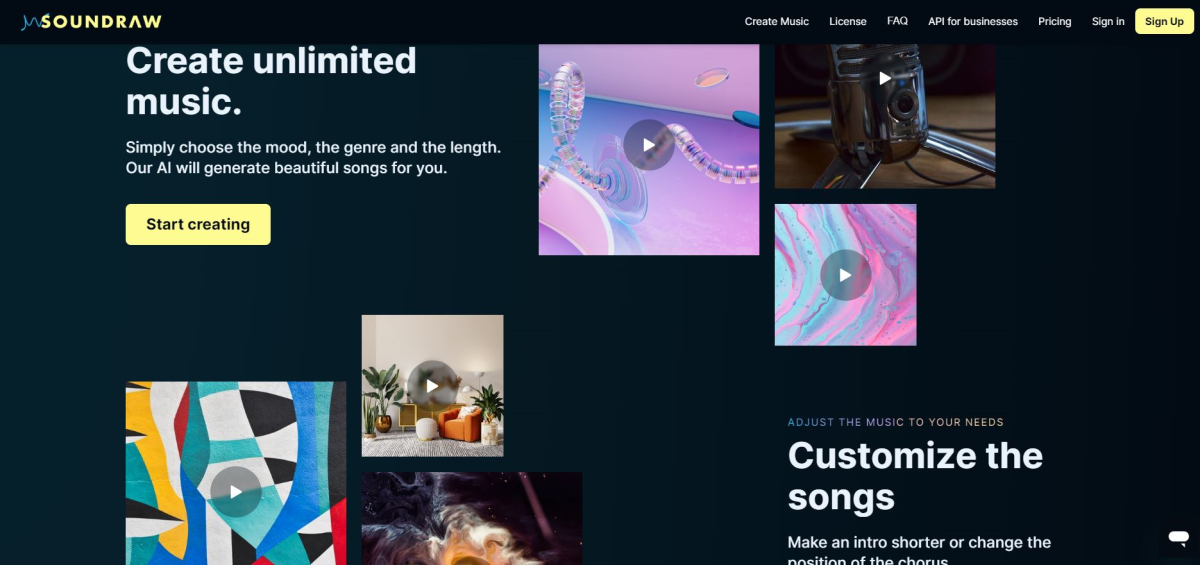 Usability: The platform has a friendly interface and invites users to choose the mood, genre and length of the track you need, and their AI will generate music for you. It's compatible with Adobe Premiere Pro and Google Chrome.
What it does: Enables you to customise a song with AI-created phrases that it will suggest for mood or genre and that you can select to help enhance the piece, in addition to your own customisation ideas and abilities. Soundraw relies on the combination of AI and its assembly of manual tools to generate and customise new music and the platform has a customisation feature that allows you to improvise and tune a single piece of music. This is actually the "big brother" of another platform – Ecrett Music – that has a cheaper package at US$4.99/month (AU$7.45/month) and slightly less customisation, features and flexibility.
Pros:
-Easy to use;
-Combines AI compositions and manual tools;
-Plug-in compatible with Google Chrome and Premiere Pro;
-Unlimited downloads with subscription plan;
-Generates dozens of variations;
Cons:
-Need to subscribe to access your music.
Best for: People who know something about music and how to create it without AI, due to how much customisation is possible. Good for content creators, as the music generated is 100% original, eliminating the stress of YouTube copyright strikes.
Choosing the Best AI Music Generator for Your Needs
You need to consider these factors when choosing an AI music tool:
-Be clear before you begin, so you know what music annoys you the most and what you enjoy when you watch or listen to content. That way, you can save time on the platforms to identify the elements that you want included in your compositions – especially the mood you want to create.
-Try composing music on a free platform first if you have never done it before. Have a play with the elements to understand how the sounds combine.
Before the AI music generators were developed, music composition was limited to professionals and music hobbyists. Content creators and businesses had to search for royalty-free music that suited their content, not only risking copyright issues but also having to adapt their content to fit the limited soundtracks on offer.
AI music generators give everyone the opportunity to create unique, royalty-free music compositions. They open experimentation and creativity in new ways, which will continue to evolve as more sophisticated AI music generators enter the market.