The best AI logo generator is just a read of this article away! AI plays an increasing role in how we get creative. Now it can assist us to generate logos for our brand.
We have done the research to guide you on the top AI logo generators. We list the best free and paid AI logo makers to help elevate your brand presence, plus help you understand the pros and cons of AI-generated design versus traditional logo design.
What are AI Logo Generators and How Do They Work?
Similar to AI art generators, an AI logo generator uses computer algorithms and artificial intelligence via machine learning, natural language processing and large dataset analysis to create custom logos for your business or brand. 
These software tools take user input from your criteria list such as your business name, colour palette, preferred typography or style and selection of symbols, to understand your preferences. It then generates a range of logo options based on the design data and pattern recognition in its system, combined with your preferences.
In a few short years the capabilities and sophistication of AI logo generators has vastly improved. This is because over time, the software has used machine learning algorithms to learn from and refine design data patterns to advance their ability to generate high-quality logo designs. 
Programmers on AI logo maker platforms "teach" the logo creator tool the current trends in logo design to ensure that AI logos reflect the sophistication and refinement of logos designed by graphic artists. The platforms assemble thousands of pre-made designs from their logo library that can be tailored to your design criteria selections to create your logo. 
Benefits of Using AI for Logo Design
Rates to have a professional graphic designer custom-design a logo for you in Australia generally range from $50 to $1,000, and go up to around $2,500 for freelancer platforms or in-person services. 
On Fiverr for example, costs can range from $5 to $250, depending on your logo complexity. The lower cost comes with risks of the design not meeting your brief due to little time spent creating it. Working with designers can take from a few days to a few weeks, depending on their workloads. 
Using AI design saves you time and money due to the inbuilt resourcing of the AI logo generators, which we explore in our pros and cons list below. Across the board in AI, large language and multimodal models are becoming bigger and pricier thanks to millions of dollars in investment and programming time that goes into refining the AI research data. A benefit is that AI logo generators ensure your logo is modern and fresh by reflecting current design trends via their data inputs. 
Vision
AI logo makers also help to refine a vision of what you do and don't want in a logo. Especially if you struggle to be creative, or even come up with a brief for a graphic designer to create something unique for you. Logo design by AI can help you quickly and easily clarify your vision and provide a great starting point.
You can take advantage of free AI logo generators and still work with a graphic designer. Simply input your data to the platforms and then screen grab what you like and don't like. This way you will spend time refining your brief, but not any dollars. 
As with a lot of new artistic AI generators, including ones for AI-generated playlist art and ethical AI art generators, AI logo makers offer accessibility and inclusivity to many people by democratising the creative process.
You don't need formal training and qualifications in graphic design to create professional logos using the AI design tools in these generators. This allows more people to take ownership and feel engaged in the creative side of their brand identity.
So, who offers the best free and paid AI logo generators? We have identified the most popular and positively-reviewed AI logo generators available today and tested the options below.  
What is the best AI logo generator? Here are our top 5 free and paid options. 
1. Looka 
Self-described as a logo design and brand identity for entrepreneurs, Looka.com was consistently ranked as one of the most popular generators by users in our AI logo search. Easy and free to navigate, the site starts by asking for your business name and industry, and to choose some logos you like, to understand your style preferences. It then asks you to select some symbols to reflect your brand content before generating a range of designs. Here are some of the new logo ideas generated for free for The Chainsaw (no, we are not changing our logo, we love it):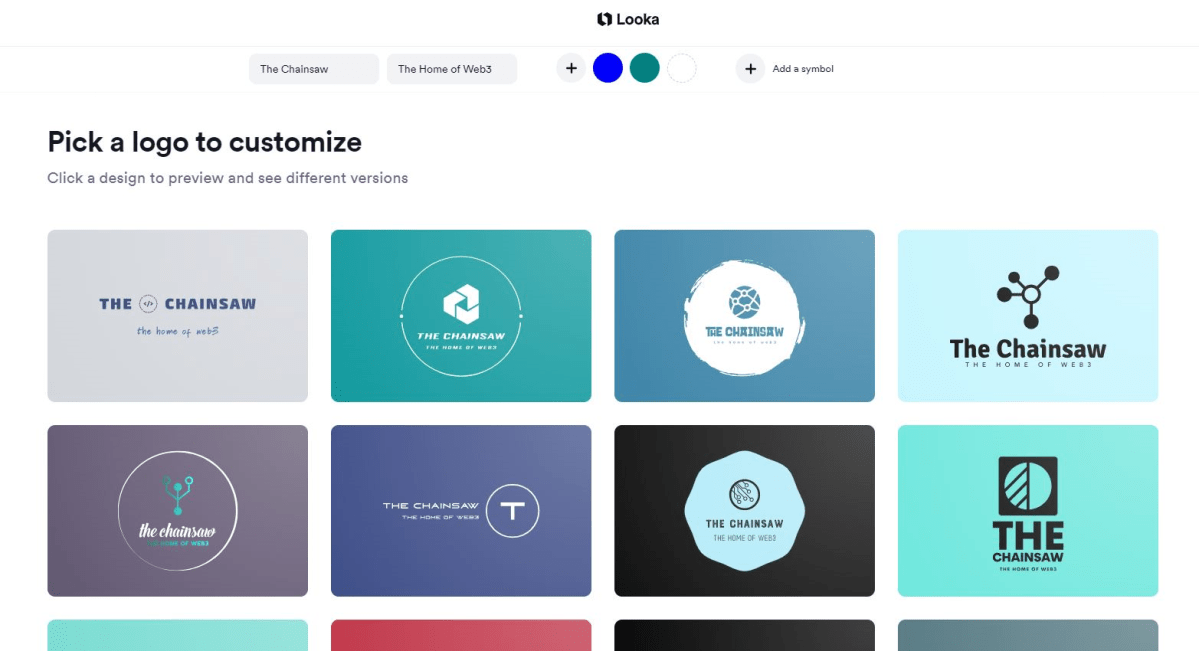 Once an option is chosen, you are given the flexibility to customise the layout, palette, background, symbol, slogan and more.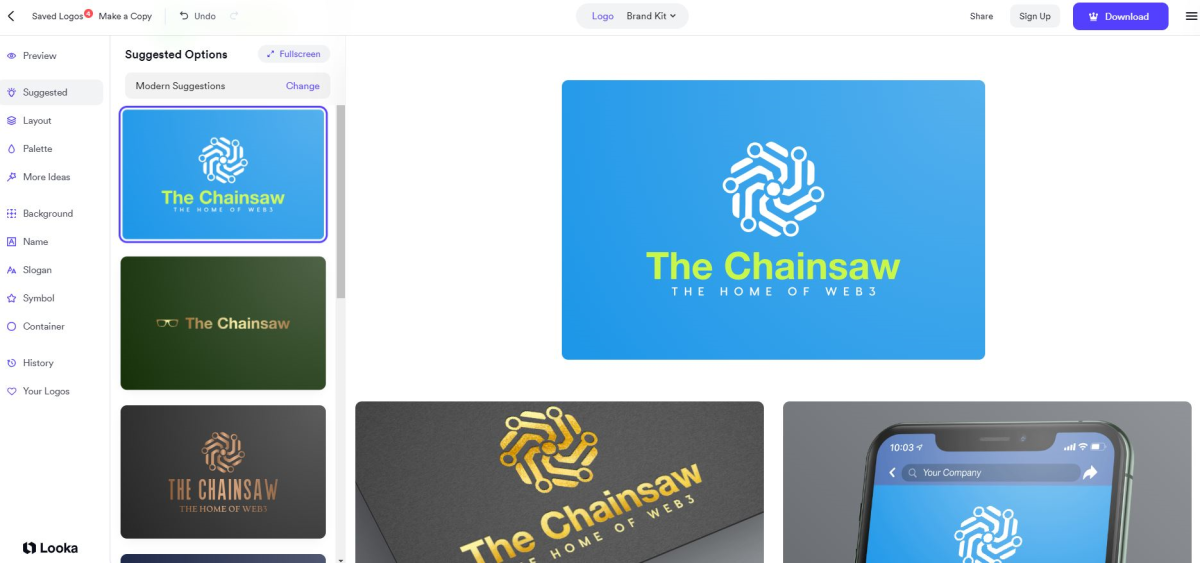 You can also explore the logo in brand kit format to show you how it will adapt to online and offline formats including logo files, website, email signatures and printing.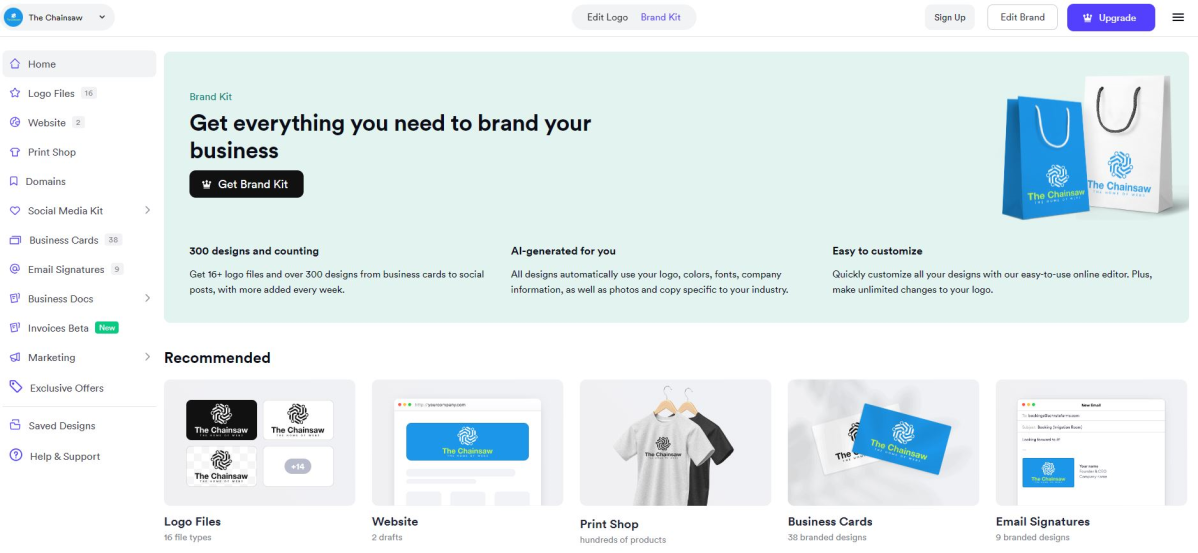 This brand kit is extensive, also offering social media kits with templates for several applications, plus marketing kits that cover advertising layouts, banners, flyers, posters, newsletters, etc. 
For non-creative business owners, this option is very helpful as it removes the pressure from having to adapt your logo across multiple uses.
Pricing
Looka is free to access and use to create your design options, but it costs to download your designs in different file types. You can try to screen grab your designs, but they are protected by watermarks when they are being generated. 
Pricing starts at US$20 (AU$30) for one low res (low resolution) file. The next package is US$65 (AU$97) for multiple hi-res (high resolution) file types and full technical support. 
Packages then go to yearly subscriptions of US$96 (AU$144) or US$192 (AU$287) for multiple files, brand kits and applications.
The subscriptions allow you to use Looka as your design program to adapt your logo format and associated business branding for use in many platforms. Looka also guarantees you will always own the rights to your logo, even after your subscription ends, giving you flexibility to cancel your subscription without risk once you have your needs covered.
2. Tailor Brands
Also ranking highly with users is TailorBrands.com, which claims to have already helped over 30 million people on its site with logos, websites and more. True to its name, Tailor Brands asks you to give a description of your business as part of its data input, allowing you to be very specific in addition to being categorised by industry. It is free to access and input all of your information.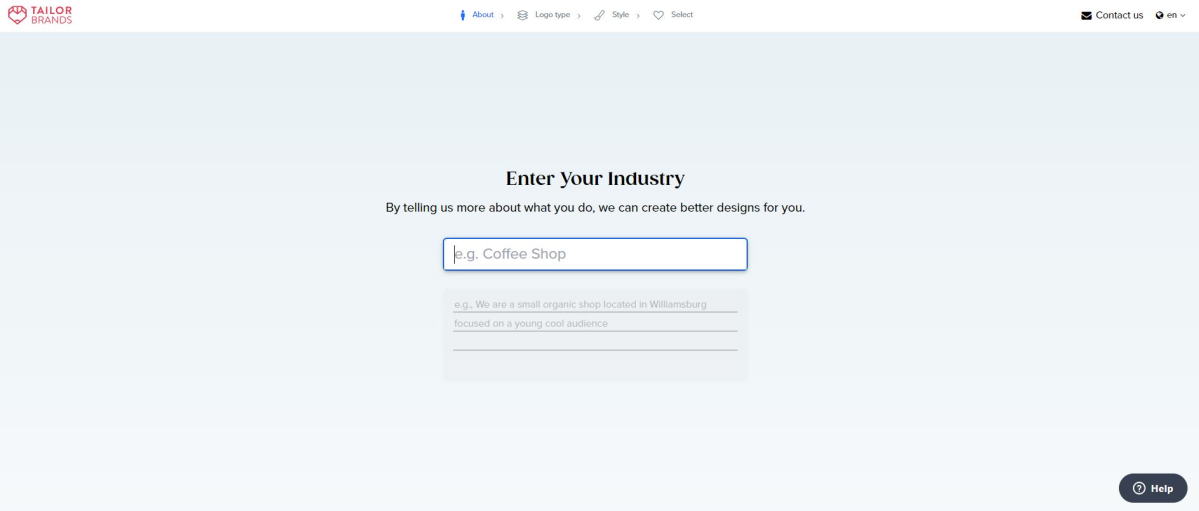 It then asks you to choose logo style options, icons and fonts before generating a range of logo options for you. It showcases these on the left of the screen while demonstrating their applications on the rest of the screen to give you an overall picture to help narrow your selection. Customising the options is then possible.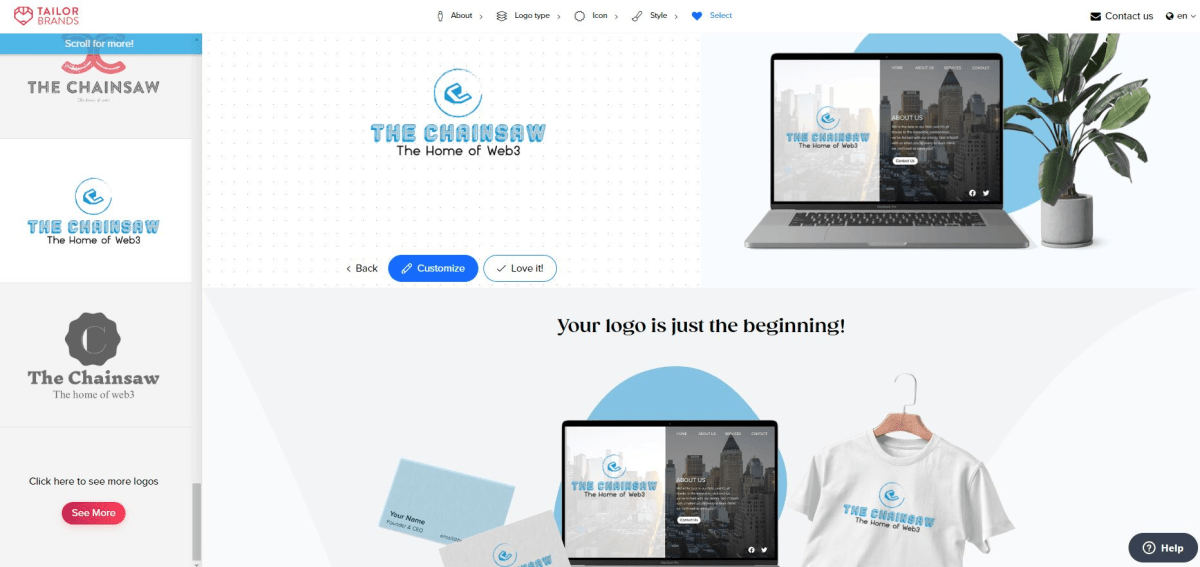 Tailor Brands is free to access and use but downloading any logos requires a subscription rather than one-off pricing. This site recognised that we were based in Australia and immediately converted pricing to AUD, which is great for time-poor business owners. 
Subscriptions start at AU$4.99 per month (AU$60/year), billed annually, which includes full ownership of your logo and other features. For AU$7.99 per month (AU$84/year) the standard package gives you vector files, which are more technical formats than JPEG or PNG files, plus website builders, branded presentations, etc. The premium package at AU$16.99 per month (AU$204/year) gives you everything in the standard package plus the ability to host an online store on your website.
3. Logomaster
Offering hundreds of templates to help you "make a logo in 5 minutes", Logomaster.ai is extremely popular with users. Free to access, the platform asks you to begin by choosing a logo category into which your brand fits. These include a personal brand, product, community, company or business. This can be confusing if you see your brand fitting into more than one category, but it does help you to narrow your style likes and dislikes early on.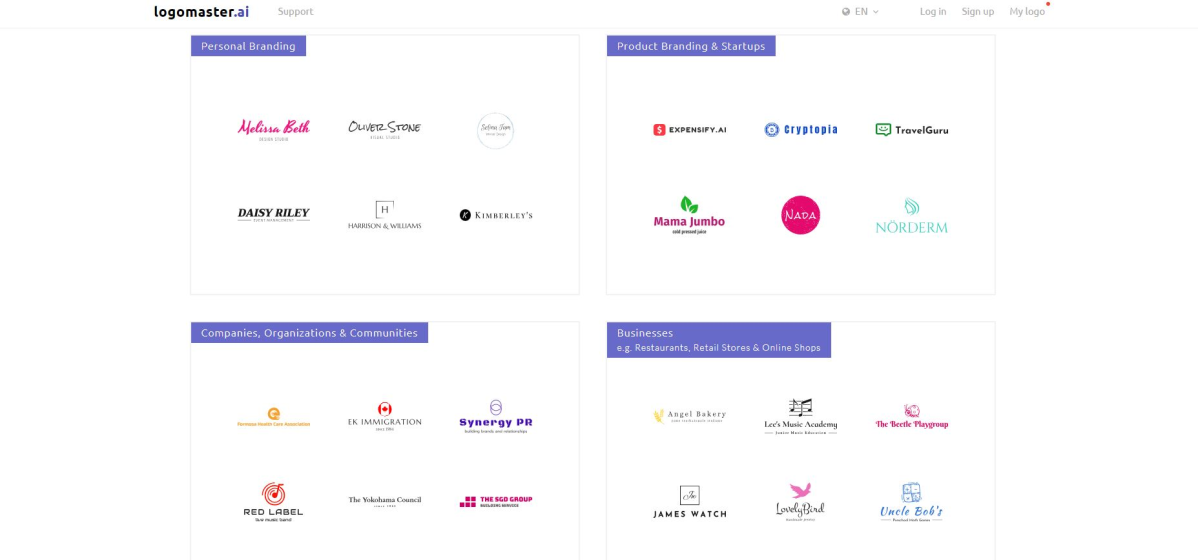 You are then asked to select styles of logos you like, followed by colour selection. Input your company name and slogan, choose an icon and the results are revealed.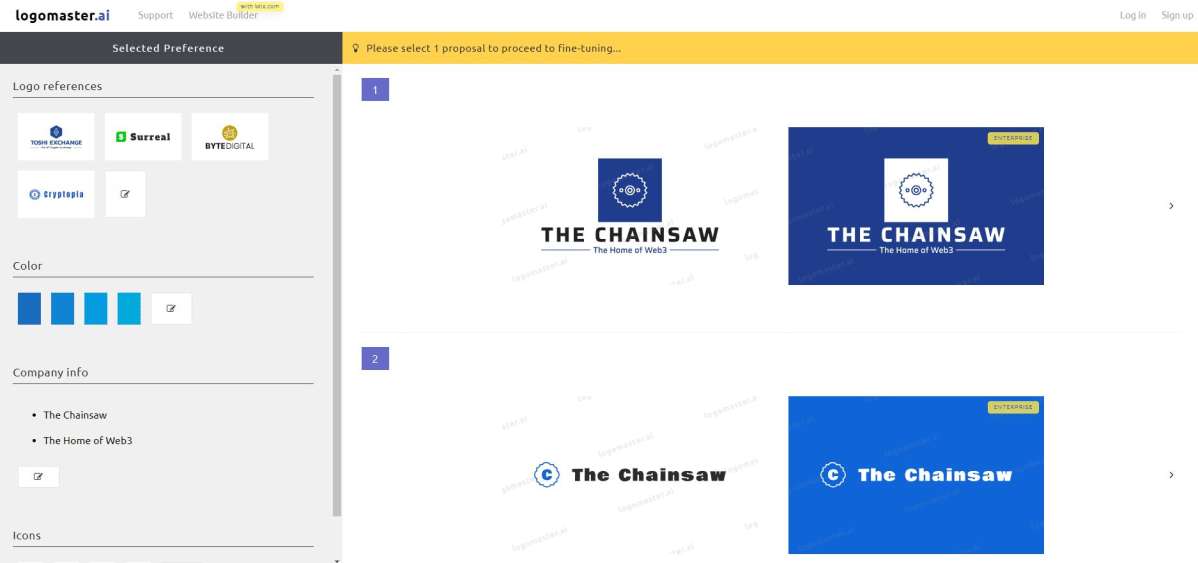 Once you select a version, you are able to customise it for free before purchasing. Prices for Logomaster are also adapted to AUD and are all one-time fees.
They start at AU$69 for hi-res, web-only files. The catch here is that changes to your design are not possible once you download these files. They are also not suitable for printing.
The next level is AU$139 and includes web and print-ready files and unlimited design changes. The most expensive level is AU$209, where you can make multiple changes. There are store design options and you can use their templates for merchandise etc. Logomaster compares this level to everything that a graphic designer would offer in a brand guide. This offers great value for a one-off fee.
4. Logo.com
Ranking very highly with users on Trustpilot, Logo.com is free to access and offers several low res and high res logos for free. You are required to create an account, but the site is easy to navigate and has similar steps to other platforms. 
It asks for your product name, slogan and keywords, then to choose a palette. From there, it generates hundreds of options very quickly.  
Once you have selected your favourite option, Logo.com shows you how the logo can be applied across different uses. It also shows you customisation options.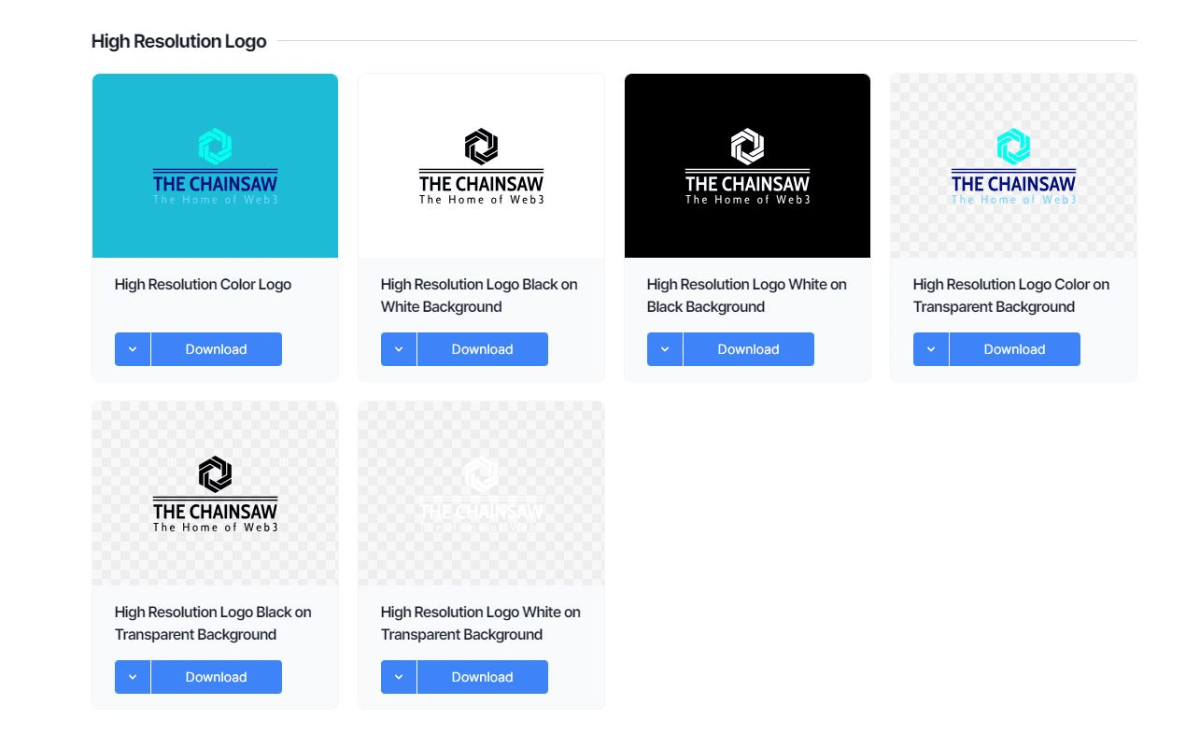 Once you have confirmed your design, you are able to download your logo in low res and high res files in png and jpeg formats for free. Your brand font and colour palette, plus favicons for your website, are also available free. However, none of these free options are able to be resized, making their use limited to primarily online.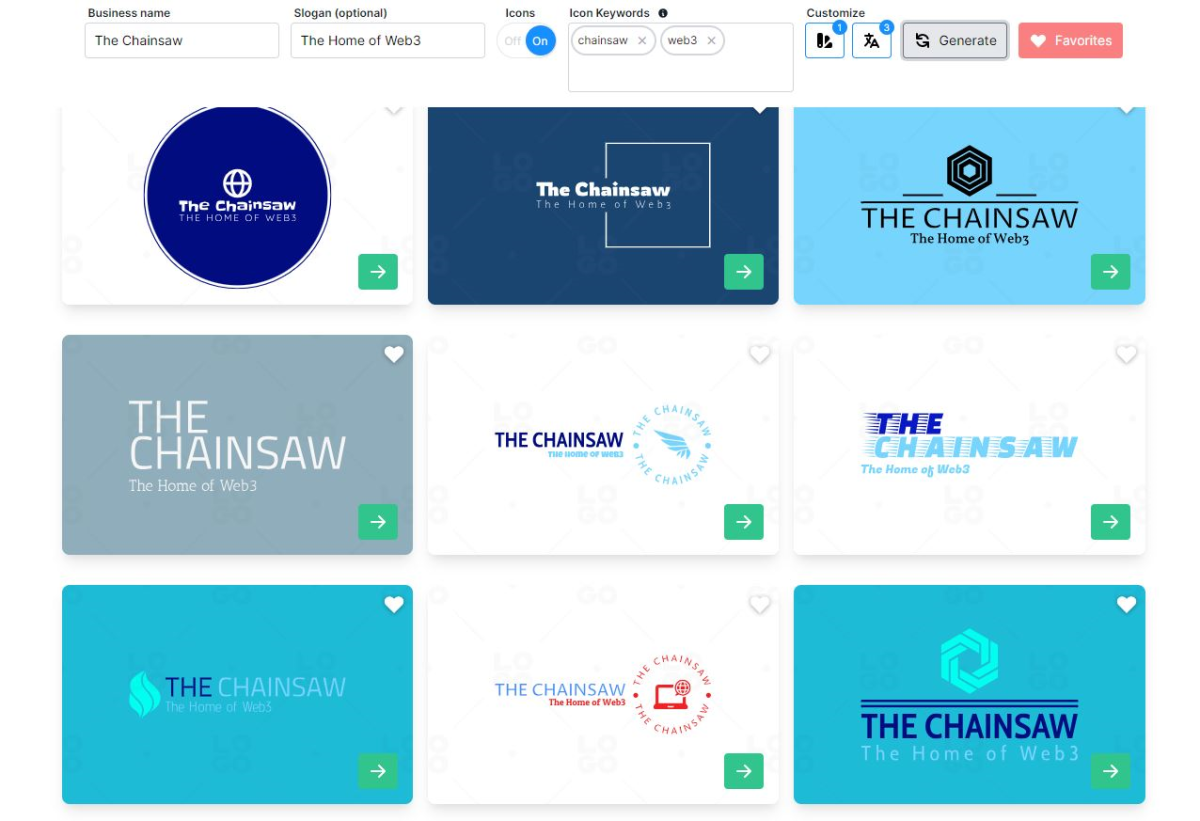 To access more options and greater flexibility with your logo, you need to subscribe for US$170/year (AU$254/year), which is the only upgrade option available. This does include brand kits like some of the other sites, but it doesn't include website hosting as Tailor Brands does for the same price. 
While Logo.com does deliver great content for free, it has some limitations with its inflexible pricing. However, it generates many design options using machine learning. Plus, it allows you to edit and save your brand identity elements all on your dashboard, and it is very easy to use. 
5. Brandmark
Declaring itself the most advanced AI logo design tool, Brandmark.io also boasts free logo customisation. It rated well on Producthunt and was very easy to navigate. When you start your design journey Brandmark asks for your company name and slogan and then requires brand keywords to describe your brand, offering you examples to simplify the process.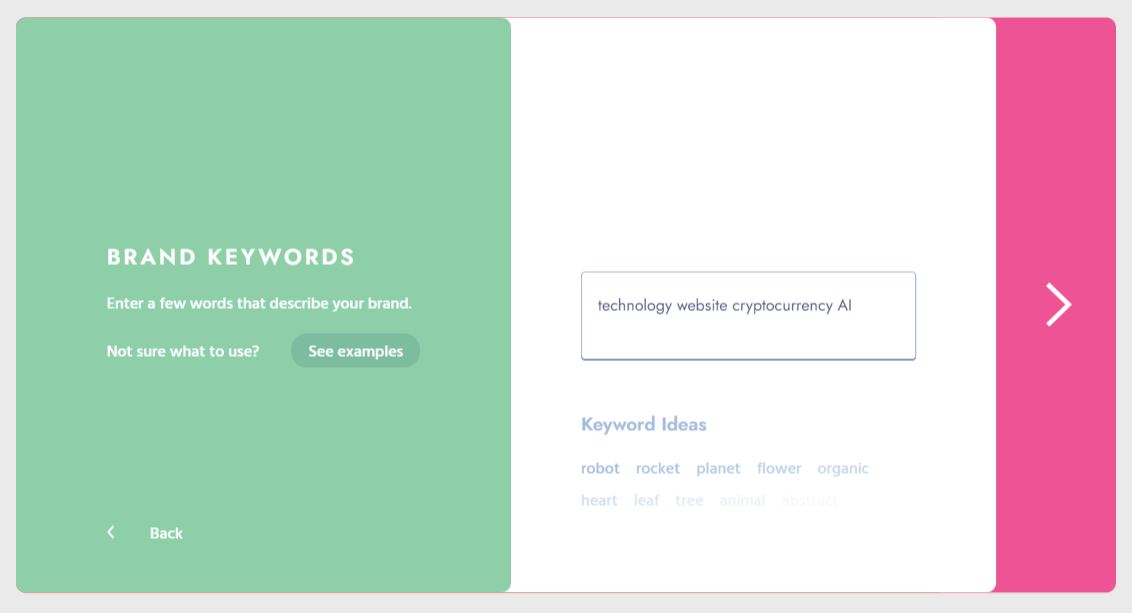 You are then asked to select a colour style before the logos are generated in this layout: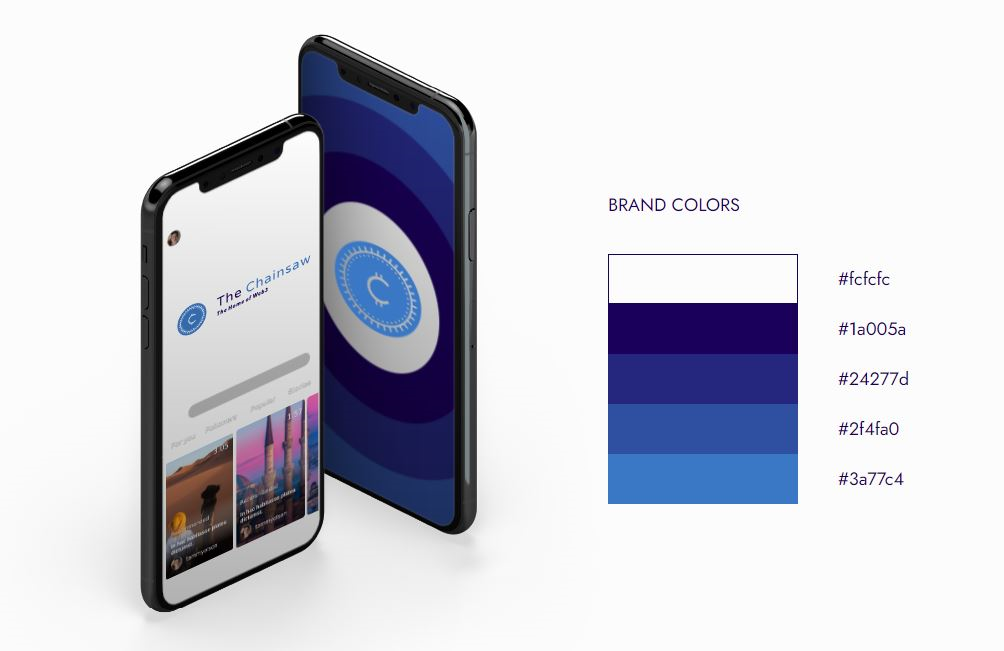 If you prefer looking at more options simultaneously, this layout can be limiting. However, once you choose a logo, the site offers brand colours, and layout on several formats to guide your selection. There is no option to choose icons, so some logo concepts included camping motifs (above left) for The Chainsaw, despite our use of specific brand keywords.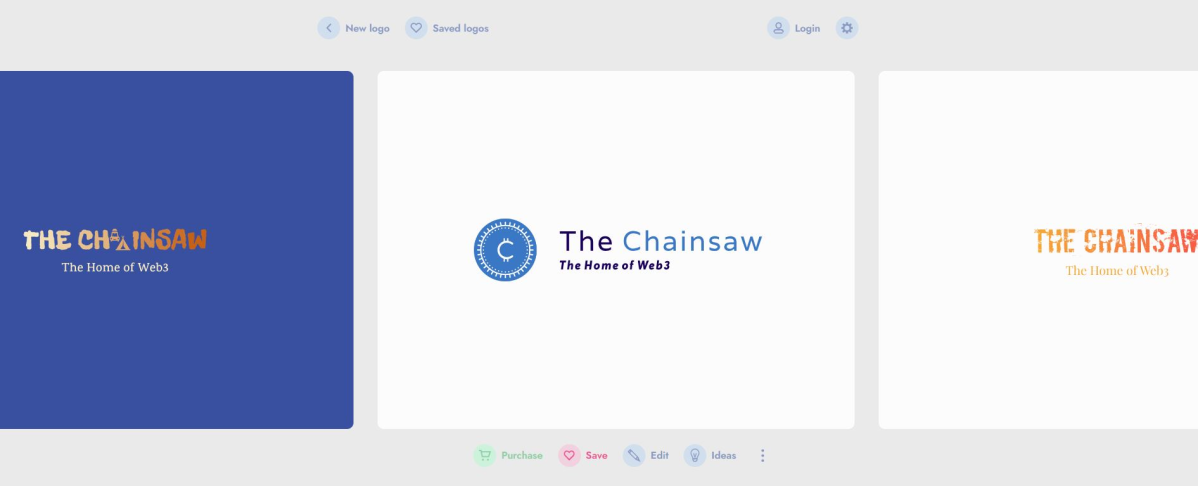 Prices for Brandmark are all one-time purchases, with the lowest starting at US$25 (AU$37) for your logo in PNG format only. This is very limited and doesn't compare well to the pricing on other generators. The US$65 (AU$97) package gives you unlimited design changes to one concept, all logo files and a shareable brand guide, while the US$175 (AU$262) package gives you all that plus up to 10 original concepts. 
Before purchasing, check the full commercial usage as it wasn't visible before requiring payment details. The site is easy to use and the keywords are helpful in defining your brand purpose.
AI logo vs. traditional logo design
Pros for AI generated logo design:
1. Incredible time saving
AI logo generators can deliver you a new logo in a matter of minutes. If your vision is clear on what you want your logo to represent and you are decisive on what you do and don't like, creating your own AI logo will be a very fast process. However, doing your research beforehand to understand exactly how you will utilise your logo will save you the most time.
2. Low cost
The low cost of the AI logo makers puts professional-quality logo design within reach of anyone. Using any of the platforms can save you a few thousand dollars if other costs associated with starting your business are high. 
Many AI logo maker sites offer comprehensive packages to ensure all aspects of a logo design guide are included, such as different file types, file sizes, format applications and full commercial usage rights. By purchasing all of these when you generate your AI logo, they become assets in your business and part of its brand DNA for years to come.
3. Fun and variety
If you love bringing a vision to life but are not traditionally trained in graphic design, then the AI logo maker platforms are a fun way to bring out your creativity, plus the variety and sheer number of options make the AI logo design makers easy to use.
Cons for AI generated logo design:
1. Duplication risk
While the odds of seeing your exact logo being used by another brand are slim, it is a fact that other people are accessing the same icons, typography and colour palettes as you. Therefore, similar elements may appear in other logos, possibly within your industry. Logo design duplication can occur in traditional logo design; however, the growth of AI logo makers means the chances increase with their usage.
2. Nothing feels right
Even with thousands of potential logos across many AI logo sites, the designs that are AI-generated may not feel right. Visceral reactions are important when it comes to your brand logo, as it will help to motivate and inspire you, your team, your clients and audiences as you interact and do business.
3. Understand the details
To safeguard your AI brand logo, you need to purchase the full commercial usage rights from generators. This ensures that you can use your logo in any capacity. If you use a free generator or choose a smaller paid package, read the fine print and understand the limitations associated with your design and its usage.  
Pros for traditional logo design:
1. Breaking the rules 
Graphic design follows a set of principles for proportion, colour, negative and positive space, shapes, juxtaposition and more, so it makes sense that these same principles work beautifully when programmed into AI logo design. 
However, breaking these rules can inspire some incredible creativity. The fluidity and interpretation in human expression and communication can translate to something truly unique in traditional logo design that cannot always be captured in programmed inputs.  
2. Interpreting a brief
Nuanced communication and artistic interpretation have not yet been fully mastered by AI. Briefing a graphic designer and sharing reference material with them that captures the essence of your brand is still a powerful way to describe your vision. This can also result in unexpected design outcomes that may yield far better results. A human's ability to see possibility via discussion is one of the strongest pros for using traditional logo design.
 3. Originality
Business owners strive to reflect a unique feeling, name and attitude in their logo to capture the essence of their core brand. Beyond the logo itself and its many applications, it needs to carry the brand's values and have capacity to evolve over time. An AI generated logo uses a predetermined set of images and input that may not have the flexibility and tailoring to do this.
Cons for traditional logo design:
1. Takes longer
Human creativity takes time. While freelance platforms such as Fiverr have greatly reduced the timeframes that logo creation used to take, their service providers are people and need time to process instructions before they create. Traditional graphic artists may have sophisticated design programs to translate their ideas, but getting a brief and then interpreting that into design options takes time that you may not have.
2. Expense
Traditional logo design can cost around AU$2,500, which may be prohibitive for business owners on a very tight budget. However getting a logo wrong, only to have to change it later, can also become a very expensive exercise. The power of a logo is amplified in its consistency, so changing from one logo to another in the pursuit of the right one can impact business and brand-name recognition with your audience.
3. Brief misinterpretation
No matter how great humans are at communication, sometimes a brief does not translate to success in traditional logo design. It can simply miss the mark. A graphic designer can create a suite of options for you to consider, only for none of them to connect. When this happens, designing your own logo through an AI design generator can help refine your vision, or maybe even capture exactly what you want.
Best AI logo generator conclusion
Given their popularity, there is no doubt that AI logo makers are answering an important need for people who need a fast, cost-effective logo design. 
The best way to create your AI logo with the current generators on the market is to ensure you are clear on your brand identity before you waste hours on a platform that is meant to save you time. Know your brand's values, audience and positioning so that your inputs into the design generator yield usable results.
Make sure to research AI logo design generators for functionality and pricing. A cheap but limited platform may not be the answer if you have to seek other designer software to deliver the logo adaptations you need in normal business practice.
Finally, be clear on the data you are giving the AI logo maker you have chosen. The clearer your input is, the better the AI algorithm will be in generating the logo creativity that suits your brand.