Alright, you asked … we listened. Crypto events are the pulse and pavlova of the crypto industry, and we're here to bring you a regular wrap-up and Web3 event guide of all the events you need to know taking place in local cities across Australia.
Web3 enthusiasts love befriending strangers rocking PfPs of vomiting rainbow doodles or mutant apes who could be either slow-rug scammers (pls no) or colleagues to build business ventures of the next web. Fortunately they're mostly new frens.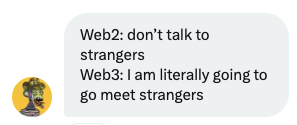 Networking with like-minded BUIDLers is a global highlight of the Web3 space, and if you weren't already aware, there's loads going on Down Under.
Let's crack on with the Web3 event guide this week.
Sunday: NFT SYDNEY Boat Party
NFT SYDNEY is bringing an epic boat party by the Degen Aussie Apes, featuring Dave Goode, co-founder of Future Art who will be spinning on the decks as the wind flows through your locks across the Double Bay Wharf in Sydney before heading to Taylor's Bay in Mossman. If you're keen for the kick-ons, the crew have held an extra fun reservation at 18 Footers Bar, Restaurant & Cafe situated near Double Bay Wharf.
When: Sunday, 29th of January
Time: 1.30pm – 6.30pm
Where: Double Bay Wharf, 77 Bay St Double Bay NSW
Notes: Max two tickets per person
Event link here.
Sunday: Digital Art Club NFT Scavenger Hunt
In the Gold Coast, the Digital Art Club, co-founded by Nick, Matias and Aaron, will be hosting their first-ever NFT Scavenger Hunt in Miami, QLD.
Dart Club aims to bring NFTs to the streets, similar to the epic Geocaching game where you can roam your local neighbourhood to find treasure. Digital Art Club plant NFTs from local projects in a Web3 version of a Geocache and Pokemon Go merger.
No prior knowledge of NFTs is required, only your competitive spirit.
More than $1000 is up for grabs in the hunt, and hunters will search for NFTs hidden in a 2km radius of the Brewery.
When: Sunday 29th of January
Time: 2pm
Where: Lost Palms Brewery in Miami
Event link here.
Web3: Wednesday: Magic Eden x Drift Protocol Summer Camp
From February the 1st until March the 31st, Drift Protocol and Magic Eden will bring the first dedicated Web3 co-working space to Australia thanks to the Solana Foundation, and will be hosting the Solana Melbourne Hackerhouse from February 20th to the 24th.
This is the first of its kind in Australia that will allow local projects, investors and contributors to engage with global teams. As someone who went to the vibing purple-flooded Hackerhouse of Soho, New York, I can confidently say this is one not to be missed.
According to Davo of Drift Protocol, the mission of the event is to help put Australia on the map for Web3, and "give entrepreneurs a dedicated space to work with likeminded people. The co-working space is entirely free to participate in and we welcome everyone building in Web3. Dedicated programming will also take place across VC, legal + policy, and tax workshops throughout the two months."
When: February 1st to March 31st
Time: 9am – 5pm
Location: Level 7, 276 Flinders Street, Melbourne
Event link here.
Web3: Tuesday, Wednesday, Thursday: Binance Australia Brings its Inaugural Roadshow
Throughout next week, the next Web3 event of the guide is the Binance Australia crew will be running their roadshow tour across South-east Queensland with community meetups on the Gold Coast, Sunshine Coast and Brisbane.
The event will feature presentations, SWAG giveaways, AMAs and networking sessions in-line with Binance's mission to focus on local community education and to help lower the barriers of entry to Web3.
When:
Gold Coast: January 31
Time: 6-9pm
Location: North Burleigh Surf Life Saving Club, 293 The Esplanade Miami, QLD
Sunshine Coast: February 1
Time: 6-9pm
Location: UNDRGRND Gallery, Unit 11/9-13 Matheson Street, Baringa
Brisbane: February 2
Time: 6-8.30pm
Location: Stair Stadium, The Precinct, Level 2/315 Brunswick St, Fortitude Valley, QLD
Event link here.

Got an event going on in Web3 for The Chainsaw Web3 event guide? Reach out to The Chainsaw to let us know.