NFT Fest: Today, hundreds of NFT enthusiasts descended upon Melbourne's Alex Theatre for the first day of NFT Fest 2022. NFT Fest is a two day festival held in St Kilda, dedicated to everything going on in the emerging Web3 industry.
The morning kicked off with a virtual appearance from Betty, the founder of popular NFT project Deadfellaz alongside Carly Reilly, from 'Overpriced JPEGS' who spoke with Australian NFT personality Renae Redgen. After muscling through some audio difficulties the event got underway.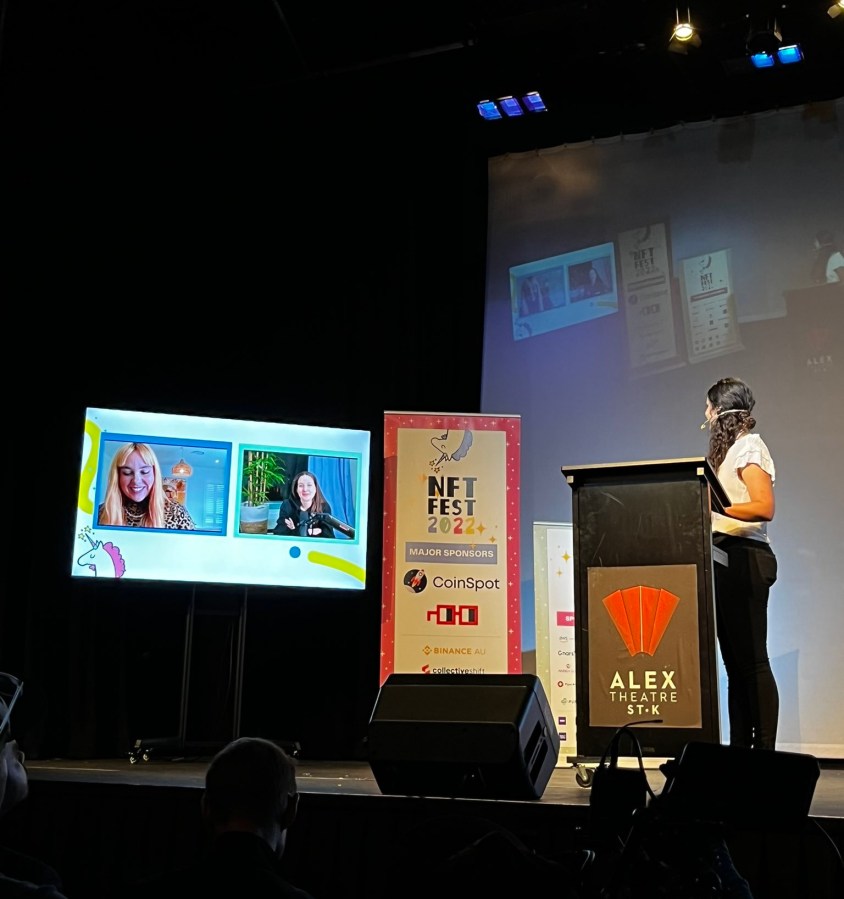 Betty and Reilly spoke to the recent bear market conditions that have seen the prices of NFTs slide gradually downwards over the course of the year.
"When you're building and working in a bull market it's so exciting. Everyone's so high on dopamine, but it's distracting as well. Whereas in the bear, I think we've gone through all the phases. Everyone is so focused on building. So I think this is a really opportune time to identify what you want and start seeking it," said Betty in a virtual stream.
"I enjoy the bear market more. I never loved having the pressure of covering projects that are popping. Getting to cover what's 'higher signal' to me feels nice. A bear is the best time to build. We're forced to have a product market fit that you won't have in a bear market. It forces you to get in and connect with who your real audience is," added Reilly.
NFT Fest: The future of blockchain games
Following the introductory session, The Chainsaw crew headed into the next room for a panel moderated by our Head of Editorial Samantha Howard. Howard spoke with three industry experts on everything concerning the future of Esports and the growing industry of blockchain-based games known as GameFi.
Roche Stanley, Assistant Director at Australian Government tech initiative Global Australia who recently returned from secondment for the Prime Minister to engage new digital markets, said that Australia was "the hottest place" for developing blockchain games.
While the topics of discussion were wide ranging, Michael P, a narrative designer at Web3 gaming firm Metakey handed down three main points for game designers looking to enter the Web3 gaming space:
Stop talking like a degen. Games don't need speculators to succeed, they need players
Forget about Play-to-Earn. That term may be appealing to investors, but to players it's poison.
Make a good game.
A fireside chat with Kevin Rose of Moonbirds
Following this, NFT Fest organiser Greg Oakford hosted a fireside chat with Kevin Rose, the founder of Moonbirds, one of the largest NFT projects in the world.
Rose echoed the sentiment of Betty and Reilly earlier this morning, saying that despite a major decline in NFT prices, it's actually the ideal setting for founders to focus on their work.
"It's a great time to build. There's less distraction going on right now which means we can focus on creating and shipping products," he said.
Speaking to the future of NFTs Rose added that he thinks it's likely that NFTs will become their own, unique element of the art world in the near future.
"I believe that NFTs are going to be a legitimate form of art going forward. I enjoy it for what it is at its core."

Kevin Rose, Moonbirds.
Exchanges take the stand
Next, Natasha Blycha of Stirling & Rose sat down with Binance Australia's Charis Campbell, Coinspot's Tim Wilks and BTC Markets' Caroline Bowler to discuss what the future held for crypto exchanges down under and addressed many of the concerns in markets following the recent implosion of FTX.
Life as an NFT artist
While this was going down, I jumped on a panel to moderate a discussion between three prominent Melbourne-based digital artists making a name for themselves in the NFT art world.
Photographer Liyat Haile, pop artist Lambie and Virtual Reality artist Giant Swan and I had a wide-reaching conversation about how creatives can make it in the world of NFTs and what the Web3 space holds in store for traditional artists.
Lambie informed listeners that her prominence in the NFT art world came from her riding the "meme wave" of Wallstreetbets through her unique renditions of pop art, photography collections.
Giant Swan left us with some of his wisdom on how artists should approach the wild west of Web3.
"Facilitate that connection between the artist and collectors. I've never participated in selling my art at absurd prices, I've always focused on selling around standard market value and just making good art," he said.
Chatting all things 'Nouns'
After pausing for a quick lunch break where the local cafés on the street were essentially ransacked by a horde of hungry crypto enthusiasts, the afternoon got underway with a panel held by members of the mega-popular Nouns NFT projects who spoke about all the cool things that the Nouns ecosystem have gotten up to since its inception.
In a sweeping discussion about everything that the Nouns DAO (decentralised autonomous organisation) have gotten up, Melbourne-based video creator Golday shared a few key highlights.
Nouns have funded the construction of a skate park in Brazil and hosted an event to celebrate the 10 year anniversary of skating being decriminalised in the country, where more than 1,000 Brazilian skaters showed up. Goldy also shared that Nouns have been funding projects to give away free prescription glasses to children who need them as well as donating to environmental conservation organisation Rainforest Trust.
The donation to the Ecuadorian arm of the rainforest trust saw Nouns get to name a species of frog after the project, dubbing the newly discovered amphibian the 'Nouns Glass Frog.
NFT Fest: Anthony Sassano discusses Ethereum privacy 
Following the Nouns chat, prominent Ethereum educator Anthony Sassano sat down with the former head of Blockchain Australia Steve Vallas to dispel some myths about Ethereum being more "censored" following the blockchain network's transition to a Proof of Stake consensus mechanism.
Despite the privacy of the Ethereum network coming under fire following the sanctioning of popular mixing service Tornado Cash, Sassano insisted that, "no one today has been censored on the Ethereum network."
Sassano added that the transition to Proof of Stake has nothing to do with the increased levels of censorship. All alleged Ethereum censorship comes from the use of a tool called MEV Boost that prioritises the validation of some transactions over others.
After discussing the more technical elements, ultimately Sassano concluded that the biggest use case for Ethereum right now is: "financial activity. A more open, transparent and auditable one. And we wanna make sure people all around the world can be connected to it. The baseline for a decentralised network should always be 0% censorship and be as neutral as possible."
The future of the metaverse
The afternoon came to a close with Ada Yin, the Invest Manager at crypto venture capital fund Airtree sitting down with three key leaders from Australia's metaverse scene to ask them what the future held for the metaverse.
For Mateen Soudagar, who's more well known by his online moniker 'DCL Blogger' the metaverse is "the internet plus personal ownership."
"The metaverse is about the portability of my identity and my social graph. It's about removing the friction between things that existed before in the digital world."
For 'Voxelblaze' the pseudonymous Head of Sandbox Australia, the metaverse is the "evolution of the internet that brings creators and consumers together. It's essentially what we have with the internet right now but more connected, more peer-to-peer, and with less middlemen."
Stay tuned for NFT Fest day two
While The Chainsaw covered many of the major events in the main rooms at NFT fest, there were a series of talks running over the entire day to help bring NFT newbies up to speed in 'The Vault'. The Vault featured wide-ranging explainers and 101 level workshops to help newcomers to Web3 get up to speed on all of the things they need to know about the space.
Stay tuned for Day two, we'll be live tweeting the event over on our Twitter: @chainsawdotcom!